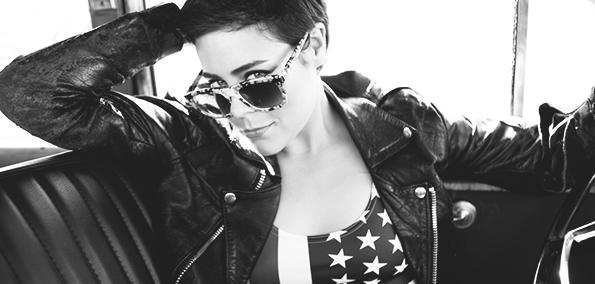 LOUISAHHH!!! has been steadily climbing her way to the top of the techno world with her infectious style and sound this year. Her name has been burning bright, even as it sits closely next to her black-clothed veteran peers- the likes of Brodinski, Club Cheval, Maelstrom, and many more.
2013 saw her debut EP released on the label she calls home, Bromance Records, and this past week has seen the release of her work with the aforementioned Maelstrom, a little teaser for whats to come with the Nous Somme 2014 tour collaboration of Marble, Zone, and Bromance Records, and to tide us over until her next project is released. Despite her hectic schedule, she's managed to save some time to create a playlist that helps us delve into the mind of the fast rising producer. 
Check out the three tracks she's released collectively as Translations, and hear more about her musical influences, in her own words, below! 
In the spirit of Nous Sommes 2014, the 3 party/3 city/3 label 'Best Week Ever' for French 'Techno and Other Stuff' friendship club of Bromance, Marble and Zone, Maelstrom and I collaborated on an EP entitled Translations.  The EP's title refers to the fact that the tracks are all translations - a cover of Playgroup's "Make it Happen', a track that samples Kanye's 'Black Skinhead' and a remix of 'Let the Beat Control Your Body'.  
Long fascinated by 'musical borrowing', here are some of my favorite translations:
"Gloria" - Patti Smith 
"Gloria" - Them (Van Morrison original) 
http://www.youtube.com/watch?v=FLvBpnaVHE8&feature=share&list=PLuP4bYx7O6SlbMGK2KVT2YzetI0vwfA9s&index=1
Patti Smith (along with almost everybody who made music between 1960-75, apparently) covered this song by Van Morrison's first band, Them.  Her version has way more balls, in my opinion, and retains only the chorus of the original.  Superclassic.  
"Let the Beat Control Your Body" - 2 Unlimited
"Let the Beat Control Your Body" - Brodinski feat. LOUISAHHH!!!
When Louis [Brodinski] asked me to write a song with the line 'Let the Beat Control Your Body', I was unfamiliar with the original.  I didn't realize it was a reference to this track until we after we released it.  Good thing the 2 Unlimited version is totally awesome and weird and ridiculous, I feel like we did the borrowed lyric justice.  
"NY Lipps" - Soulwax
"Funky Town" - Lipps Inc.
http://www.youtube.com/watch?v=w6pg18bJt-A&feature=share&list=PLuP4bYx7O6SlbMGK2KVT2YzetI0vwfA9s&index=5
Soulwax was definitely a gateway drug into dance music for me, and this album and track is one of my favorites ever.  It seems very basic but these guys basically invented the modern mash-up and somehow managed to keep it clever and tasteful and fun.  The Lipps, Inc original is also a standard, for sure.  
"Seventeen years"- Ratatat 
http://www.youtube.com/watch?v=bpc-bOr3bIE&feature=share&list=PLuP4bYx7O6SlbMGK2KVT2YzetI0vwfA9s&index=6
"Dies Irae symphony Fantastique" - Berlioz
The Dies Irae is one of the most heavily borrowed musical phrases or ideas in history.  Mozart, Verdi and Berlioz all used it, the original deriving from a 12th century Gregorian chant about the 'Day of Wrath'.  So epic. Ratatat mirrors the melodic line in their glorious first single, 'Seventeen Years'.   
 "Closer" - NIN 
"Night Clubbing" - Iggy Pop
Trent Reznor sampled the kick and snare of Iggy Pop's 'Night Clubbing' (from the Bowie-produced album, 'The Idiot'), the general vibe of which is said to have been a cheeky reference to Gary Glitter's 'Rock n' Roll Part 2'.  Borrowing on borrowing on borrowing.   
 "Can't Seem to Make You Mine" - Garbage
"Can't Seem to Make You Mine" - The Seeds
The original, by The Seeds, is beautiful and sad and sleazy and whiny, and Garbage covers it in fine form as a b-side for 'When I Grow Up'.  I love Garbage and listening to this - and their other fantastic covers - when I was an angsty teen helped wormhole me into finding out about music I wouldn't have experienced otherwise.  This is why covers are important!!!
 'Transmitting Live From Mars" - De La Soul 
http://www.youtube.com/watch?v=0cUibv9Q-3g&feature=share&list=PLuP4bYx7O6SlbMGK2KVT2YzetI0vwfA9s&index=12
 "You Showed Me" - The Turtles
Fuck the Turtles for being selfish dicks and suing De La Soul for (deftly!) sampling  a song that the Turtles didn't even write for AN INTERLUDE.  The original is tite but what a terrible attitude.  Bless De La Soul for being unerringly awesome, though.  
Thanks LOUISAHHH!!! for the amazing playlist. We learned a lot of music history from this! Check her and her friends out in France playing together as Nous Somme 2014, and we're dying to hear more in the upcoming year from this talented artist. For those still pining for more songs, here is one more EXCLUSIVE! The two will be releasing a new and original EP in February. More information is to come, but 2014 is looking pretty fantastic now, and we can't wait to see what the two artists have to share to the world. 
LOUISAHHH!!!
Translations EP
Bromance + Zone Records
December 18, 2013