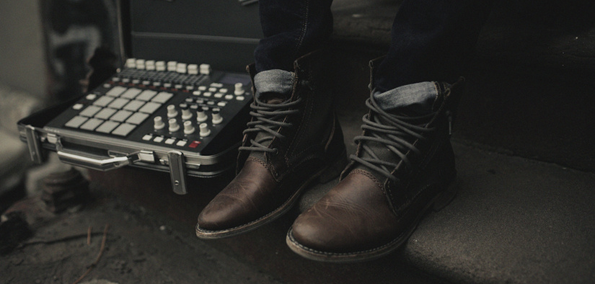 2013 will go down as the year that electronic producers took over the hip hop scene. The likes of Hudson Mohawke and Rustie have produced tracks on some of the biggest albums this year, including projects from Drake, Kanye West and Danny Brown. So it's not surprising to see that, when UK duo Chase & Status (who have this year collaborated with Pusha T on "Machine Gun", started up their label MTA Records, one of their shining lights would be a rapper who resides in London by way of Orlando, Florida.
Knytro's fusion of hip hop with electro soul has seen the Floridian rappers fan base grow at an alarming rate, as the 9,000 downloads on his Project Haarpoon mixtape proves. One of the strongest tracks from that project, "Status Quo" has finally been given the visual treatment, and boy was it worth the wait. Whilst keeping the fundamentals of the video basic, with Knytro standing moving around against a white backdrop, it's the special effects that really make this video stand out. Knytro's eyes burst out, butterflies flutter next to him, whilst a tribal warrior appears on his stomach, all of which make for an engrossing viewing. Aside from the visual aspect of the track, the song itself stands him in good light. The electronic, shifty bass line really makes your head nod, whilst he switches from rapping to singing with relative ease, showing that Knytro really does have all the tools to make a name for himself in the ever changing music industry, and 2014 could be the year that he blossoms into a powerhouse.
You can peep the visuals for "Status Quo" below, and be sure to check out his Project Haarpoon mixtape, that Zane Lowe has labelled "mixtape of the year". You can stream Project Haarpoon from his soundcloud and download for free from his official website.
Kyntro
"Status Quo"
MTA Records
9th September, 2013