And on the third day of Christmas, EARMILK gave to thee, a deep and dark progressive house mix for everyone's ears to be pleased. New York resident and progressive house hot shot LEVI has tickled our cerebellums with some delectable decibles of dropped down bass. 
This mix is best served with a warm cup of mulled wine. Like the drink, this mix warms and cools and soothes and turns up all in one punch. For the mulled wine combine 4 cups of apple cider, 1 750ml bottle of red wine, ¼ a cup of honey, 2 cinnamon sticks, 1 orange juiced, the peel from the orange, and 4 whole cloves in a large saucepan. Bring mixture to a boil and simmer over low heat for 10 minutes. Pour into mugs and add an orange peel to each and serve! 
LEVI sat down with Santa for a little fireside chat over mulled wine and chestnuts. Check out their conversation!  
And as a added holiday bonus, LEVI is leaving you his latest release for free download over on his Facebook Page.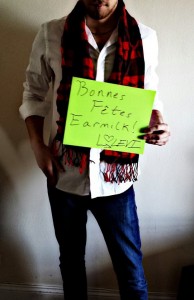 Santa: Have you been naughty or nice this year?
Levi: Most likely naughty. Yeah. Naughty.
S: What rooms would you add to your ginger bread house?
L: Game room, or Sale de Jeux as we say. 
S: Who do you want to be caught under the mistle toe with?
L: Ellen Page. Is that creepy?
S: Screw, Marry, Kill: Rudolph, Vixen, Dasher?
L: Screw Vixen, Marry Dasher, and kill Rudolph. Rudolph is too popular. I dont like popular people. 
S: What's on your Holiday list?
L: The MoogerFooger 108M Cluster Flux. That thing can make some monstrous sounds.
S: Favorite Holiday jam?
L: Last Christmas by Wham!
S: Favorite Holiday Tradition?
L: Eating lots of food.
S: What are you grateful for in 2013?
L: My manager because without her I would have left for Paris completely forgetting about this. Wups.
S: What do you look forward to in 2014?
L: Hopefully seeing less of the Justin Beibers and Kanye Wests.
S: Are you making any New Years resolutions?
L: Yes, but I don't want to jinx it. 
S: Where will you be when the clock strikes midnight? 
L: Probably somewhere between BangOn! in Brooklyn and the a Bromance party in Manhattan, indulging my self in musical insanity.