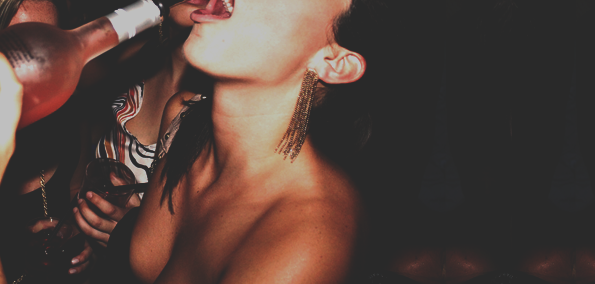 With Christmas right around the corner, it should come as no surprise that all the holiday movies and carols we love are springing up on TV and the radio; but even though I'll never grow tired of the oldies such as Frank Sinatra's Christmas Album or John Lennon and Yoko Ono's "Happy Xmas (War is Over)," I'm not one to shy away from the more bass heavy side of holiday jingles. Dallas based production duo Booty Fade, comprised of DJ Sober and PICNICTYME, bring their own refreshing personalities and innovative approaches to the realm of trap music with interesting concoctions of bass, funk, old school hip hop beats, and samples from songs such as M.E's "Dance Like A Stripper" in "F#$k Like A Stripper" and Dorrough's "I.D.G.A.F." in "Styrofoam Cup."
To kick off the holiday cheer, Booty Fade dropped "Keep The Change," a Christmas themed trap track that begins by mixing an old school hip hop beat with holiday bells and leads to an unexpected and completely on point sample of Michael Curtiz's 1938 film Angels with Dirty Faces, ("I'm gonna give you to the count of 10, to get your lying, yellow, no-good keister off my property…") and the parody of it, Angels with Filthy Souls in Home Alone 2: Lost in New York, ("Merry Christmas ya filthy animal…and a Happy New Year.") Ring a bell?
Though this may not be the best track to blast at a calm, family gathering (Still, try it.), "Keep The Change" is a great way to start up a "let loose" kind of Christmas party. 
Enjoy.