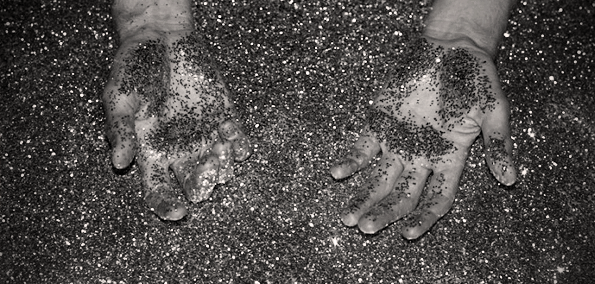 AVAN LAVA can be summed up in one phrase - glittery badasses that know how to make music.  I had a quick chat with the group, to find out they love GESAFFELSTEIN (beautiful) and they haven't been naughty OR nice for Christmas, just plain dirrrrrrty.
They are not AVAN LAVA, they are AVAHHHHHN LAVAHHHHH. The power behind the pronunciation of their name is only supported by the wild live performces, killer tunes, and bad a$$ swag.  AVAN LAVA initially impressed me with their disco funk with the track "Together" with Keljet.  "Together" was not only an awesome feel good tune, but was soon followed by three killer remixes, my favorite being the Oliver Nelson remix.  
AVAN LAVA recently released a new track, "So F*kt Up" very different, but equally as impressive as their last release.  Young Diamond has added a little more f*kt'd up-ness to your ears with this remix.  EARMILK has gotten the eXXXclusive to premiere this awesome new remix, so get your fists ready to pump and your feet ready to jump with this fun new song. 

EARMILK: I love "So F*ckt Up" it's much heavier than your previous tracks, what influenced this track?
AVAN LAVA:  "So F*kt Up" was a reaction to what was going on in our lives and the types of music that we're being inspired by right now.  Lyrically, it is very personal, but I think we have gone into darker territory in past songs, like "Easy Way" or even "Sisters".  For the beat, we always try to make something physical, and this time it felt great to make something heavy.
EM: This Young Diamond is awesome, how did that remix come together?
 AL:  We LOVE Young Diamond.  We've been friends and collaborators for a while now, so we're super excited about him doing the remix.  Usually when we jam together he's helping to write lyrics and melody, so it's awesome to hear his vision of an entire production.
EM: How do you pick what remixes / who you want to remix your tracks / how do you feel the Young Diamond track enhances the song?
AL:   We usually seek out remixers who might work well with the track, or someone who could create a drastic rework of the tune.  Young Diamond has been cultivating a unique approach that blurs the lines between rap/house/psychedelic electronic (he calls it "nite club") for a few years and "So F*kt Up" was a perfect song for him to flex on. 
EM: Other than this new track "So F*ckt Up" what have you guys been up to? Can we expect an album soon?
AL:  Yes!! We're about done with a full length, and really excited to have the world hear it. 
EM: What can we expect to see with your album? "Together" vs. "So F*ct Up" are totally different vibes (both of which I'm super into!)
AL:  The album definitely hits on a few different styles that we're into right now.  We took the opportunity with the full length to stretch out a bit and take some risks, which is really exciting as producers and writers.  The sure thing is that the album is physical.  We want to make you move.
 EM: Your collaboration with Keljet on "Together" was awesome – who is a "dream person" you'd love to collaborate with?
AL: Thanks!  We're trying to get Zebra Katz on a track!  And would be excited to work with Bok Bok on some production, love his beats. 
EM: Dream person to remix one of your tracks?
AL:  Gesaffelstein
EM: GREAT ANSWER. I have seen you live and your live shows are crazy – can you talk about that a bit?
AL:  I'm so happy you said this!!  Yes, we take every opportunity to make our show more engaging for an audience.  As fans of live music ourselves, we know that it's one of the few places that you can be anonymous and really cut loose.  We want to make it exciting for every one to freak out together.
EM: How do you find your influences behind your performances?
AL:  Everywhere!  We're lucky enough to live in NYC where there's coocoo shit everywhere. A while back I saw a man who had made a tuxedo for himself out of plastic bags, and that got me thinking about materials to use for show looks. 
EM: It's the Christmas season – have you guys been naughty or nice this year?
AL:  NEITHER, just dirty.
EM: Other than spicy music and killer glitter, what can we expect from AVAN LAVA in 2014?
AL:  You can expect a full length album, lots of new show tricks, we're planning some new videos now, and we're editing the video of a crazy show that we did in S. Korea with Seoul Institute of the Arts where we added about 30 performers and musicians to make a mega-pop show.  ... and that's just the stuff that's already in works.
EM: Any upcoming performances you'd like me to mention in the write up // anything about you guys you'd like to comment on for the EARMILK readers?
AL: December 31st (NYE) - Cameo Gallery (Brooklyn, NY) + January 9th - U Street Music Hall  (Washington DC)
 If you're not obsessed with them after reading this, I don't know what to tell you.  They're the real deal people, be sure to catch them live so you can freak out with them and shower in awesome music and sparkles.  
AVAN LAVA
"So F*k't Up" (Young Diamod Remix)