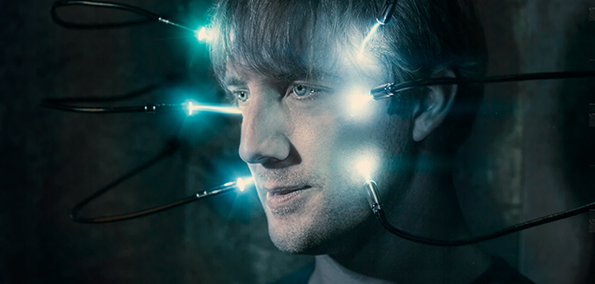 Anthony Alongi a.k.a. Tranzducer is an Austin, TX based engineer of electronic ingenuity, and his latest reggae-trance track "Blaze of Glory" off of Play Onwards (out today) is the proof in the pudding.
Where lyrics are lacking, we're not left wanting, because there's an all-star cast of every other musical element. A Bob Marley intro merges seamlessly with spacey siren synth, and laser-like 90s Sega sounds beam us into a groovy galaxy. But it doesn't end there. A spooky laugh track and fluttering flute overlay swelling brass…and the sum of the [plethora of] parts somehow works.
Tranzducer means to convert energy, but it could also be a portmanteau pairing of "trance" and "producer." Either way you look at it, the track is a production of progressive proportions.  And if we didn't like him enough already, Anthony is also an eloquent, quote-worthy bloke, asserting, " "Music is a sub-genre of imagination, so anything and everything is possible. Why do you think all those famous dictators try to kill the artists and scientists first?"
Play Onwards is out today, so stream the below & if you like what you hear, you can purchase here.