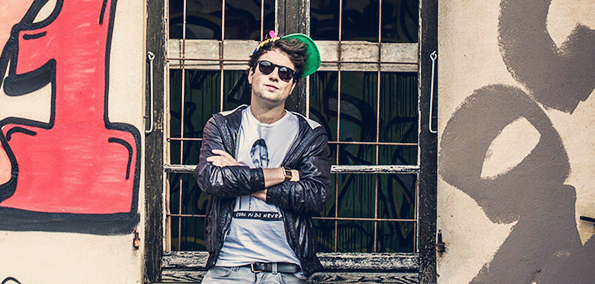 I had a skype interview with a dude in paris to talk about the music he makes makes, which turned into a 2 hour hangout sharing music and reminiscing about throw back 90s tunes.  Kulkid, Thomas Ouf, caught EARMILK's attention this fall with his Brandy & Monica "The Boy is Mine" remix and since then has continued to impress with his fun remixes and original production. Raised in the 90s, Kulkid takes lots influence from the music he listened to growing up as well as the inspiration he draws from artists and music today.  
Born and raised in the French Alps, Kulkid prides himself on not pretending to be from Paris.  With a degree in architecture, Thomas Ouf, explains why he decided to follow his passion for music, "Go for what you love – its simple..the hardest part is to get inspired, once you are inspired, it just happens."  Kulkid's genuine personality and love of music is inherent in the way he speaks about his influences and musical love, yet frequently yearns for the outdoors where he grew up. 
With a very busy fall putting out a series of fun and funky remixes along with two stellar original tracks, KulKid is ending 2013 with a bang.  What better way to end 2013 and celebrate his exploding career than to remix the track that rocketed the most famous pop star of our time, Britney Spears, into the limelight.  Kulkid's "…Baby One More Time" remix takes you back to to the days of her glory mixing in his signature sexual house beats that compliment the warped vocals, giving a 2013 remix to the Queen of Pop's debut track.  And Oh Bay-bay-bay-bay, does he do a girl good. Check out his "…Baby One More Time" remix and read the EARMILK interview to know more about the mysterious frenchman who knows how to make you dance.  
EARMILK: This "..Baby One more Time" remix  is awesome – tell me about this track.
KULKID: I was born in 89, raised in the 90s, so I love 90s tracks to remix. I choose this song because it brings back so many memories. I love "…baby one more time." I remember when I was in high school, I was 15 or 16 years old and saw a  I was a rock cover of Britney spears and the tune is massive, so I decided to do this one.  
EM: Born in the 80's, but "Born in the forest, raised by animals" – that is so mysterious, what does that mean?
KK: it was just a joke. I am from a tiny area in France, in the Alps, near the boarder of Switzerland and Italy.  Chose it in comparison to all of these artists that they are from Paris. I wanted to stand out; I like to say I'm from the Forest. 
EM: How did you pick the name Kulkid, how long have you been Kulkid, did you dabble in any other names before landing on the one that stuck?
KK: I can't really remember why I chose it. I wanted something that you can easily remember, something that gets stuck in your head. I wanted something that sounded great and looks great as well.  I like that it had 2 k's in the name and 2 letters after each K. It is supposed to mean exactly that, the cool kid.  It comes from cool kid, the hip-hop band. I was going to make the name "dollar" dollar is just a lame name, don't take it, do something cool, so I took Kulkid.  
EM: How did you get into producing music? Was there a moment that you realized, I want to do this with my life?
KK: I started producing electronic music, like 3 years ago. I started out in the dubstep scene, used to produced drum and bass and glitch-hop. So, 3 years ago I was at my flat at a ski resort in France and forgot my guitar.  I just had my laptop and started gambling around with Ableton and playing music with it. Started this music, in early December of last year.  A friend of mine asked how to remix a song, so I decided to show her with this Bon Iver track I love.  I put it into Ableton and in like 30 minutes, the remix was done.  What is funny is now its like one of my most famous tunes.  The music was so good, but it was so different from the music I was doing before hand. I decided to make a new nickname to release it.   
EM: What was your exposure like to music growing up? What artists inspired you then?
KK: well, my parents are huge fans of Super Tramp & Pink Floyd. My dad loves A Clockwork Orange and old school experimental music, so I grew up with all of the experimental electronic music from the 70s and rock music.  My mom taught me how to play the piano when I was 7, so I also grew up with classical stuff. Also my older brother showed me stuff like Fat Boy Slim, Green Day, Offspring, I used to love the California punk rock music.  
EM: What music inspires you today? 
KK: Um, there is a band I love, Mono, a Japanese post rock band.  It's the same kind of music as like Sigur Ross…they have a really special touch.  You should all go check them out. I also listen to a lot of soul funk and jazz music.  There are a few artists who are always producing sick music: Disclosure, Shadow Child, a French guy, Tchami.  He is on A-track's label, Fool's Gold.  I am also a massive fan of Jamie XX.  
EM: Your original tracks have been awesome, but you've gained so many fans and media attention based on your remixes…. What is your process in deciding what song you want to remix & why?
KK: there are some remixes I decide to do because I like the tune, and its relevant, but I will never remix a tune that I don't love.  There are some remixes I do, because the manager or band will ask me to do it, but I say yes only if I love the song. 
EM: Which is your favorite track you've remixed so far?
KK:  My favorite remix I have done so far…I am a big fan of Bon Iver, All their tunes, I can't wait for the next album. My favorite remix is hard to say…I like what I did with Britney Spears. And I did a new remix 2 weeks ago and I love it. Its not released yet a remix of Nancy Sinatra "Bang Bang."
EM: Who would you love to remix, anything we should be on the lookout for?
KK: I am trying to do more remixes of old school stuff. 90s 80s 70s. 
EM: Who would you love to remix one of your own original songs?
KK: Oh that is difficult, I don't know maybe have Jamie XX remix one of my tunes, of course, but someone that could change the music, maybe Four Tet.  I love his sound. 
EM: If you could choose another producer // group to produce an original track with right now – who would you pick?  
KK:  Skream, I was a massive fan of his work when I was doing Drum & Bass and now that I do house music, he also does house music, but I love his touch.  This guy is so 80s disco. I don't know hwo to describe it. Or maybe Flume, he is awesome.  That is why I chose a new name – people love whats new, so knowing and seeing that they know this "new guy", makes them feel so cool. And I think it was a good choice to make a new alias. 
EM: "U Were The One" & "Have I Ever Told U" are both great – what is the back story behind your original production?
KK: The hardest part when you are creating a new track form A-Z is definitely to to get inspired.  As soon as your are inspired, everything comes naturally.  think it was good for my sound that I started with dubstep and drum and bass music. Bcecause its really complex. You can not just take a preset and use it, you have to resample it so many times and cut it and straighten it and stretch it so many times to make the sound you want to create. 
EM: So what do you do if you're feeling uninspired? 
KK: Like writers block? I watch movies, I listen to different kinds of music, I go out. When you're not inspired, there is no secret recipe, I think you just try to get it from other forms of art.  I like to gamble away on blogs and hype machine and listen to new artists.  I often go check  what tunes the guy I like likes. Its how you know if a guy is really cool or not tha mch.  When you go see the likes of an artist on Soundcloud, if a guy just likes the same stuff that he produces, I don't think its that cool.  Its great to see some guys who are liking so many types of stuff, Skream & Diplo.   
EM: You're stranded on a desert island – what 3 foods, 3 movies, and 3 celebrity crushes would you bring?
KK: Foods – umm, "mac delux" a burger in macdonalds; Tartiflette, a French meal from where I live – potatoes, pieces of bacon, crème fresh, onions, melted cheese – Reblochon, the best meal when you are hungover or along day of skiing ; and then oh maybe homemade cookies?
 Movies – I know this is cheesy, but I love this movie 500 Days of Summer; then this is more manly, Fight Club ; and how about a joyful movie? Lets say an old school movie, maybe Jumanji or Flubber. 
3 celebrity crush – I think the #1 – Emily Ratajkowski (the girl from the "Blurred Lines" video) ; Scarlett Johansson and I want to say a girl, but I don't want to get bored on this island, so maybe Louis CK or Seth Rogan.  Two beatufiul women and a funny guy to hang out with.  
EM: How have your live shows been going? What is your favorite moment on stage?
KK:  I am not playing a lot live, but its due to the period of the year. It is not festival season, but I am playing on New Years Eve. My next gig is on Decemebr 19 at social club Mollinex.  In January, I am playing another one in Paris and then in the Philippines. I am excited for this, In March, I am going to play all over Canada. I hope to to a US tour in april maybe? But I'm not sure.  
EM: What advice do you have for up and coming producers remixing other people's music & creating their own original sound? 
KK: I usually tell people, go for the music they like. Go for what you like and what and you're best at, not what you think you should produce because its cool or is hip right now. I understood this when I created Kulkid, before that I was doing dubstep and stuff. The thing I was best at was nice melodies, but I wasnted to make the dubstep. With Kulkid its all about the melodies..  Do what you do best.  Remixing big names is good, as long as you don't destroy the original. 
Go for what you love – its simple.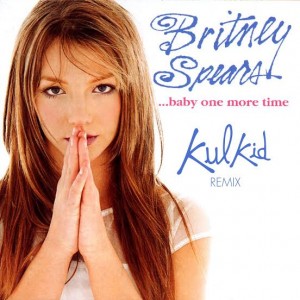 Britney Spears
"…Baby One More Time" (Kulkid Remix)