We'll admit it: we've fallen a little bit in love with Bit Funk. The Canadian-born, Brooklyn-residing producer and DJ has consistently captured us with his unique blend of the old and the new worlds of disco-influenced dance music. And we're not the only ones who have taken notice: his remixes like that of The Pharcyde's classic "Runnin'" have taken the web by storm, allowing him to accumulate followers quickly with each fun loving track uploaded to Soundcloud.
Today we get an exclusive first listen to "Beside," a track off of his new EP Soul Satisfaction. The EP offers up more of a welcome bridge between the popular bass-filled nu disco that's everywhere, as well as the true soul from 70's disco that's inspired the evolution of the genre. "Beside" is a literal take on that soulfulness, with a Motown-like sample pushing some gritty humanity through new world synths.
[soundcloud url="http://api.soundcloud.com/tracks/124111762%3Fsecret_token%3Ds-28KmK" params="" width=" 100%" height="166" iframe="true" /]
Check out the track below as well as our interview with the man himself as he describes his inspirations behind his career and Soul Satisfaction.
[soundcloud url="http://api.soundcloud.com/tracks/124111664%3Fsecret_token%3Ds-28KmK" params="" width=" 100%" height="166" iframe="true" /]
[soundcloud url="http://api.soundcloud.com/tracks/124111887%3Fsecret_token%3Ds-28KmK" params="" width=" 100%" height="166" iframe="true" /]
Earmilk: When did your interest in music spark? Who inspired you to get involved?
Bit Funk: My parents always thought music was an important thing for kids to do. They started me on piano lessons when I was about 7. I hated it, never practiced, and after a year or two, I convinced them to let me quit piano and try drum kit lessons instead. I really liked drums and stuck with it, taking lessons for many years. My drum coach definitely shaped and inspired my musical beginnings. He had a very holistic and almost mystical approach to teaching music which went beyond just the technical aspects of drumming. Things I learned from him still influence what I do now.
Earmilk: How did you decide to work in electronic music? How was that received by your friends and family?
Bit Funk: I used to work as a web designer, mostly designing bank and credit card websites. It paid really well, but wasn't always the most fulfilling thing. Back then, I was just making tracks as a hobby and I didn't know how to DJ at all. Things just kind of grew organically. I started getting asked to do commissioned remixes and then to fly out for shows. I bought turntables and taught myself to DJ. It kept building and got to a point where I was burning the candle at both ends – I'd work all day making websites, come home and have a remix due almost every week, and fly out on the weekend. Eventually it got to be too much and I realized I had to quit and switch to music as my full time job. I still did some web work part-time for another year or so after that until music took over fully.
Earmilk: Coming from a small town in Canada, how does living in Brooklyn influence your music?
Bit Funk: I've moved around a lot, so I've lived in a bunch of different cities, both big and small. Halifax, DC, Toronto, Chicago… NYC is by far my favorite place to live. Every city has something that makes it unique and different; it's own perspective on culture and music. But NYC, and Brooklyn in particular, is just amazing when it comes to the energy and creativity of the people making culture and music.
Earmilk: Do you have a go-to process when you sit down to get in to producing?
Bit Funk: It really depends on the project and what its specific goals are. With original tracks, I usually try to have a hook idea in mind before I even sit down to start working. The more I can figure out in my head of where it's going before actually playing or recording anything, the more enjoyable and faster to finish the project will be. It's easy to just sit and come up with 50 melodies and maybe one of them will work. But if you have some idea of what you want in your head before you start, then it saves time and keeps you energized through the project. Otherwise, you get burnt out listening to a half written song a million times looping while you try to write a hook that's good enough.
Earmilk: Tell us a little bit about how this EP came to be and the inspiration behind it.
Bit Funk: The Soul Satisfaction EP really started from a place of being bored with club music and wanting to focus on writing real songs, rather than just thinking about the energy of a track when it's played in the club. The other main influence for this EP, which I imagine is pretty evident, was old gospel and soul records. I find that music really inspiring, mostly because of how genuine and heartfelt it is, which is in contrast to a lot of the music being made right now.
Earmilk: Who is your dream collaborator?
Bit Funk: Probably Marc Moulin teleported from the 70s.
Earmilk: What have been some of your favorite venues to spin at?
Bit Funk: Just off the top of my head… Smart Bar, Wanderlust, U St Music Hall, Le Bain, Avalon… there's a lot of great ones.
Earmilk: When are you going on tour next?!
Soon!
Earmilk: How did you come up with the name "Bit Funk"?
Bit Funk: I had a few different names I was producing under making a wide range of different music. "Bit Funk" was originally a song title. But I realized I wanted to make more in that style and that track became a kind of blueprint to the sound I wanted to develop. So I decided to use it as the artist name for those songs.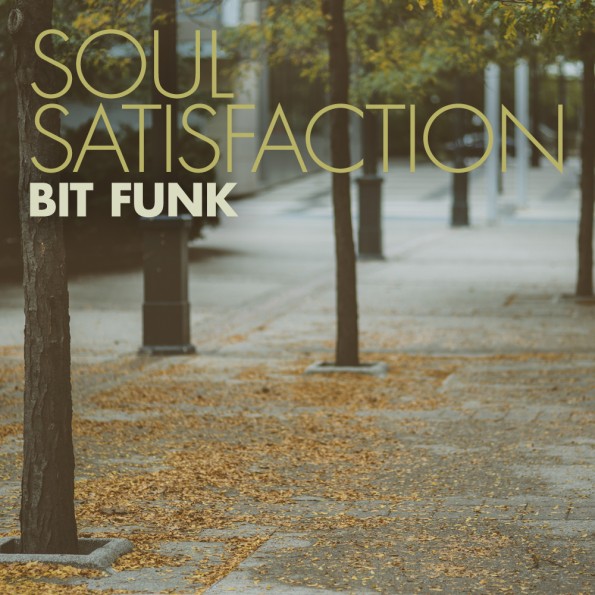 Bit Funk
Beside