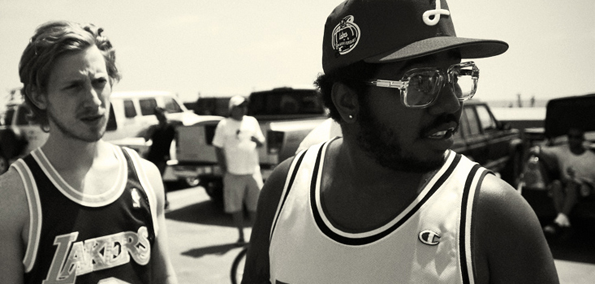 Blended Babies have quietly built an impressive library of work, helping artists such as Chance the Rapper, Vic Mensa, Kid Cudi, Bun B,  and King Chip craft their sound and create sonic landscapes on tracks. Rich Gains and JP Keller consistently find new and inventive methods to fuse lush bass, melodic keys, and hip hop sensibilities to craft full songs that differ from their peers' music, which are typically focus on repetitive loops. Originally based in Chicago, the duo has relocated to Los Angeles, where their talents and ambition have grown exponentially. While still attempting to bring a more complete experience to their music, the two have also opened a music label, Blended Babies Music Group, aspiring to be in sole control of their work and to help others along their way.
To celebrate their new record label, earlier this week, they dropped off a brand new video for their brand new single: "See The World". Asher Roth and Chuck Inglish join the team, as they journey to see the world in perhaps the trippiest of ways. Figurines from street signs begin to move around or are displayed in unrecognizable positions, graffiti canvassing the walls jump to life, mysterious symbols float across the screen, while neon colors replace their ordinary counterparts on random occasions; overall the visuals are meant to throw you into a psychedelic mind frame to fit the production, which samples and is inspired by some 70's psych-rock. 
Asher Roth and Chuck Inglish both deliver some of the best lyrics heard from them in awhile. Roth has collaborated with the Blended Babies on numerous occasions, a relationship that seems to be paying off for both parties. He goes double time on the track, jamming so many words into each line that it often difficult to make out what he is saying, but definitely worth looking into. Chuck does almost the opposite, relying more on his laidback vibe, the same one that made The Cool Kids great. He takes his time, making sure that each line can be properly appreciated. 
Blended Babies have a goal to give people music that they truly believe in without any limitations; since this is technically their first step, one could say that they are on the road to success. The video, the beat, and the collaborative verses sound unlike majority of whats on the market, but also rock solid. They have a long ways to go with their label, but we will keep an eye out for them, to see how they progress.