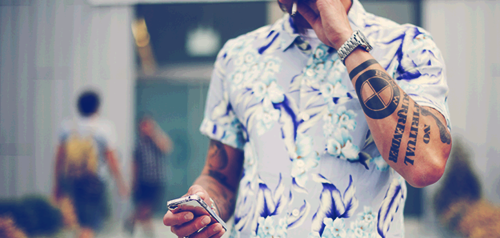 Contrary to popular belief, hip hop isn't dead. Although the genre has deviated from the the Golden Age, the sounds of the underground are still echoing that ole' boom bap flavour. Beneath the cracks of the surface lies Chicago emcee Will Is Chillin', an up and comer with a penchant for deep wordplay. As a part of the thriving Windy City scene populated by artists such as Chief Keef and Lupe Fiasco, Will's association with Stank Face Records ( the home of artists such as  The Palmer Squares and Loud Mouth) has garnered attention towards his music amid  the blog world, so we've  decided to ask him a few questions before he blows up.  After hearing the ridiculously addictive "Jiminy," I made it a mission to track him down and expose his tracks and share it with the world. Read on below and Will and I discuss his origins, the Chicago scene and some insights into his new mixtape, Pack of Loosies.

EARMILK: What's good Will? Where did the name come from?
 Will Is Chillin': You ever hear "Top Billin'" by Audio Two? Remember that part when it goes "Milk is chillin, Giz is chillin?" I made a beat from that and I repeated that a bunch of times. It sounded like Will, so I figured I might as well use it; it works pretty well now, cause although it sounds cliche and lame as hell to say, I consider myself to be one of the coldest rappers out there. So chillin kinda makes sense.
EM:Cool, give us an insight into your writing process. Is seems like you've got a Mos Def(Yassin Bey) meets Jay Z style going on.
W:Actually, those are like two of my biggest influences. I'm not like Hov in the sense that I can memorize all of my lyrics, so I end up writing everything down. I don't really have a set thing, but I usually like to drink a cup of coffee to stimulate  some shit.
EM: What's the story behind VOTV?
W: It came to be because I had a crew back then called DDN, which stood for Dope Dude Nation, but looking back on it now sounds like the lamest name  I've ever came up with. When we fell off, me and my little brother were walking down the street one day and then the name Voices of the Voices just kinda came out of nowhere. It sounded like something I could get behind for the rest of the time I'm doing this. Everyone that I was cool with were down with the name and then it took off from there.
EM: It's pretty interesting since back in the day you'd like these huge collectives like Native Tongues and Wu Tang Clan, but now you've got that movement coming back with groups like Odd Future, ASAP Mob and Pro Era.
W: Exactly, that's a good point to note.
EM: On the "Jiminy" video, there's a bunch of shots of you at a school bus depot. How did that come to be?
W: We were just walking around looking for places to shoot the video and we came across this random ass place where they have all the short buses. So we snuck in and started filming, but we thought we'd get in trouble when we saw security driving by and the one dude clearly saw me on top of a bus moving around. The guy just drove off and it was all good. It was a pretty awesome experience and I'm glad how it all turned out.
EM: Yeah, it was a cool video. A lot of people found out about your music through The Palmer Squares-are we gonna see any collaborations between you guys anytime soon?
 W: I hope so, that would be dope. There's nothing in the works right now, but I'm ready to work with them whenever they wanna do something.
EM: Speaking of collaborations, if you could do one with any non-hip hop artist, who would you choose?
W: The Black Keys would be awesome. They've got all of those songs that are heavily inspired by blues, and I'm a big fan of that genre. Yeah, I'd definitely pick them. It's tricky to say someone else, cause I'm really into hip hop.
EM: No way, that's huge. Who are some artists you're listening to these days?
W: Joey Badass, Kendrick Lamar, Action Bronson, Ab-Soul, Schoolboy Q...that BET cypher was nuts; I'm bumping that non stop. I pretty much everything coming out lately cause it's all good hip hop. Big K.R.I.T too. I could go on and on, but I'm gonna stop right now and save us all some time.
EM:  Speaking on that, what are you thoughts on the Chicago scene? Seems like you guys are blowing up with acts like Chance The Rapper and Vic Mensa.
W: I dig Chance; I'm a big fan. Vic too. And Chicago in general. There's just so much talent here and even the crew that I'm on (Stank Face Records) has a lot of great artists that are non that well known but I respect. That's the problem here, there's too many good musicians. I enjoy it cause I'm loving the music that everyone's been putting out, but it's tough since I need to get some of this money going around.
EM: Your newest mixtape, Pack of Loosies, is out right now. What can you tell us about the project?
W: Most of it was recorded in a week. Someone at work told me I was't going hard enough and that definitely challenged me to get it done. So then we recorded the whole thing and just kept pushing it until we got the final product. Now that the tapes out, I can put more focus on the album, which is almost done and should be dropping sometime during the winter.
EM: What's the name of that one?
W: Let The World Catch Up. I'm trying to make that statement that I'm still making the kind of music that I like and that might be different than what some people would want me to make. I think it actually makes you a better artist if you take your time and properly put out projects versus rushing and dropping a bunch of projects all at once. This way, you can develop a background and get that following. Once you blow up real fast, you don't really get a chance to experience everything and you meet that eventual drop just as quick. I'm kind of happy that it's going at this pace; I'm in no rush to make sure I'm satisfied with it.
EM: That's the truth. Thanks for your time Will! I appreciate you taking the time to sit down with us and good luck with the future projects!
W: No problem. Thanks again for the interview.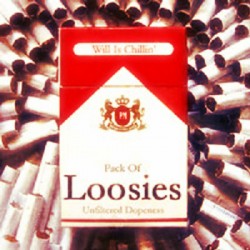 Will Is Chillin'
Pack of Loosies
Stank Face Records
November 20th, 2013