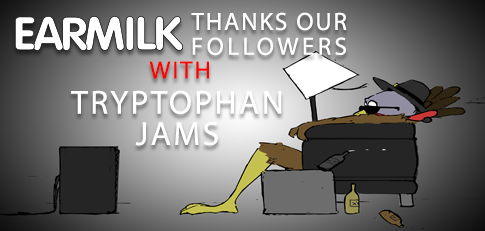 Here at EARMILK we are thankful for many things this Thanksgiving; from good music and good vibes to good friends and family to spend the holiday with, there is so much to be thankful for. But most of all we are thankful for you, our fans and followers, whom we share our love of music with everyday. As a little thank you, we have put together the Tryptophan Jams, a series of mixtapes from a few of our favorite up and coming producers.
For those jive turkeys out of the loop, Tryptophan is that sweet sweet nectar inside a turkey that makes your eyes heavy and your hearts sleepy. But don't let the name fool you, these mixes will keep you wide awake. So, whether you press play on the road, in the air, or after Gam-Gam's 3rd appletini, let these jams serenade you throughout the Thanksgiving holiday. Let's get trypy y'all!
First on deck is a mix from the California Cat Falcons. Like your momma's pecan pie this mix is delicious, sweet, and soothing. This downtempo mix has tunes from Chloe Martini, a ratchet Missy Elliot remix and much more. To wet your appetite check out Falcons' latest release Birdcall EP. You can snag the full EP over on bandcamp.
Our favorite mashup artist DJ AA takes us on a musical journey through the sounds of everyone from Chris Malinchak to Azealia Banks in his Turkey day mix. AA flexes his mashup muscle and delivers a mix that is sure to shake the stuffing right out of you and propel you from the couch to the dance floor. His latest mashup "Touch The Sky Bootleg" features a Thomas Jack beat mashed up with Kanye West and Benjamin Francis Leftwich.
Sebastian Carter earlier this week released a super sexy version of Nicole Miller's "Fall" and today delivers the perfect mix, equipped with the sweet sounds of Klangkarussell to the future vibes of Druid Cloak to keep you groovin' and movin' well into this Thanksgiving Eve.
Still feeling bloated and bemused by your feasting decisions? French based producer EFIX has just the trick to reverse the Tryptophan trip. His mix moves through melodic instrumental tracks to beautifully reworked vocal pieces. Hot and fresh like the rolls out the oven, this mix has everything you need to get your bird feet moving to the beat. Check out his latest release "Wild Boys" to wet your whistle before diving in to the main dish. 
Rounding out this cornucopia of delectable decibels is Colorado native Option4. In this mix Option drops tracks that are deeper than your Grannie's bowl of mashed potatoes (seriously, that shit seems bottomless.) An array of deep house, disco, and tech should be the last kick in the pants you need to get your ass off the couch and out to spread Thanksgiving cheer to any and all peoples. His latest track "Deep Diamonds" is the butter to the biscuits, warm and satisfying. 
Once again we sincerely want to thank you, our listeners, for your continued love and loyalty. So whether you are on the couch, in the car, on the lawn, or out and about, this mix will shake away that tryptophan and fill your veins with serotonin. Enjoy, ya' jive turkeys ;-)