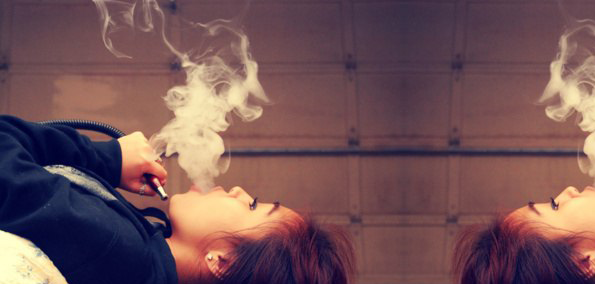 This is your Daily 2% – Chilled and Ready to Serve. We will try to bring you one "chill" track every day. This is for when you get home and you are trying to unwind. You reach for that glass of wine or that unlit Black & Mild or maybe you reach for something more herbal. This track is for those times. We are just your milkmen and I'm here to make a delivery. Chill…
We love Lucki Eck$ here at EARMILK; we were among the first fans of his debut mixtape Alternative Trap, and we reviewed the tape a month later awarding it a 9 out of 10, which indicates stellar music. Surprisingly enough though, despite his growing buzz and despite his best efforts to continually churn out records of the highest quality, people are still sleeping. So, today's dose of dairy is catered specifically to those of you who are still in that category. It builds strong bones.
Our 2% for the day comes courtesy of Lucki's aforementioned debut, and it was one of the standout tracks amidst a wave of brilliantly crafted sonic profiles. "Nicky Wilson" is a weird, space-age smooth sound, a sound that would probably still feel relevant in 2020. The percussion seemingly moves at a hesitant pace, and time stands still while Lucki lays his sluggish, apathetic verses atop an ethereal synth soundbed. He brings some of his best punchlines here like "you couldn't hit from 30 plus, you kickin' outta range" and "niggas gettin' fast and furious then I transform 'em, now they all lookin' so Tyrese". The Chicago is one of the dopest young MCs in the game, and his affinity for the unorthodox makes him a player to watch in the coming years. "Nicky Wilson" is an early sign of greatness, but it's no flash in the pan. One gets the feeling that the young gun has many more Daily 2%'s in his future. Consider this a coronation.
Check out Lucki Eck$' "Nicky Wilson" below, download his incredible Alternative Trap mixtape here if you haven't yet, and be on the lookout for more from the up-and-coming Chiraq star. Until then though, sit back, relax, and just…chill.
Nicky-Wilson-Prod.-Hippie-Dream--EM0813
<strong>Download:</strong> <a href="http://files2.earmilk.com/upload/mp3/2013-08/Nicky-Wilson-Prod.-Hippie-Dream–EM0813.mp3"><strong>Lucki Eck$</strong> – Nicky Wilson Prod. Hippie Dream</a></p>