The "Now Or Never" track from Tritonal has been vigorously climbing the charts, so it is no surprise to see Tritonal release several remixes to keep your attention peaked. In collaboration with Enhanced Recordings, two remixes have been released as the first of two installments. One of the featured remixes off of Part 1 comes from the Brooklyn based producer Pierce Fulton. Fulton's version amps up the energy while maintaining Phoebe Ryan's charismatic vocals to give you a break from the powerful hooks and energetic chords of this progressive house track. 
[soundcloud url="https://api.soundcloud.com/tracks/120744738" width="100%" height="166" iframe="true" /]
The second featured remix comes from none other than the Tritonal duo themselves. The Austin based pair has taken their hit track and given it new life as a club mix that is bound to be a huge hit on the dance floors. The drops echo out of big speakers and the synth has a very captivating effect matched with Ryan's vocals. I'm quite curious as to what is going to be featured on the second installment of the remixes, which is rumored to drop before the end of the year. Keep an ear out for Part 2 and check out these remixes in the meantime.
[soundcloud url="https://api.soundcloud.com/tracks/118966443" width="100%" height="166" iframe="true" /]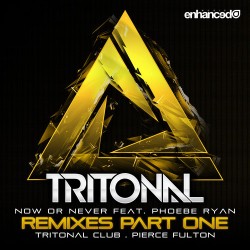 Tritonal
"Now Or Never" (Remixes Pt. 1)