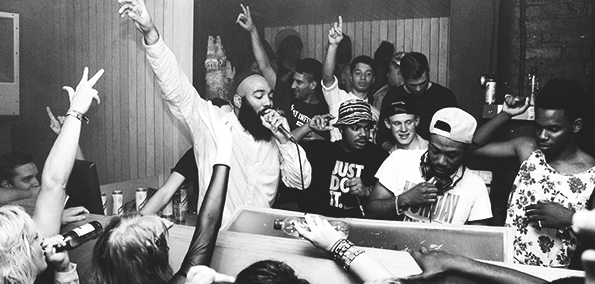 "Murkage is all about crashing amazing things together to make something even greater", a quote straight from the mouth of the bearded honcho that is Murkage Dave. That quote is the perfect way to sum up what the Murkage Cartel are all about, not only do their live performances give off the type of energy that you'd typically find at a Trash Talk show, but the club night that they run will have you dancing to MK one minute then wildin' out to A$AP Ferg the next. The club nights, which have grown in size since their inception in 2007 and are currently branching out to other European cities including London, Paris and Berlin, spawned the five-member band that has been tearing up festivals and shows across Europe.
Ahead of the release of their first single "La Plage", featuring EARMILK favourite Bipolar Sunshine, Murkage have release a thirty minute long mixtape, The Imperial Mixtape Vol. 1, mixed by band DJ Klepto, featuring live vocals from Murkage Dave, Gaika and Two-One. The mixtape is done in true Murkage fashion, completely mixing up the vibes from dancefloor bangers like the Preditah remix of Fabienne's "Taxi" to the hood anthems such as "Still Tippin" by Slim Thug, there is a track for everyone in this mix. On top of the dope track selection, the mix showcases the immense talent that all three emcee's posses, with each one individually showing their own unique styles, with some clever wordplay to boot.
The Imperial Mixtape Vol. 1 is just a small snippet of what the Murkage Cartel are all about. It gives you an insight into what you can expect when you step into a Murkage rave, the energy you will experience at one of their live shows and quite possibly what you can expect to hear on their debut album early next year. As Gaika perfectly describes it; "We called the mixtape Imperial because our empire is unstoppable and glorious". With that being said, it appears the Murkage empire is ever expanding, and the band are like a train plowing their way through the music industry and it's time to get on board. You can download The Imperial Mixtape Vol. 1 from their Soundcloud or from here.
[soundcloud url="https://api.soundcloud.com/tracks/119922154?secret_token=s-Ivuu9" width="100%" height="166" iframe="true" /]
Murkage
The Imperial Mixtape Vol. 1