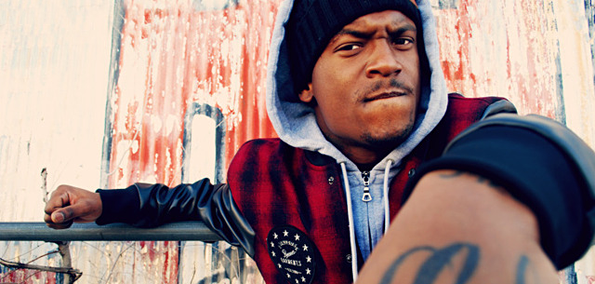 Before Kendrick Lamar's good kid, m.A.A.d city, there was Fashawn's Boy Meets World: a scintillating body of work that struck all the same emotional chords, dissecting west coast gang culture's impact on black culture just three years too soon. Fashawn hasn't released a solo album since then -- though he has released four mixtapes and a collaborative album with west coast underground king Murs -- and it feels a bit like punishment for not truly appreciating his debut. After a lengthy delay, Fashawn is finally preparing to release his sophomore effort, The Ecology, which is said to be executive produced by BMW architect Exile. In anticipation of the release, Fashawn has released visuals for the first single, "The Beginning".
"The Beginning" is gritty west coast rap to its core; produced by Evidence (of Dilated Peoples fame), the cut finds 'Shawn at his most boastful over an eerie, long-running sample and sinister synth keys. He throws out gems like, "I'm only human, but admit I've got animal tendencies / Malevolent, probably turn your man to a memory / I dare one of you amateurs mention me / Remote control how I channel my energy". The video, directed by Punit Dhesi, shows the Fresno MC stationary on a California block as an artist tags a wall behind him. The graffiti continuously expands as he raps, and he is handed various props that relate to his bars. It isn't the most novel of directing approaches, but it does make for a great video, and the visuals still stand on the strength of the music. Hopefully, this is just a sample of what we can expect from The Ecology. If it's anything like his debut -- and we'd be lucky to see lightning strike twice -- it'll be near classic.
Check out the visuals for Fashawn's "The Beginning" below, and be on the lookout for his sophomore album, The Ecology, due out soon. Oh, and purchase Boy Meets World here if you haven't already.
Fashawn
"The Beginning" [Video]
One Records
November 6, 2013