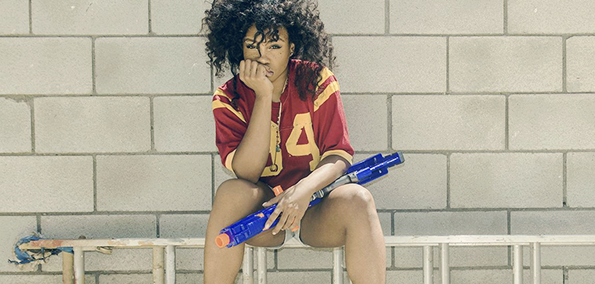 When Top Dawg Entertainment  announced their acquisition of two new artists, the internet faced the wrath of fiery bloggers and fans, speculating on the identities of these new members. Isaiah Rashad and SZA, two relatively unknown, but hardworking artists that cluttered their Soundclouds with a ton of unpolished greatness, were the freshest additions to one of hip hop's biggest record labels. This makes "Ronnie Drake" special, it's the first time that the two have collaborated under the TDE banner and both knock it out of the park.
Unlike "Shot U Down", the intimidating introduction from a young upstart looking to make a name for himself, this song is much more jazz and soul inspired. Rashad centers the song around social issues, especially police brutality and stereotyping, choosing to spread love as a sign of support to those dealing with these problems everyday. SZA's angelic voice blesses the hook, which reaffirms the emcee's love for his people all around, adding a layer of a soul vibe to it. Rashad's excited rhyme style is quieted by her beautiful crooning, allowing both of their vocals to mesh wonderfully together and creating a Fugee-esque track. The Antydote deserves a lot of credit as well, the smooth as butter beat that he made holds the whole one -love vibe together. It sounds like an up-to-date 90's track, not too old fashion and not too modern, just a happy medium.
Whenever TDE cosigns someone, there's a good chance that they are pretty dope and worth your attention. Checking out their pages is a good idea, since they have so many previously recorded tracks. Hopefully, these two will continue to collaborate with one another, because their styles fuse splendidly.