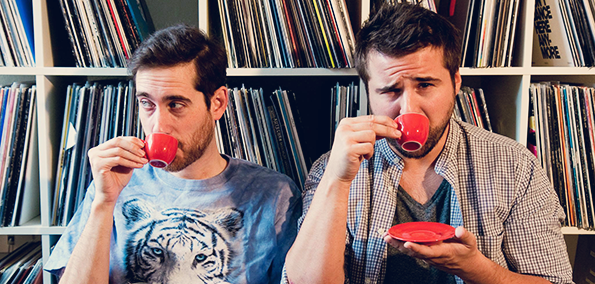 Back in the days when everyone had their head turned towards electro/progressive house, Fare Soldi began bringing disco to the masses. Their musical journey began as kids listening to hip hop who got their big break in 2010 with the acclaimed reinvention of Duck Sauce's bouncy "Barbara Streisand," followed months later by a truly inspired remake of the pop classic "Crazy In Love". Though best known for their remixes, the Italian duo of Luka Carnifull & Santana Pasta have also released a host of original tracks, and 2012 saw them drop variety of sounds, from the fast-paced "Frum Frum" to the break-infused "Pononopo". By the time 2013 rolled around, the guys decided a break was necessary to collect their thoughts and generate new ideas, which translated into time well-spent creating today's premiere, Disco Or Die.
The 5-track EP demonstrates Fare Soldi's (and disco's) breadth, stretching from an anthemic opener to a minimal close. To begin "Back In Business" builds on short, looped fanfares, sampling vocals that shout the track title and prepare us for the rest of the release. Next, "Spanish Pantalones" takes it back a notch, slowing the tempo and making way for a twangy, rounded synth.
"Asimov" starts low, building slowly into Patrick Baker's soft and seductive vocals. Crisp, syncopated breaks play against his lyrics, and it would probably be my favorite track were it not for the next one, "Salsouldi". This song caught my ear straightaway: it's quintessential disco fever highlighted with sharp piano chords that arc over the continual hi hat and shakers. I can just imagine it being Saturday night back in 1977 and this track comes on right at the peak moment, a fitting tribute to Salsoul Records.
Closing the EP, "Another Light" makes a name for itself with dreamy melodies, simple percussion lines, and extended chords that flare with whirling rythyms. Pasta and Luka stated that with Disco Or Die, "We wanted to evolve our style, this time we had this kind of "groove soldiers" feeling, and we wanted to express it from the beginning." Well, the duo certainly has won a battle in the name of disco, so be sure to pick up your copy when it's out next Tuesday, October 15th on iTunes.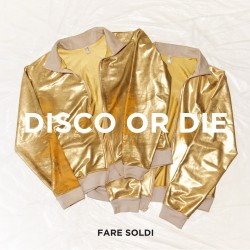 Fare Soldi
Disco Or Die
Riotmaker Records
2013-10-15