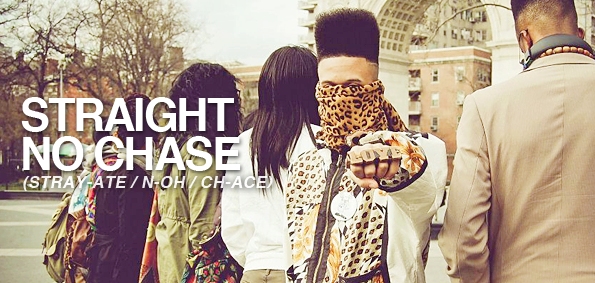 Welcome back for this week's edition of Straight No Chase, your one-stop shop source for all things hip-hop here on EARMILK. This comprehensive weekly feature aims to share hip-hop based content we may have missed during the past week, while also highlighting memorable content we did cover. In addition to the recap of our best hip-hop posts, SNC also includes a Video of the Week, Project of the Week, and staff-selected noteworthy upcoming releases.
As any hip-hop head worth their salt knows, these days music floods the blogosphere by the millisecond. Consequently, the landscape of hip-hop is forever changing. There are countless rappers, both established and up-and-coming, as well as renowned and budding producers and beatsmiths dropping their fair share of dope music for the listening masses. It is our mission to mine the interweb for both audio and visual gems, delivering them straight to you for your auditory consumption. But enough with the jaw jacking: let's cut straight to the chase
---
STRAIGHT KILLER, NO FILLER
DJ JD Sports - "She Whispered My Name"
King Krule impressed the world with Six Feet Under the Moon, spanning a cult-level dedication from fans who feel the emotion behind his soulful voice and minimalistic production. Wait, he's only 19?! Besides creating impressive music at such a young age, he also does other stuff, like create other different styles of amazing music. It turns out the young artist spends some of his time in his busy career stepping away from being KK, and instead being DJ JD Sports. The track still draws from the same roots, but this time it draws to a more hip-hop friendly crowd. This one is a sleeper hit, but not one you should miss.
Alex Klinger- "(cult)ure" (Feat. Jimmy Astro)
The young Colorado-based Alex Klinger is an artist just waiting for the right opportunity to get big. While he's not one for too much vocals in his production, this time he's collaborated with Jimmy Astro. Both names are relatively unknown, but definitely people to keep on the radar. This is some more of the thinking-man's variety of rap, but with enough of that youthful arrogance that any hip-hop fan can enjoy.
Lady Lykez - "I Love My Butt"
Lady Likez likes her butt and she's not afraid to let the world know it. In the music world, misogyny can run pretty deep, but this rapper from the UK isn't letting anybody stop her. With an impressive flow, pretty banging production, and an awesome thick body she isn't afraid to show off, she tells the world that she's loud and proud. Get with the program Miley Cyrus, you may be untamed, but you're not booty shaking quite like Lady Likez.
Marvin Live - "Robocop"
Another UK great that somehow managed to slip through the cracks at EARMILK, Marvin Live brings forth a grime-esque track titled "Robocop." It's not too heavily based on an electronic beat, which helps bring forth a bigger appeal to a wider mass, but still draws heavily on the grime feel. It's a simple danceable track that also manages to bring the brilliance of Marvin Live's skills to light. Perfect for Friday.
Odd Future - "Look"
The boys of Odd Future spend a massive amount of time on Fairfax Avenue, but when they aren't skating past Canters and chilling in Supreme, they are out doing their grind. This time, Tyler the Creator, Hodgy Beats, Domo Genesis, and Earl Sweatshirt have come together to present "Look." This track is especially noted by fans and critics alike for calling out Miley Cyrus. While EARMILK remains to stand neutral on that ground, nothing I write here will compare to what hardcore fans have said on social media, so, in the words of one twitter follower " F*ck Yeah OF."
King Chip - "Some Hoes"
Cleveland, Ohio has birthed a wide range of talent; including King Chip. The Ohio native has worked his way up in the game and still is constantly pushing and striving for more respect. Stepping out from under the shadow of Kid Cudi and rebranding himself his new sound is more honest, raw and is usually coupled with a hard hitting instrumental.
"Some Hoes" is a track that doesn't disappoint when you need a song to get your crew hyped up before hitting the clubs. This instrumental for this is courtesy of Big Duke and Chip himself.
Lupe Fiasco – "Pound of flesh/Paris Toyo II"
Lupe Fiasco has been attempting to fight his way back onto the main stage in hiphop and is using freestyles to do this. Lupe fans will relish verses from this lyricists regardless. The Chicago artists voices his opinion on war as per usual but then touches on Chicago rappers such as Common, Kanye West, Chief Keef, Chance the Rapper and others to band together.
Since Lupe's rants on twitter not too long ago where he beefed with Chief Keef then his jabs at Kendrick Lamar after the "Control" verse it's surprising to hear some references in this track. I'm sure we can expect more of these verses from Lupe and I for one am not mad at that.
ON THE ROCKS: WEEKLY RECAP
Here's a recap of some of the best hip-hop covered this past week on EARMILK. Take a couple of minutes to stroll down memory lane and revisit a few of tracks brought to you earlier in the week. For those who may have been snoozing at the wheel, here's your chance to play catch up:
Holy-Holy-(Ft.-Ab-Soul-BJ-The-Chicago-Kid)--EM1013
Download:
Vic Mensa - Holy Holy (Ft. Ab-Soul & BJ The Chicago Kid)
VIDEO OF THE WEEK
Bryant Dope - F**k Wit It
Bryant Dope is one of the most promising up-and-comers out of Queens. Earlier this year he released a stand out mixtape with Hannibal King, called New New York. He is set to return with a new EP this November, Raw Dope. If the project is anything like the first visual, "F**k Wit It", you can throw the smooth jazz stuff out the window. Dope is coming with some hardcore vibes on this one.
The song is blaring and hyped, if you can sit through this video without trying to punch whoever is sitting next to you, respect. The visuals accompanying are just as frantic. There are scenes of rockets taking off, Dope and company moshing, and the camera seems like its ready to explode. Colors are flying about, and the vintage flair really adds to the chaos. It's a good video that will definitely have you feeling some type of way.
|OFFICIAL WEBSITE| TWITTER | SOUNDCLOUD |
PROJECT OF THE WEEK
The biggest reason a lot of artists aren't able to make a name for themselves in a world where blogs have replaced "that dude" who would always be on top of the music game with a rough mix or a bootlegged copy of an up and comer is blind optimism. A lot of people in the game carry the belief, whether it is unconscious or not, that all they need to do is wait until someone who is already established somehow manages to pluck them from obscurity and "put them on" so to speak. Once artists realize that this isn't always feasible, they either fade into obscurity or start to hustle.
Black-Boy-(The-Carnage-Remix)--EM0913
Download:
L.E.O. - Black Boy (The Carnage Remix)
If we're discussing the latter, L.E.O (Love Equals Omnipotence) is one of those artists that fully embraces the grind. Although he had the opportunity to work with the legendary Large Professor, who produced every track on his 2008 project, Spiritual Intelligence, the album didn't manage to elevate his exposure within the hip-hop world and remains as one of the 08's best kept secrets. Instead of retiring from the mic, L.E.O has continued to pursue his craft, and, after much hard work and sleepless nights, we get Whatever Is Necessary (Vol.1)
Natural-Selection-(feat.-MeccaGodZilla)--EM0913
Download:
L.E.O. - Natural Selection (feat. MeccaGodZilla)
An album that doesn't pigeonhole itself with one particular sub genre, Necessary manages to incorporate a gritty overarching theme through its instrumentals as L.E.O provides an eclectic sample of flows and rhymes. Spitting over samples that contain elements of opera, arena rock anthems and striped down piano jams may be difficult for most, but the emcee manages to embrace the sounds with a flawless execution.
Two tracks in particular, "Black Boy" & "Natural Selection", the former of which is remixed by The Carnage and the latter featuring MeccaGodZilla of MF DOOM's Monster Island Czars best showcase L.E.O's versatility and rhyme scheme. The previously mentioned songs deviate from the norm of "clothes, bankrolls, and hoes" as the rapper drops some seemingly esoteric concepts that complement the given beats. Be sure to pick up Whatever Is Necessary (Vol. 1) on AudioMack for free right now.
---
L.E.O.
What Ever Is Necessary Vol. 1
---
UPCOMING RELEASES
Pusha T
My Name is My Name
G.O.O.D. Music
October 8, 2013
---
Dom Kennedy
Get Home Safely
---