Strap up here boys and girls because we have a premiere that may damn near take your head off. Use your best discretion when vibing out. Nire, a Queens product, is a relatively new name to most, but she has been a considerable force in the New York underground for about a half decade now. A participant in the Red Bull Music Academy, Nire possesses an incredible ear and a very fresh perspective. Her music feels like a conscious effort to be cutting edge, and it absolutely is, effortlessly transcending genre labels to make a universally appealing sonic product. The Queens DJ/Producer recently spun an exclusive mix for MTV Hive, and she is preparing to release her debut, One Never Know Do One. Before that though, she has dropped off a brand new cut here at EARMILK. 
Nire has a really dope flair for painting dark, dramatic scenes with her music. Her remix of FKA Twigs' "Papi Pacify" is a prime example of this technique. The original is pretty dark in its own right, just check out the video. Nire takes it into uncharted territory, though, and she throws some really gnarly drums on the cut that somehow accentuate the songstress' sweet vocals, vocals Nire chops and turns into instruments in her soundboard. It'll only take one listen to instantly hook you, and you'll be scrolling through the talented producer's Soundcloud for more tunes in no time.
Check out the premiere of Nire's "Papi Pacify" remix plus her "Shabba" (Dark Knight Edit) below (also peep her Soundcloud here), and be on the lookout for her debut album, One Never Know Do One, out sooner than later.
[soundcloud url="http://api.soundcloud.com/tracks/112065087" iframe="true" /]
[soundcloud url="http://api.soundcloud.com/tracks/107035451" iframe="true" /]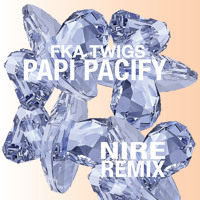 FKA Twigs
"Papi Pacify" (Nire Remix)