Looking fresh off the runway from a 90s modeling gig with long, wavy hair reminiscent of Farrah Fawcett in her heydays, Rebecca & Fiona bring a brightness to the room, not only with their beauty but also their bubbly personalities. Five years ago the two embarked on the beginning of their career, starting as club promoters in the bustling dance scene of Stockholm Sweden. From there, the two built a look, a brand, and a sound, winning people over with platform boots, short skirts, and their genuine love for the scene and its fans. The appreciation for festival life and the crowd couldn't be more apparent with these two, taking the stage and raging just about as hard as the crowd below. Seriously though, they were singing along, dancing with each other, and climbing the stage like few other artists I've seen.
However, before their performance we got to sit down with the dashing duo and hear about their climb to fame. As one of the few big female acts in the industry, they've made a name for themselves, not only through their music and fashion, but also by supporting civil rights causes alongside a non-stop tour schedule. Though their beauty may be the first thing that catches your attention, it's their heart that makes the lasting impression.
EARMILK: How did you get your start?
Rebecca & Fiona: We had a club night back in Stockholm that we were promoting and we were booking DJs, but then we really go into trying it ourselves. This was about 5 years ago. We started by just playing all the music we liked, but then began to make music and tour around Sweden. From there it just took off and now we're here!
Turn-It-Down-(Extended-Mix)--EM0913

Stream: Kaskade feat. Rebecca & Fiona – Turn It Down (Extended Mix)
EM: The Scene in Stockholm is huge. I even hear they have disco lunches?
RF: It's a dirty brunch. They borrowed the idea from LAVO in New York. So our friend who goes there a lot On Sundays and Sturdays they have a brunch where they party. It's really nice. I mean there's so many cool people in Stockholm and, because so many of the artists from there are out touring, everyone else tries to keep up the reputation for Stockholm being really cool with events like these.
EM: You're one of the few big female acts in the scene. What's your take on that?
RF: It's great. It's very easy to make a name for yourself with a unique look and dress.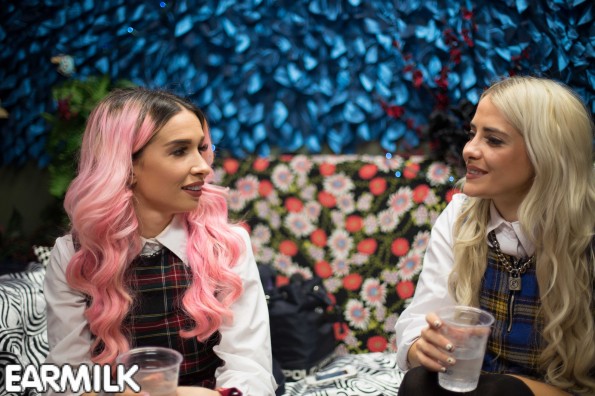 EM: I was going to ask, how do you choose what you wear?
RF: It's all us. But we have a friend who works with us as our creative director. He does all of our videos with us, and helps us, because we don't have a lot of time.  It's not like Miley Cyrus who probably has a huge rack of clothes brought to her, we collaborate on a lot of the outfits together through pictures and any spare time we have. We're so grateful to get to work with him. His name is Tommie X. He started this new company called Faggot Apparel to help the LGBT community in Russia. The money goes to charity. And he just made a t-shirt to protest against Barilla Pasta, so he turns things around very fast.
EM: Very cool. So, what would a comfortable outfit for you be? Like, pajamas?
RF: Probably an Adidas tracksuit or something. But we don't really have a day outfits. Sometimes I wear 50s preppy, though today it's a little more 90s preppy. And sometimes we have to wear pants because it's really cold in Sweden. But it's pretty much the same outfit. When we go to the study thought we try not to wear these shoes [they're wearing about 12 inch tall gogo boots] because people can tell it's us. We camouflage ourselves by not wearing them.
[soundcloud url="http://api.soundcloud.com/tracks/98198596" params="" width=" 100%" height="166" iframe="true" /]
EM: What's one of your best festival memories?
RF: EDC Vegas. I mean, we always have fun at festivals and Insomniac events for us are always amazing. We ride around in the golf cart just having a blast. But we have to leave straight after the show, and that actually happens to us a lot. That's the worst because we just want to go to the festival and hang out. It's hot and everyone's dressed up and so happy and spiritual. If we could just play festivals, it would be amazing. Resident Insomniac DJs!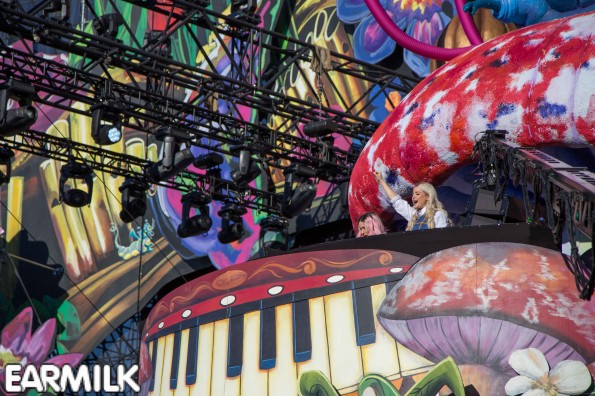 EM: What's coming up for you? You just released a remix album that included a track from Sleepy Tom.
RF:  Wasn't he great?! Yeah, we are actually meeting him tonight. We've been chatting to him and tonight we have a date haha. But our next album is coming out in March of 2014, our second. We are releasing one more single this year, maybe two. [EM: What's it called?] It's called "Hotshots" and you're the first to hear!! But yeah, that's coming out later this year and then the album early next year!
[soundcloud url="http://api.soundcloud.com/tracks/106551564" params="" width=" 100%" height="166" iframe="true" /] 
EM: That's exciting to hear! Thanks for your time.