With Sensation San Francisco wrapped, the first performance of the series' second USA appearance, the Ocean Of White continues on to Las Vegas in just a few weeks from now. But the Bay Area still basks in the afterglow, a bright, radiant light that took hold of Oracle Arena throughout Saturday evening. The evenly distributed crowd of Europeans, out-of-towners, and locals banned together in the moment to celebrate one of the longest running events in dance history, which began 13 years ago in the Netherlands. Since then, ID&T has expanded Sensation from the Amsterdam ArenA, claiming a presence that spans from Taiwan to Brazil and everywhere in between.
When thinking of a word to describe the Sensation experience, theatrical continues to be the first that comes to mind. Dripped in white from ceiling to floor, the crowd swaying in one uniform block of color, you feel part of the show just by stepping into the stadium. Though many festivals blend full-scale art installations and performances through their duration, the scale of an outdoor event can't make you feel totally immersed like this.  In one moment spotlights shine through giant jellyfish suspended in midair, as 15-foot high jets of water explode on either side of a revolving stage. Next, the bass hits from speakers circling above the DJ, while lasers fan across the dancing masses and confetti rains down from the sky. It's this attention to detail and the spectacular that has given the event the notoriety it deserves.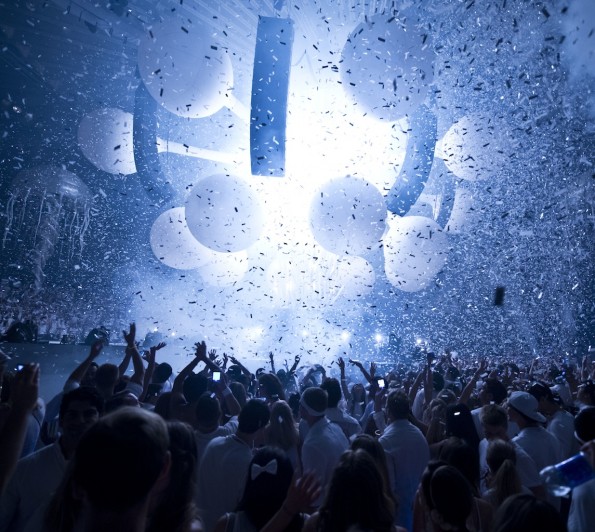 Of course production value comes hand in hand with the quality of talent at an event, and Sensation lined up a few of their favorites to take center stage. Unlike many lineups where sets seem to blend into one all-out banger and mash, the artists here took their time with a traditional progressive approach. First resident DJ Mr. White mounted the stage, opening the show with his low-key vibes and smooth rhythm. Then Britain's Prok & Fitch upped the ante, spinning a bouncy house set that welcomed the growing crowd. Nic Fanciulli, also from the UK, brought it to the next level by delivering a whopping tech house set that led into the headliner. By the time Fedde Le Grand unleashed his creation, people were hungry for his progressive house beats.
Recently the veteran thanked his million Facebook fans by releasing a 6-hour recording from his live set at Solar Bulgaria.  We caught up with the Dutch house artist for a few minutes backstage and were able to ask him about the Sensation experience,  how his career began, and how it's grown from there. Read on below while you listen to the rare extended performance.
[soundcloud url="http://api.soundcloud.com/tracks/109917351" params="" width=" 100%" height="166" iframe="true" /]
EARMILK: You've played at a lot of Sensations. When was your first and how has it grown over the years?
Fedde Le Grand:  My first Sensation I was in Amsterdam, but they have several stages so I was playing in one of the VIP rooms. It was especially cool because they do a megamix and they used my track, which was the biggest moment for my first time. The first one I actually played mainstage at was Sensation Belgium and I just remember being really really nervous, not much of the set itself. But every time we do more and more and I'm excited to see where it goes.
EM: What's it like playing Sensation versus other shows or festivals?
FLG: It's basically like taking a whole festival and putting it indoor. And I think the fact that it is indoor you can up the production by 20x, because everything is rigged from the roof and you do more show-wise. And I think the show is what makes Sensation a special thing. Also, I think the fact that everyone dresses in white contributes to the whole atmosphere because it unifies people. It kinda feels silly leaving home but once you get here everyone is in it together.

EM: Are there any differences between playing Sensation in Europe vs US?
FLG: I think they're all a little different. Now it goes from Asia to South Africa to here, so it always varies a little bit on how educated the crowd is, the size of the venue; there's one in Chile that's amazing though relatively small. But I think they are all consistent in carrying out the whole idea behind the show, regardless of these small differences.

EM: What was your first big gig and how does it compare to tonight?
FLG: My first really really big stage performance was actually at Ultra.  I had to do the change over set between The Cure and Tiesto and it was just 30 minutes because they needed the time to program the lights for Tiesto. I just remember the guy warming up the crowd as they were chanting "Tiesto! Tiesto!", while I was sitting on this tiny booth on the stage. He was trying to correct them by saying "Do you guys know the track "Detroit", we got the guy right here!" But everyone was still yelling "Tiesto!". It the end it was still a great time though.
EM: Because you tour a lot, what're a few things you always take with you? Anything unexpected? Any essentials?
FLG:  I travel with a pharmacy. If you eat something bad or if you get a cold. It's my biggest fear getting sick and it's horrible being away from home if you're really sick. So, that's my essential besides my laptop and all.

EM: You recently worked with Michael Calfan on "Lion", how did this collaboration come to be?
Fedde-Le-Grand-Michael-Calfan-Lion-(Feel-The-Love)-(Instrumental-Mix)--EM0813

Stream: Fedde Le Grand, Michael Calfan – Lion (Feel The Love) (Instrumental Mix)
FLG: He actually approached me through a mutual friend we have, and the weird thing is we had never met even though we talked about it for a year or so. Finally I had time and he had time. It was just going back and forth on it and it finally worked out.

EM: If you weren't a professional DJ, what do you think you'd be doing for work right now?
FLG: I think I would want to be a race car driver, but I don't know if I have the balls for something like that. Definitely something creative, like a designer of some form.

EM: Who are some up and coming artists that we should keep an ear out for?
FLG: In my opinion I am really impressed by Roul & Doors, two dutch guys. They are really consistent and have created their own sound, which is hard to find at this time.  And the other two guys would be Jewelz and Scott Sparks, two German guys who also have their own specific sound when everything has begun to sound the same.

EM: Any big projects left for 2013? Originals or remixes you plan to release?
FLG: Yeah. One I can't talk about and the other one is my album actually, which is out at the beginning of next year. I will probably do a compilation before of some older stuff at the end of this year if everything goes well. And I'm working on a big show, but that's all i can talk about