What would Earmilk be if our 100k Celebration didn't feature some exclusive music for you to enjoy? Right here, right now, we have unheard mixes from some of the best and brightest in the industry, a smattering of genres that swing from dance to electronic to hip-hop. From start to finish, we have Tritonal, PrototypeRaptor, ETML, Blackbird Blackbird, DJ Autograph, Lil Texas, Max Cooper, and MyMind/HalfDeaf, fresh faces and industry standards all mixed together for your listening pleasure.
If you haven't checked out our general giveaway (you could win Sol Republic headphones, a signed Claude VonStroke vinyl, and more) or our producer giveaway, featuring prizes from Native Instruments, DJ Tech Tools, and Plugin Alliance, make sure to take a look before the contests end next Friday.
One last thank you to everyone – readers, followers, commenters, artists, past and present writers – who has listened to us over the years. We promise to continue serving All Milk and No Duds. Now, wherever you are, however you are listening, sit back and enjoy. This one's for you.
---
Tritonal
Tritonian leaders Chad Cisneros and Dave Reed continue riding a wave of success with their multigenre acts that span the electronic spectrum, touching everything from trance to electro house. Hailing from the Lone Star State, a place famous for barbeque, cowboys, and country, the two prove that dance music really has made it into the heart of America. The duo's performances have become must-see acts that draw sold out crowds, which makes sense given that they've carried the state's unofficial motto (Everything's bigger in Texas) wherever they go.
Most recently Tritonal released "Follow Me Home", the first single off Metamorphic II, the sequel to the first Metamorphic EP that dropped back in March. Underdown makes a vocal cameo in this track as well, which releases September 23rd and will be followed by two more singles, all spaced a month apart.
For their mix today the guys have stayed true to the Tritonian soul, delivering a pure Tritonal set. In it you will hear their most recent release, "Reset" with 7 Skies, Metamorphic II tracks "Follow Me Home" and "Now Or Never", all closed with the infamous Seven Lions remix of "Still With Me". Just the energy needed to start 100k.
[soundcloud url="http://api.soundcloud.com/tracks/108851378%3Fsecret_token%3Ds-DNVRC" params="" width=" 100%" height="166" iframe="true" /]
Tritonal on Facebook · Tritonal on Soundcloud · Tritonal on Twitter
---
PrototypeRaptor
We've said it once, and we'll say it again: there just isn't enough funk in the world today! Some say that the harder you look for something, the harder it is to find. In the case of Oklahoma's PrototypeRaptor, it was just a matter of time before his melodic electro funk grabbed our attention. Totally unsolicited, we found PTR's track "Timeless" in a case of sheer luck. Since then, we've loved everything he's mixed, remixed, produced, and edited. When we started looking for mixes for the 100k anniversary, we didn't have to think twice before adding PTR to the list.
If you're like most people out there and either love to hate or hate to love Top 40 music, this mix satisfies both scenarios. Where you have Hardwell and Aoki, you have Gorillaz and Gramatik with the rebuttal. Unlike typical one-after-the-other mixes, this one features enough mashups, edits, and bootlegs to put many big name chart-topping artists to shame. With a genre checklist longer than a Jewish mother's Passover shopping list, this mix hits everything from PTR's signature melodic funk to the brostep/moombah beat of Foreign Beggars. In case you were wondering, yes. Yes, that is jazz legend Herbie Hancock's "Rock It" tossed with PTR's own remix of Computer Club and Gosteffects' "Party Tonight".
PrototypeRaptor's exclusive 100k mix is best listened to while pre-gaming for shows, getting in the groove for your morning or evening run, or for pretty much any other scenario where maximum stokeage is required. For those of you hearing PTR for the first time, we will give you a friendly and unpretentious "You're welcome" and hope we've made you an instant fan of his work.

[soundcloud url="http://api.soundcloud.com/tracks/108698318%3Fsecret_token%3Ds-58t2H" params="" width=" 100%" height="166" iframe="true" /]
PrototypeRaptor on Facebook · PrototypeRaptor on Soundcloud · PrototypeRaptor on Twitter
---
ETML
Need to slow it down a bit? There's a reason why we called upon the mixing talents of ETML. The London-based singer also known as Elliot Marshall tickled the ears of EARMILK staffers back in June with his debut single "Bind Me" which garnered attention from The Guardian, BBC Radio One, NME and of course, your's truly. The 18-year-old is back again, this time offering up a selection of rhythmic tracks to celebrate our recent social media milestone. He begins his mix with a rework of his debut "Bind Me" by British producer TCTS followed by a glorious 50-minute production of glitchy, garage-inspired house and uptempo throwback beats affectionately titled "Tying Knots".
As the mixtape's name implies, ETML toes the line between garage, house, pop sourcing American and British artists alike. Despite his young age (the kid hasn't even finished university!), he pays homage to iconic sounds of the late 90's and early 2000's by including the likes of Daft Punk, Jamiroquai and Blackstreet. Midway through, the young producer proves his music taste is beyond his years with Robin S' "Show Me Love" before featuring two productions from fellow teenagers Bondax.
ETML epitomizes the youthful wanderlust of UK's current dance music scene, something we feel wholly attached to having now heard "Bind Me" and his exclusive EARMILK mix. "Tying Knots" is a special blend of ETML's natural affinity for the alternative sounds of the last decade with the bouyancy of joyful pop melodies. Essentially, it's a dance party to-go.

[soundcloud url="http://api.soundcloud.com/tracks/108707116%3Fsecret_token%3Ds-ceaPn" params="" width=" 100%" height="166" iframe="true" /]
ETML Facebook · ETML Soundcloud · ETML Twitter
---
Max Cooper
There are no theories about electronica artist Max Cooper and his beat-making success. Perhaps we can derive theories about how his mind works (he was formerly a scientist, after all) to create such sublime orchestrations but his resume of more than 50 original releases speaks for itself. Having released on Traum, Herzblut, Fields, and more, his work on a technical and creative level have earned him due praise from music critics and artists alike. Comparisons to Aphex Twin, Philip Glass and classical maestros like Henryk Gorecki are so common you might wonder if the UK native was once classically trained.
When he decided to pursue music full-time in 2010, he undoubtedly changed the landscape of modern dance music. He's been prolific with solo and collaborative EP releases, and in the meantime, he's applying his precise mixing skills, playing diverse, mind-twisting sets that we can only compare to the brain-shifting effects of someone like James Holden or Jon Hopkins.
Below, we have his live mix from WeLove Space Ibiza, blending beat-driven moments of warehouse-appropriate techno with intergalactic transcendence. It's an orgastic space odyssey that will leave you super chuffed.
[soundcloud url="http://api.soundcloud.com/tracks/108849634%3Fsecret_token%3Ds-swAOT" params="" width=" 100%" height="166" iframe="true" /] 
Max Cooper Facebook · Max Cooper Twitter · We Love Music Facebook · We Love Music Twitter
---
DJ Autograph
Hailing from the vibrant island of Jamaica, DJ Autograph is a seasoned musician and producer whose roots in dancehall, hip hop and reggae permeate his rock-steady musical output. In his 18-year career he has worked with notable musicians such as Funkmaster Flex, Kid Capri, Max Glazer and many more. He left Jamaica for the grit of Gotham to work alongside Hot 97's Cipha Sounds while providing many a versatile listening session for his dance-loving fans in the tri-state area.
When he's not posted in the studio, Autograph is traveling the world extending his passion for DJing to the masses. His work has led him to the Czech Republic, Sweden, Germany, Singapore and even back to Jamaica. This year alone he could be spotted holding down ACE hotel's Coachella weekend party as well as supporting recording artist Maisa One on her first European tour.
His exclusive EARMILK 100k mix underscores his diverse taste and agile mixing chops with prime cuts from Jah Cure, Action Bronson, Damien Marley, Sister Nancy, A$AP Rocky, French Montana, Nas and plenty more. We asked all DJs involved in our exclusive mix giveaway to make us something our readers would love and Autograph comes correct. Whether you're on your way to hit the beach or pop some bottles, this mix will be the perfect accomplice.
[soundcloud url="http://api.soundcloud.com/tracks/108724192%3Fsecret_token%3Ds-8auod" params="" width=" 100%" height="166" iframe="true" /]
DJ Autograph Facebook · DJ Autograph Soundcloud · DJ Autograph Twitter

---
Lil Texas
He might have "lil" in his name but the Southern gentleman delivers an undeniably big sound. Lil Texas is back yet again on EARMILK's feed, this time bringing with him an exclusive mix to help keep the 100k celebration going for us. 
Honing his craft in the hipster-lined streets of Los Angeles, Lil Texas has attracted fans and followers with laid-back, trill-ish tracks like his most recent release through HW&W titled "Liz" or the dance inducing, hot and heavy R. Kelly riff, "Sext Me". Bedroom squeaks included. 
For his aptly named "Club Kid" mix, the M|O|D producer opens with some smooth R&B influenced vibes then dives headfirst into mad club sounds (the mix is named Club Kid for a reason) which will get everyone here feeling extra sexy today. Making sure he brings forth freak favorites, he's included Beyonce, R. Kelly, and TT the Artist to make sure that we're grooving to his mix while it's on play, and getting down to the nitty gritty afterwards. Make sure to check out his previous interview on the site, and check out the tracklist below.

[soundcloud url="http://api.soundcloud.com/tracks/108979747%3Fsecret_token%3Ds-xhDAb" params="" width=" 100%" height="166" iframe="true" /] 
Lil Texas Facebook · Lil Texas Soundcloud · Lil Texas Twitter
---
Blackbird Blackbird
The work of California-based Blackbird Blackbird has become something of a mainstay for EARMILK. Very rarely is there a release from the carefree producer that doesn't give us the feels–so all the more fitting that we have BB on deck for our massive celebration. 
Mikey Maramag, as his mother named him, started shaping his craft as a drummer for a rowdy hardcore band in his earlier years before being infected by the electronic music bug for good. Aside from consuming copious amounts of Modeselektor, Aphex Twins and Apparat, he was also toying with audio programs. Fast forward a few years and here we are: Blackbird Blackbird has conquered many dancefloors teaming up with fellow Bay Area brethren Giraffage as well as Florida producer XXYYXX. Ever the experimentalist, he's made successful forays into dream punk, drum & bass, synthpop and shoegaze. 
For EARMILK, Blackbird Blackbird says the background of his trap-inspired mix is conjured from a remix of his original, "Pure", which was made from live sets and an exclusive collaboration project with music pal AViDD called Schlap". In addition to these two tracks he's incorporated a number of elements he uses for his live sets. The result? A freshly minted banger.
[soundcloud url="http://api.soundcloud.com/tracks/108761016%3Fsecret_token%3Ds-NhTgD" params="" width=" 100%" height="166" iframe="true" /]
Blackbird Blackbird Facebook · Blackbird Blackbird Soundcloud · Blackbird Blackbird Twitter
---
MyMind & HalfDeaf
Low-end tunes have been making big waves in the west cost music scene for a while now. From the Brainfeeder crew in LA to the underground beat makers of El Super, it appears as though the UK bass-heavy productions of a decade past are back with a vengeance. Enter MyMind & HalfDeaf, two up and coming artists that have recently caught our eye (you may recognize MyMind from previous Wobble Wednesday appearances. These guys aren't just some bass junkies looking for the deepest wobble or pitched vocal sample. With a studio fit for a king, these two young Portland natives have been pushing and pressing only the darkest of experimental tunes. In fact, they just received the first batch of test presses for their upcoming EP.
Standing for pretty much everything we believe in at EARMILK, we figured who better to do a mix for our 100k anniversary than some of the scene's newest talent? Filled with the darkest drum & bass, heaviest 2-step garage, and a few MM/HD originals, this mix is great for everything from studying to burning, driving to chilling. This isn't a compilation for your computer speakers, though. Make sure you slap on a pair of solid cans (maybe the ones you won from our general giveaway or plug in to that sweet sub you had to reconsolidate your student loans to purchase. Feel the bass, get lost in the soundscape, and remember that it's never too late to mess around with sound design. Aside from the obvious respect they deserve for keeping vinyl alive, if you dig MyMind & HalfDeaf's style make sure you let them know!
[soundcloud url="http://api.soundcloud.com/tracks/108703634%3Fsecret_token%3Ds-Yzgbc" params="" width=" 100%" height="166" iframe="true" /]
 MyMind on Facebook · MyMind on Soundcloud · HalfDeaf on Facebook · Halfdeaf on Soundcloud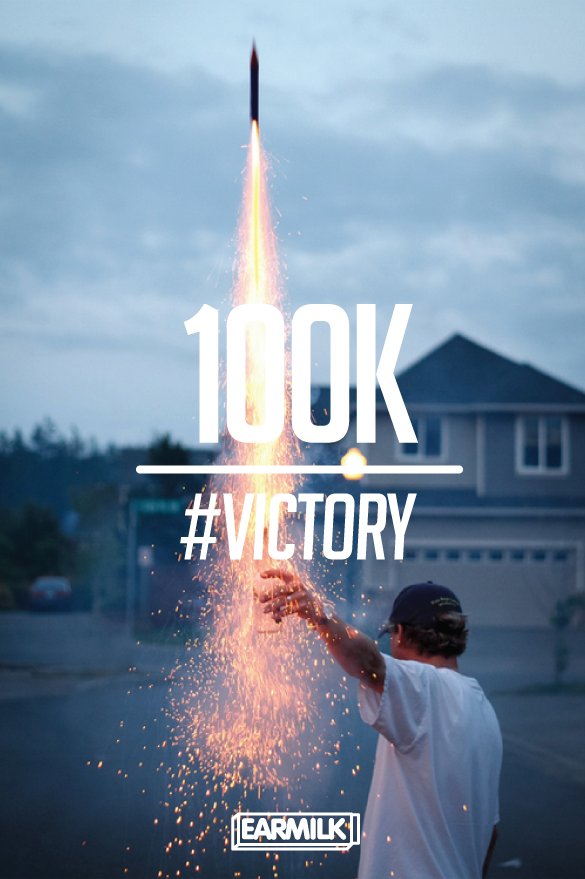 ---
 Contributors: Nathan Beer, Liz Choi, Alyce Currier, Kate Dessa, Artham Pierre, Colin Tewksbury
---