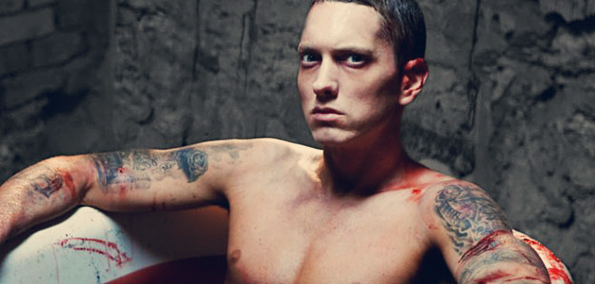 Shady's back, tell a friend.  It's been 2 years since we've heard any new material from the iconic Detroit MC.  But Sunday night during the MTV VMA's, Eminem threw fans across the world into a frenzy when he unveiled a commercial that previewed his new single and announced a new album.  
The Mashall Mathers LP 2, the sequel to one of hip-hops most classic albums will hit stores on November 5th.  Only hours after the commercial aired, the official audio for his single "Berzerk," a Rick Rubin produced guitar induced, up-tempo track hit the Internet.   It's safe to say, classic Marshall Mathers is back.  
"We're gonna rock this house until we knock it down, so turn the volume loud, cause it's mayhem 'til the a.m."  The king of the controversial lyric aims his artillery in response to Kendrick Lamar's verse, and in only an Eminem way, takes shots at Lamar Odom's wife at the very same time.  "Woke up in that Monte Carlo with the ugly Kardashian.  Lamar, oh sorry we done both set the bar low."
Whether you love him or you hate him, you can never deny Eminem's lyrical ability.  MMLP2 should be something for the record books.