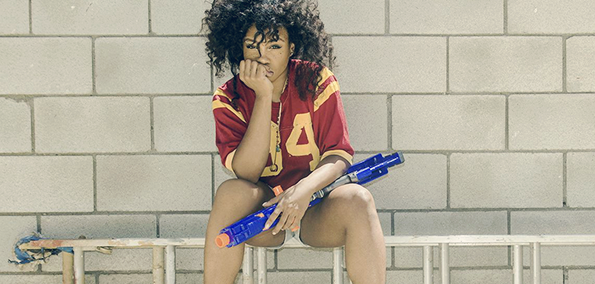 As if Top Dawg Entertainment hadn't already got the music world in a death grip they've just signed one of the most underrated female vocalists around. St Louis native SZA has just become the first lady of TDE, and to celebrate she dropped two new tracks for our listening pleasure. "Teen Spirit" was the first to catch our attention, with typical alternative vibes drawing multiple off of genres such as soul, R&B and hip hop. In doing so she creates a soothing and relaxing beat that compliments SZA's vocal range and talents exceptionally well. Canadian native Wondagurl, who's worked with the likes of Travi$ Scott and most recently produced the track "Crown" for Jay Z's Magna Carta Holy Grail, produced the instrumentals (banging drums beneath soft synths).
Signing with TDE is in response to the hard work and grind from SZA. Her most recent project, S, was released back in April and since she has been working around the clock to get noticed. Now her affiliation with the likes of Kendrick Lamar and Schoolboy Q signals her intentions on getting where she wants to be and it'll be exciting to hear what this new working partnership can come up with next. Stream both her EP's See SZA Run and S over at her Soundcloud (linked below) and if you like what you hear, you can download them for free from her Tumblr.
[soundcloud url="http://api.soundcloud.com/tracks/105481168" params="" width=" 100%" height="166" iframe="true" /]
The second track that SZA dropped entitled "Julia" is an 80's inspired jam that is drenched in disco vibes. The track is produced by Felix Snow, who is a long-term collaborator/friend and is responsible for the majority of production work on her project S. Stream the track below, which is guaranteed to cause listeners to get up and moving.
[soundcloud url="http://api.soundcloud.com/tracks/105340795" params="" width=" 100%" height="166" iframe="true" /]
SZA
Teen Spirit
Top Dawg Ent.
14th August, 2013