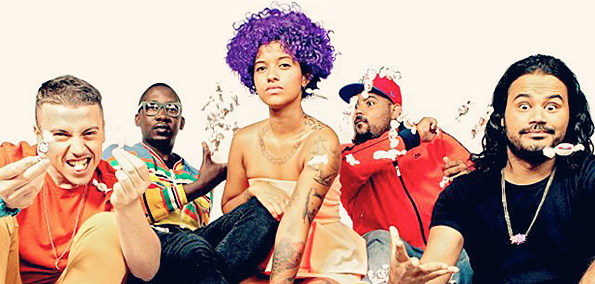 Buraka Som Sistema member Branko (formerly known as J-Wow) had easily one of the most interesting mixtapes this year in Drums Slums and Hums, which received support from diverse acts including (but not limited to) Crookers, Diplo, and Brodinski. His talent was always obvious, as BSS has literally never failed to entertain anyone with functioning ears, but his work on the tape took people by shock. A strange combination of lust, dance, mystery, and total badassery, the 8 song set was beyond regular dance music... it's fair to say that my slight obsession with his mixtape has only become stronger in the four months it has been out. 
The young producer/DJ has finally managed to reach a well-deserved 10,000 followers on his Soundcloud, and to commemorate this moment, he has decided to release his take on Disclosure's "When a Fire Starts to Burn." Buraka as a whole are heavily influenced by certain trends in African music, and with this in mind, they add a Portuguese twinge. It all culminates into a hard hitting, fast-paced energy that's killer on the dancefloor, and Branko's "twist" (as he calls it) on this track certainly does this well. While Disclosure is known for bringing garage back to the forefront, it's easy to say that this version is an entirely new genre. The song is now ready for the club (complete with the airhorn!), and it's definitely going to feature many fans fist-pumping their way through. 
When-a-fire-starts-to-burn-(Branko-Twist)--EM0813
Download:
Disclosure - When a fire starts to burn (Branko Twist)
It seems that Branko is currently working with the rest of Buraka Som Sistema in the studio (although no word on any impending releases), which is exciting for fans of their insane material. They do have some shows lined up, including a performance scheduled at The Warehouse Project, as well as a several other stops in various European locations. 
... And For kicks, here is the music video for the original "When a Fire Starts to Burn," because so long as you aren't reading this from the UK, you haven't quite been inundated with Disclosure quite enough yet. 
Branko
When a Fire Starts to Burn