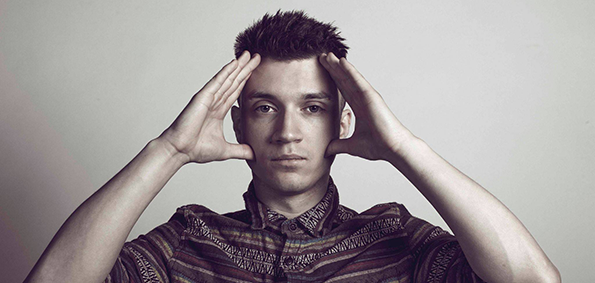 We had the chance to catch up with Vincent Frank aka Frankmusik in New York before his  show last month at Brooklyn's intimate Union Hall. If you haven't heard of Frankmusik, allow me to bring your attention to his synth-pop infused magic. His latest album release, Between, is engrained with raw emotion and vivid snapshots of life experiences that ultimately crafted him into the person and musician he is today. From the personal and soulful vibes of "Chasing Shadows" to the more upbeat and let-loose feel of "Cake," Frankmusik's tracks hit you with different sides of his character and musical progression. As if his powerful vocals aren't enough, Frankmusik shows his versatility in his latest LP, which was written, sung, and produced by him alone. 
We also just got the good word that Between will be up for digital download soon. Vincent remarks, "I have decided to release Between and Between Us as a physical double album later this year as it makes the most sense to me. I hope everyone out the is good and I look forward to come back with some new music very soon. Between Us will be out September 8th as a digital release x"
Check out the interview below and get acquainted with this true DIY artist. 
[soundcloud url="http://api.soundcloud.com/tracks/91499012" params="" width=" 100%" height="166" iframe="true" /]
[soundcloud url="http://api.soundcloud.com/tracks/90792446" params="" width=" 100%" height="166" iframe="true" /]
Earmilk: So, you just got back from DC last night. How was that show?
Frankmusik: DC was insane. The thing was 9:30 Club is right next to the bar we played at. I've played 930 Club 4 times now. It's in a bit of a gay area, so we have a lot of fans there. It was perfect.
EM: Why do you think the gay community loves you? Do you think it's because of Perez?
F: That helps. I also think it's partly because of me, a straight guy, dressing in cat vests. And I did a lot of gay press which involved me not wearing many clothes back in 2009. So that definitely helped.
EM: So I'm going to take it back to when you were a kid and to when you found your first influences. Who were they? How'd you get involved in music and why?
F: I grew up in my mom's 7" music collection. To all those out there, it's a vinyl record a little bigger than a CD. The collection had a lot of electronic Britpop from the 80s. I listened to Vince Clarke, ABC, Foreigner and stuff like that.—synth-driven pop music. I liked my synthesizers and that was pretty much what got the ball rolling in terms of what I liked audibly. When I was 16 or 17, Daft Punk put out their first album Homework. Then I decided, "I've got to do this. I don't know how to do it, but I've got to do this."
EM: So Homework was a key album in your musical progression?
F: Yeah. It was my first pinnacle "I want to make music" album.
[soundcloud url="http://api.soundcloud.com/tracks/89791237" params="" width=" 100%" height="166" iframe="true" /]
[soundcloud url="http://api.soundcloud.com/tracks/91794660" params="" width=" 100%" height="166" iframe="true" /]
EM: What was the reason behind your decision to leave your record label, and how has that affected your music to the present day?
F: We grew out of each other. There were way too many creative decisions that I wasn't particularly keen on, and they weren't keen on me sharing how I really felt about certain things. I have a problem with authority anyway, and the major label system, is pretty much the highest form of authority in the music world. So I think it was a perfect mutual agreement to go our separate ways.
EM:You mentioned earlier today that London was a huge inspiration for you. Why is that?
F: You're a New Yorker. You know why you love New York. It's the same thing for me and London. It's very multicultural. It's a melting pot—the usual cliché. It's very metropolitan. It's got a very rich music history. We've created a lot of iconic musicians, not necessarily world famous, but you hear one second of vocal, and you can say, "I know who that is." It's hard not to be creative in London. You'd have to be deaf, blind, and mute to not resonate with the energy within that city.
EM: How does the UK scene compare to the States scene?
F: You're looking at a very different geographical place. England as a whole is tiny. Socially and musically, everything is very combustible. Things change very quickly. There's a lot of internal influence but there's also the saturation of external influences. America, on the other hand, you've got your coasts, and they've got one way of doing things. Then, you've got a chunk of land in the middle, and they have a very different way of doing things. I think some people from England would have a hard time experiencing the size of this place because it's so different; but I've toured here quite a bunch, so I'm used to it now.
EM: So how would you compare your latest album Between with your previous works Do it in the AM and Complete Me?
F: Do it in the AM was what it was. It was an album I made in America. I took the super pop route on it. There were a lot of collaborations. I listened to the label and did what they wanted. It just didn't work out for me. The first album, Complete Me, was much more me. So I feel like my new album is what the second album should have been and more. I fully produced Do it in the AM on my own and wrote it in 5 months in my Nana's house in South London. I wrote it in the same room, I wrote my first album, so spiritually it made sense; and I think that people can see that the results of that. 
EM: What were your production techniques?
F: Just to keep it real simple.  I just used an I-mic and a pair of speakers. There was no fancy studio. We kept it really tidy. It was good because there were no distractions. I have a studio in Sunset Boulevard, and you walk outside and you just want to stop making music and go outside and have fun. You don't want to have fun where I live in London. It's the ghetto. So we just hunkered down during the longest winter we've had in England in a long time and got busy.
EM: How would you describe your sound? I know the common categorization is "pop-synth," but I'd like to hear how you'd describe it.
F: This last album is like M83 meets a little Passion Pit meets Elton John. Yeah, I think that's about right.
[soundcloud url="http://api.soundcloud.com/tracks/79143485" params="" width=" 100%" height="166" iframe="true" /]
[soundcloud url="http://api.soundcloud.com/tracks/79143487" params="" width=" 100%" height="166" iframe="true" /]
EM:The "Walking on a Dream" video you did is so heartwarming to me. Will you do more covers like that?
F: Yes, we've planned to do "Try Again" by Aaliyah. We're going to do some more obscure covers as well, but finding locations and time has been difficult.
EM:Who found the location for the "Walking on a Dream" video?
F: We've been keeping the budget really tight, so we've been staying at people's houses. We've been camping instead of paying for hotels. So, one of the houses we were staying at was a mansion, 1000 ft up on a mountain looking out on Chattanooga.
EM:So on to some quicker questions. What's your biggest vice?
F: Smoking.
EM: If you were curating your own festival, who would you have headlined dead or alive?
F: I'd have to say Michael Jackson.
EM:Celebrity crush?
F: Umm. Let's go with Keira Knightley. She's cool.
EM:Superpower?
F: Invisibility.
EM:Lastly, what will you be up to after the tour? What do you have planned for the next few months? Feel free to share any last words for our readers.
F: We've got the acoustic album coming out soon after this. It's called Between Us. It's basically an extension of my last album. It's the same but it's me on the piano. We've got my fourth album that's going straight into production, which will be my first concept album. Then we'll be hitting the road during Autumn and Winter and traveling across America and Canada. We hope to hit a few more of southern states as well. 
[soundcloud url="http://api.soundcloud.com/tracks/79143490" params="" width=" 100%" height="166" iframe="true" /]
[soundcloud url="http://api.soundcloud.com/tracks/79143491" params="" width=" 100%" height="166" iframe="true" /]
-Transcribed by Ravahn Duval