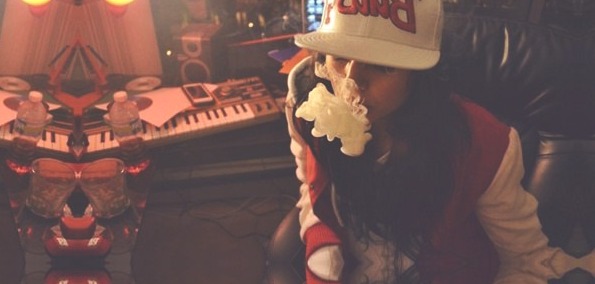 The time for a musical revolution is upon us. This time, however, it may be stranger than we expected. Relatively unknown genres like Baile Funk, Kuduro, and Boombahchero have been influencing the stranger side of trap and house music, while others like Baltimore Club and Ballroom House have also been making appearances. Don't feel bad if these names don't sound familiar to you, since it feels like new ones are being contrived by the hour.
Artists like Astronomar are at the forefront of incorporating these newfangled musical styles into the music we've become accustomed to. His first Untrapped edits album released earlier this year gave us a glimpse into where the sound might be going next, but Mashing up the infamous "Harlem Shake" with dancehall rhythms, jacking "Swoop" up with some breaks and a marching beat, and giving UZ's "V6" a more upbeat face was only the first step. Astronomar is back with more wonked-out edits to change the game once again.
Untrapped 2 takes on SALVA's "Drop That B", Djemba Djemba's "Stahp", and LAMBO's "Ass Everywhere", twisting in that iconic new-age strangeness. Influences from Kuduro and House are readily apparent in all three, with "Ass Everywhere" sounding a lot like those crazy big-name festival sets (see: Hardwell's Ultra 13, Kaskade's Ultra 13, and Dimitri Vegas & Like Mike's Tomorrowland 13).
As if the new sound wasn't enough, Astronomar is taking the "Pay What You Want" movement to a whole new level by creating an entire label based on the pro-sharing idea. Alongside Neoteric and Bot (formerly Crookers), he has started Main Course, a label that releases music in a two-track format accompanied by music videos. All releases are available for free with the option to purchase. Main Course will also feature exclusive free downloads of original tracks and bootlegs in a series they're dubbing "SNACKS".
If you're in the market for something new, innovative, and just the right amount of weird, Astronomar's Untrapped 2 is out for free in exchange for a Facebook Like. Be on the lookout for his new label for more of the same, and check out his recent exclusive mix for Vice's Thump.