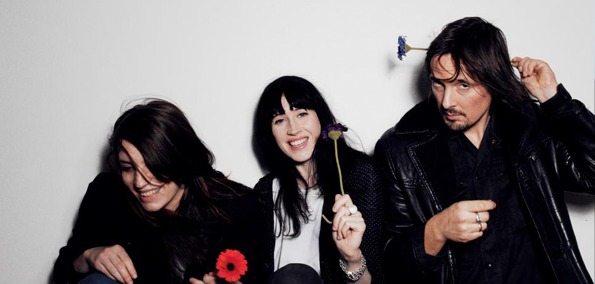 Formed in 2004, Scanners met in a London rehearsal studio at a time when each of their members were playing for different bands.  Immediately hitting it off they decided to record some songs together, and from there the album 'Violence is Golden' was born.  Through a strange set of circumstances, Steve Aoki, head of Los Angeles label Dim Mak Records (Bloc Party, The Rakes, Gossip), heard one of the tracks on the impromptu album and was immediately hooked.  
Fast-forward to 2013 and Scanners are set to release their third studio album on the Dim Mak imprint, entitled "Love is Symmetry." As one of the last remaining indie bands on Dim Mak's otherwise illustrious roster, they have a special place in Steve's heart.  He and I both agree that this is their best album yet, and is set to take North America as well as the UK by storm.
Scanners' trademark synth is a strong presence on most of their tracks. On songs like the intricately named 'Today is the Tomorrow That They Promised Yesterday' and the supremely danceable 'Control,' their unique synthesizers take the lead. The unique disjointed rhythm of 'When They Put Me Back Together They Forgot to Turn Me On', and the strangely joyful 'My Streets are Always in the Shade' are standouts for us.
Recorded and produced by the band, and including mixes by Victor Van Vugt (PJ Harvey, Athlete), the sound is still distinctly that of Scanners. Yet, all the while, they've also evolved: 'Love is Symmetry' seems more urgent, the rhythms more complex, while their  love of strong melodies hold true throughout the album.
Dim Mak is also putting out a remix compilation of the album featuring some of the label's hottest artists, and want to feature YOU on the release. Earmilk x Wavo x Dim Mak Recordings are searching for remixes of "Mexico", "Charmed Life", and "Control". Do you have what it takes to shine on one of the most infamous Indie labels of the internet age? For this competition we are looking for a wide variety of remixes. Whether it's disco, drowned-out trap, or high-energy electro, we want to hear your remix. Push yourself and don't be afraid to step outside the box to deliver a track from any genre! And if your feeling sinpired then we strongly encourage you to try your hand at more than one remix.
Download the stems for these three Scanners tracks from the microsite HERE and get to work. Submit your entry/entries before July 12th 2013.
We'll be picking three remixes based on popularity as well as three that we straight-up enjoy to round out the top six. Our panel of judges will include Mr. Steve Aoki himself and the Dim Mak A&R team, who will review the six remix finalists for each original song and choose a winner based on fan voting and Dim Mak's professional expertise.
Scanners – Love is Symmetry will be released in the Spring of 2013 on Dim Mak and Unterschaften Records. Check out the tracks below!
 Scanners on Facebook
Scanners on Twitter