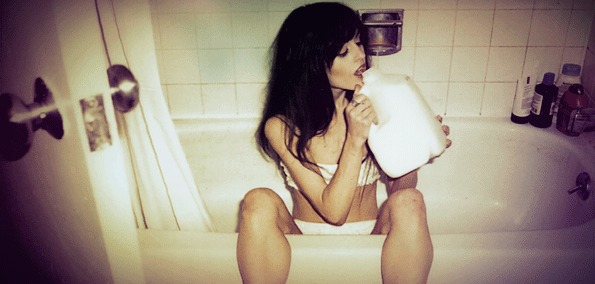 Blowing up from what seems like out of thin air, future bass producer AWE is beginning to take the world by storm. Little has been officially released by this producer so far, but has been released are quality goods. The new alias by dubstep/electronic producer Zachary Urman (previously known as Zaku Chan) is already making waves in the Los Angeles bass scene with constant exclusive previews on Plastician's Rinse.FM radio show.
If I were forced to generalize AWE's music, I would say that it's a blend of high energy dubstep and trap with a melodic house feel. But it's almost better to not categorize his music; I cannot do it justice with just words. Each song takes you on an emotional rollercoaster with highs and lows, and grasping all corners of the electronic music realm to create something expressively new and exciting.
AWE has been garnering massive praise by some of dubstep's biggest names, leaving us all to wonder: is he the next big thing in electronic music? Zack had a moment to sit down and answer a few questions about his new EP release and the overall LA beat scene.
[soundcloud url="http://api.soundcloud.com/tracks/85861492" iframe="true" /]
EM: Hey, what's up? Thanks for taking the time to answer a few questions for Earmilk. Can you give us a little background information on yourself? Name, how long you've been producing for, etc.
AWE: My name is Zack but I produce electronic music under the moniker AWE. I'm gonna turn 19 in June and I live in LA. I've been producing for like 5 or 6 years? Don't remember.
EM: What's the meaning behind the name AWE?
AWE: My manager Alon has been working with me for a while now, and whenever I played him some of my works-in-progress, he always said he was "in awe" of me and the music I produce. He kept bringing up the name "Awe" and it started to grow on me. I slowly realized it is exactly what I want to inspire through my music. This guy Paul Pearsall had a cool take on it: Awe "is all of our feelings rolled up into one intense one." You can't peg it as just happy, sad, afraid, angry or hopeful. Instead, it's a matter of experiencing all these feelings and yet, paradoxically, experiencing no clearly identifiable, or at least any easily describable emotion."
[soundcloud url="http://api.soundcloud.com/tracks/85861705" iframe="true" /]
EM: Why the change from Zaku Chan?
AWE: I used to make some dubstep under that name. To keep it simple—I found myself trying to fit my ideas into a genre which really wasn't right for them. I experimented with a lot of crazy sounds and grew as a producer. But at a certain point, I realized that there was so much more I stood for. I took everything I learned and decided to break out of the box, disassociate myself with any one type of sound or genre. Now I am free to produce the music I want, to produce free of any restrictions.
EM: How would you describe your sound and any personal inspiration?
AWE: This is always the hardest to answer...I kind of like to think of the sound as something that I've been building up to my whole musical career, taking inspiration from everything I love. Obviously it has a hip hop/"trap"/dubstep/UK bass twist to it but I'd like to think you can hear many genres and sounds in there.
As for inspiration, I could go on forever...Joker, Rustie, Pendulum, Daniel Kandi, Above and Beyond, Justice, Daft Punk, 9th Wonder, Pharcyde, Doctor P, you name it... but really the people who stand out most to me are Hudson Mohawke and Flying Lotus. They changed my idea of music completely. I was speechless when I heard Hudson Mohawke's "Butter" or Flylo's "Los Angeles" for the first time. Living in Los Angeles has also spawned my love of hip hop and the LA beat scene.
[soundcloud url="http://api.soundcloud.com/tracks/85861578" iframe="true" /]
EM: You're out in LA, and it seems there is a direct correlation to the sound you're creating and The Melt / TeamSupreme crew. Have you all been working on music together or does that just seem to be the trend out there?
AWE: Well actually I didn't meet Roger (Kloud) from The Melt and all the TeamSupreme homies until we randomly linked up. These Boston cats called M|O|D were doing their Boiler Room here in LA. I drove to Roger's and met up with all those guys and we all really connected musically. Been in touch with M|O|D crew ever since, and have been attending all the TeamSupreme nights as well as occasionally contributing to the weekly beat cyphers they put out. (check those out!)
There's just mad talent in all these guys and I love surrounding myself with people who put out creative vibes. LA is amazing for that. LA is into like EVERY kind of music, there is a rockabilly scene, a punk scene, a dubstep and DNB scene, but I feel like the "beat scene" and events like Low End Theory will always be the heartbeat of the city.
EM: Your music seems to appear on every Plastician Rinse.fm radio show. How did you first hook up with him?
AWE: He first hit me up through a Soundcloud message when I was producing dubstep. About a year ago I sent him a demo of "Jurassic" and "Trendy" and he latched on to it. We have been working together since.
[soundcloud url="http://api.soundcloud.com/tracks/85862256" iframe="true" /]
EM: Also, what's it like getting support from big name producers like Plastician and Joker already?
AWE: It is a trip. I remember spotting a vinyl copy of "Joker - Tron" in a record shop and HAD to cop it- it was probably my favorite track at the time. If someone would have told me that 3 years later I would be speaking to him fairly regularly, I would have thought they were crazy. That dude is definitely an inspiration to me. Same with Hud Mo - he sent me a Twitter DM asking for my music, and I was tripping out- in my head I was like "he only follows like 500 people and I'm one of them!" As for Chris Plastician, he is OG, a real legend...I remember being in the loft where they were recording some Rinse.fm sessions in LA with Chris and my manager and Nadastrom. After the session, Chris sat down and told us a story of the early days in the dubstep scene, it ended with someone robbing a chicken shop in Croydon UK. Madness.
EM: Your New Eagle Soul EP is out — what else can we be looking forward to? Any possible tour dates in the near future?
AWE: Definitely some shows in the works. We are talking to some people on the east coast, hopefully we can put together a few dates for that, and some local LA shows. Also thinking of visiting San Fran and Santa Cruz, I just love it there. I can't say much about future projects but expect some awesome stuff. But actually awesome, I'm not just saying that.
[soundcloud url="http://api.soundcloud.com/tracks/88641110" iframe="true" /]
EM: Anything else you'd like the people to know?
AWE: Just how thankful I am to everyone that has supported thus far. A special shout out to Plastician and all the Team Supreme homies. So many great things are coming, looking forward to sharing them with everyone.
Thanks for the interview Logan.