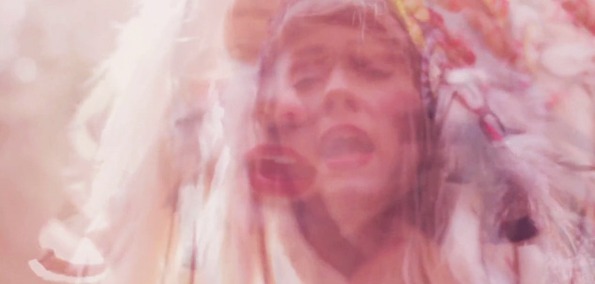 While the duo Young Wonder hail from Ireland, their appeal stretches far beyond the UK—with sweeping electro pop tracks and an energetic live show to support their sound. Having produced music as a collective since 2011, Ian Ring and Rachel Koeman have shined in the spotlight from the get go, with the release of their first song together "Orange" which was met with warm reception.
Releasing their self-titled debut a year ago, their new EP, Show Your Teeth, showcases a refined sound, including studio production that gives the electronic textures a feeling of warmth as Koeman explores the outer reaches of her voice. While Ian's instrumentals are focused around layering percussion and harmonies to create a heavy base, Koeman's dense vocal runs scream for attention, playing off of Bjork-like pitch-shifting, while also taking note from the subtleness and sincerity found in Purity Ring's Megan James' voice.
Show Your Teeth's intro builds anticipation for what is to come, as echoing vocals create a dream-like feel that is carried throughout the entire EP. This leads into the fragile textures in "Time", featuring high-end vocals from Koeman, and a contribution from Sacred Animals, aka Darragh Nolan, that act as a ground lift off of.
In "To You" an Eastern-inspired backing is structured around a fluttering melodic note that builds into a heavy synth string hook, carrying the song forward. This is paired with sweeping textures and a simple drum rhythm to support Koeman's chant.
This leads into a dense segment in the EP, as "Electrified" acts as a transitioning point between the feeling of drifting away on a cloud and the heavier low end electronic presence in "Seventeen" and "Bullet". While the closing track "Bullet" plays off of the reoccurring ethnic rhythmic elements, "Electrified" and "Seventeen" are shaped by a traditional drum machine, including fluttering hi-hats and intermittent snares that give the beat hip hop qualities. All the while the mix between Koeman's planed vocals and Ian's synth additions are at times almost interchangeable with segments from Purity Ring songs.
If the opportunity presents itself catch Young Wonder live, as they combine dubstep and house with their established sound and live vocals that are then turned into samples to make for a show that draws in crowds across Europe--pick up their EP on BandCamp here.
Young Wonder
Show Your Teeth EP
Feel Good Lost
06-06-2013