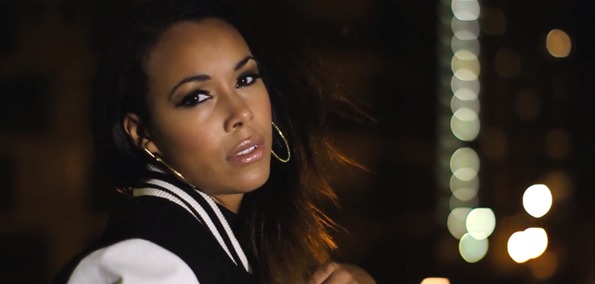 In the past two years, British songstress Amina Bryant's life has been a wild roller-coaster ride. Her work has received attention from some of the most influential names in the music industry, including a feature on BBC 1Xtra's CJ Beatz's show, and collaborative efforts with both Dipset rapper Jim Jones and UFK Dubstep producer WhiZz K!D.
Released in 2011, her mixtape, "Back to The Future" was praised for its forward thinking approach; taking current sounds and blending them with throwback and out-of-the-box vibes to create an innovative and spontaneous musical experience.  This tape is a prime example of her ingenious style and why she is appropriately featured as part of our influencer series.
It is clear that Amina has drawn distinct inspiration from a colorful variety of music, having had a significant musical background growing up as a child.  Says Byrant on her musical influences: "I grew up in Brixton, it's a melting pot of cultures so you draw influences from everywhere, my brothers were listening to jungle, hip hop and bashment, my parents were listening to reggae and soul, while my sister was listening to R&B, so I took all those influences in."
In the lead-up to her new EP, "Black Cinderella" Amina has selected an array of different songs and genres, including classic 80s jams, alternative hip-hop hits, deep R&B cuts and several other tracks that define Bryant's musical prowess.  Check out the chart below and don't forget to catch the tracklist and Amina's own commentary on her song selection down below.

Powered by Wavo.
Aaliyah - One in a Million
"I feel a kindred spirit with Aaliyah, I love her choices, she's effortlessly cool, this track for me is her signature and you can't help but fall in love with her on this song. She, Missy, Timbaland had such a good vibe together and she has proved irreplaceable."
Miguel - P*ssy Is Mine
"This is one of my favourite tracks off this incredible album I love the simplicity of this song and the raw vocal. Sexy."
Drake - Crew Love
"I'm a big Drake fan and I remember the first time I heard this and being hooked on the opening of this song by The Weeknd, it's hypnotic. Love it."
Kendrick Lamar- Money Trees
"This track is so addictive, love the beat and flow and it has great features. I'm still calling people "Ya bish"."
Brandy - Angel In Disguise
"Never Say Never is one of my all-time favourite albums and this is one of the best songs. This song reminds me of being a teenager and being transfixed on this new sound and vocal production by Rodney Jerkins and LaShawn Daniels she's often imitated but NOBODY does it like Brandy. A classic."
Bob Marley - Rock My Boat
"I can't have a top 10 and not include Bob, he's my foundation, as a Jamaican I am especially proud and  I particularly love this song because the mood and the lyrics but I could of picked 10 more which are equally as great. Favourite line - "Satisfy my soul"
Kanye West - Power
"I love Kanye's arrogance and this track is full of cocky, ego driven lyrics. I love listening to this right before I perform, or do a photo shoot it gives me that fire. Favourite line - "With some light skin girls and some Kelly Rowlands"
Michael Jackson - Beat It
"I'm obsessed with Michael, he's my benchmark, often me and my producer will just sit in the studio and listen to MJ and just marvel at the vocal, the production and the mix. Sonic perfection. I love Beat it for the Van Halen solo, its distinctive writing style, but mostly for THAT jacket in the video."
Haim - Falling
"I can't stop listening to this track; I'm an 80's baby and I loving the slap bass and breathy vocal. It's a little piece of magic and I love that they are sisters. Big tune."
Frank Ocean - Pyramids
"I think great song writing is about storytelling and few do it better than Mr. Frank Ocean. I love the drama of this song, it's a musical journey taking you through time and space, if a tracks going to be 10 minutes make it worth it, and this truly does, you're left satisfied and hooked. Favourite line - "Set the cheetahs on the lose"
Amina on Facebook
Amina on Twitter