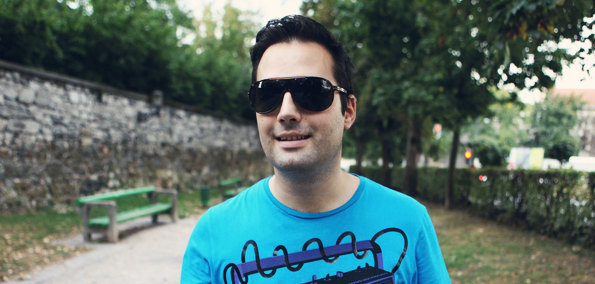 Today is the 12th instalment in our influencer series. We've teamed up with Wavo, the social network for music, to feature top 10 charts from artists and influencers from around the world.  Curators for the series are chosen based on their unique impact on modern music and culture.
Martin Bijelić, known professionally as Beltek, is one of the most sophisticated new progressive house artists out there.  Classicaly trained (You'll see some of his piano skills in his video for "Connect Us" down below) Beltek launched onto the secne when Pete Tong debuted his freshman release "Copacabana" -- the winning track for one of the tastemakers talent competitions.  Beltek has consistently followed that first success with chart topping hits on some of the most prestigious electronic labels in the world including Dim Mak, Ministry of Sound, Toolroom, and Armada.
This is honestly the first chart I got a little spooked reviewing.  It's packed with some of the most influential electronic music tracks ever.  The techniques and style pioneered in these songs can be heard echoed through the production of almost every headlining producer out there today.  Songs range from Derrick Mays' classic Strings of Life, one of the all-time most influential techno songs ever, with it's often replicated orchestral stabs and piano riffs,  to Aphex Twin's creepy masterpiece Come To daddy and all the way up to Chicane's euphoric trance anthem Saltwater
You can tell how much these tracks mean to Beltek and figure into his own career.  This chart really sums up the whole point of the influencer series -- Seeing what influenced our influencers
 Check out the full chart below and don't forget to check out Beltek's own commentary on the song selection below!

Powered by Wavo.
TOP 10 BELTEK
The Aztec Mystic - Knights of the Jaguar
Beltek: "One of the best pieces of electronic music ever made. The main melody is just mindblowing and the best thing of this song is that it just keeps building and building from start until the end. A true classic."
Faithless - Insomnia
"One of my biggest inspirational songs when I first heard electronic music. It really got to me. And to top things even more, the group invited me few years ago to be a part of their latest album, which was a big honor for me."
Rhythim Is Rhythim - Strings of Life
"When I first heard Strings Of Life I instantly fell in love with it. As the title says, the strings take the main role in this track and the melody that keeps looping, is so addictive that you cant get it out of your head so easily. A track which can easily be considered as one of the top 10 biggest electronic music songs."
Hans Zimmer - Time
"For me, this is the best musical composition in electronic music world nowdays. The combination live instruments and electronic ones is just remarkable. I need to play it almost every week, because it brings a lot emotions out. Good or bad. A musical masterpiece."
Beltek - Connect Us
"This song will always have a special place in me, because it was made with a greater purpose and that was to help children in need. I approached a charity organisation and started a project where I will donate all the income from this track to those who need it much more than I do. That's why I named it Connect Us. Because music connects us all, no matter about our looks, ethnicy, religiion or something else."
Members of Mayday - Sonic Empire
"Sonic Empire is a song when there was a lot of electro/breakbeat songs around and for me this one is one of the best.
Aphex Twin - Come To Daddy
"I could easily describe this track with two words: fresh and energetic. Aphex Twin was always about that and this my favorite songs from him. A big inpiration for me when it comes to more dark music making."
Dr Motte & Westbam - One World One Future
"The best of all Love Parade songs in my opinion. This song was a really special to me. Love Parade used to be the best and biggest music festival in the world, held in the center of Berlin city, Germany.
Chicane - Saltwater
"One of the first songs that got me introduced to early trance. Amazing song with very emotional vocals.This is one my favorite trance classics."
Beltek - Party Voice
"This one keeps me inspired all the time. Usually I get pretty much tired of my songs even before they get released, because I spend a lot of time on producing and finalising my songs. But with Party Voice it was different. It still sounds fresh and very energetic to me. Definitely one of my best songs so far."