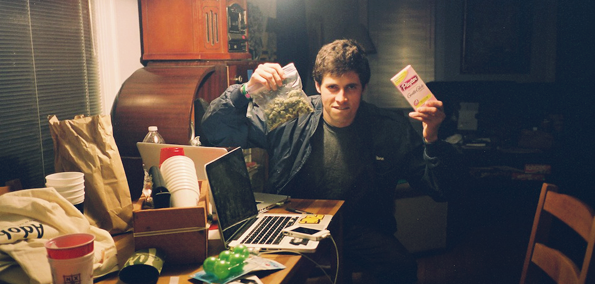 Bay Area native Caleb Stone wears plenty of hats. The frequent Alexander Spit collaborator now mainly produces, though he was the drummer for death metal band Mouth of the Serpent and bass player for Professor Calculus. If that wasn't enough, he's also produced for Kilo Kish, Mike G, SPEAK! and more.
As a follow up to his last instrumental tape titled SLEEEPY BITCHES, Caleb is working on PPUURREESSHHEERRMM, which he says will be more like a rap album than the typical beat tape. Perhaps most interesting about Caleb is his ability to use all his experiences as influences in his current work, and you can definitely hear different genres creep into his production depending on the track. Since PPUURREESSHHEERRMM is set to drop in June, Stone sent us "Official Juggalo" to get us ready.
"Official Juggalo" is a pretty smooth offering from the Los Angeles transplant, incorporating a blues guitar sample that I'm admittedly partial to, along with Brenda Russell's "A Little Bit of Love" as the background piano chords. The track has that chill summer vibe, just in time for the coming season. 
Download:
Caleb Stone - OFFICIAL JUGGALO
In addition to all the projects he's been working on, Caleb is also hard at work on a beat tape with Decon Records' Alexander Spit, also set to drop in June. As a bonus, check out his bootleg of Future's "Karate Chop".
[soundcloud url="http://api.soundcloud.com/tracks/84962231"]