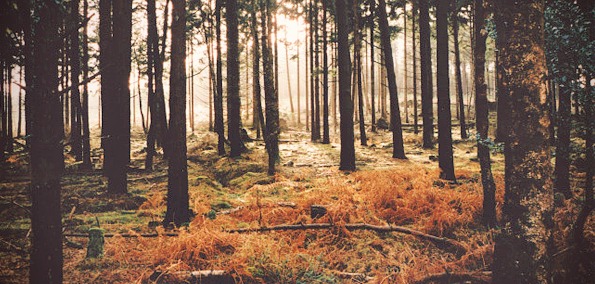 Recently London newcomers Phoria have been stirring up the scene with their debut single "Red" that captures a mood and creates a soundscape that encompasses the listener. The hype surrounding the five-piece has progressed into optimistic anticipation for what is on the horizon as "Red" can fill a room with its whole-hearted delivery. With their debut EP Bloodworks due out in the coming weeks, what Phoria bring to question is whether they will fall victim to a common occurrence in the music industry: peaking too early.
In order to answer this overbearing question, Phoria have released their entire new EP two weeks before its release date. As it turns out, they took their unique approach and ran with it, producing a composition where all five songs stand apart as gems. They have created an overall unique experience, with emotion drawn out from the subtle and unweighted vocal approach. Every component seems to build and break down around the traveling vocals and in doing so, they create an almost angelic feeling at times.
Engulfed by a relaxed and sustained feeling, "Once Again" may be the lightest of the five tracks, but what it lacks in complexity, it makes up for in drawing on emotions that we have all felt at one point in our lives. Beginning with vocals and piano chords, "Once Again" climbs into a bliss-filled blend of synthetic percussive effects that are supported by soothing orchestral strings.
[soundcloud url="http://api.soundcloud.com/tracks/87960152" params="" width=" 100%" height="166" iframe="true" /]
Crafted around a lively chord progression and impeccably executed live percussion, "Scopes" is tranquil and held back at one end, while the latter half acts as an accent to the entire album, as the listener can get lost skirting just above the clouds. Even though the song is so different at both ends, as the song's name implies, Phoria scope in on a variant of sounds throughout, moving away from predisposition. 
[soundcloud url="http://api.soundcloud.com/tracks/87960177" params="" width=" 100%" height="166" iframe="true" /]
Speaking of breaking boundaries, what better place to start than from the unexpected? Bloodworks' opener "Posture" is composed of almost entirely electronic elements and leaps into a drum and bass powerhouse just before dying out. As "Posture" begins in a relaxed fashion and ends on a plateau, it is the in-between that stands out, meshing calm feelings with spontaneity to create a truly unexplored sound.
[soundcloud url="http://api.soundcloud.com/tracks/87958221" params="" width=" 100%" height="166" iframe="true" /]
Rounding out the spectrum, the EP ends with an emotion-filled ballad, where vocals are echoed by layered textures and provide an almost dream-like setting. While "Set Your Mind On It" never fully escalates beyond its easygoing vibe, it is propelled by a precise and unaltered drum beat that acts as a base for the song to venture off of.
[soundcloud url="http://api.soundcloud.com/tracks/87960660" params="" width=" 100%" height="166" iframe="true" /]