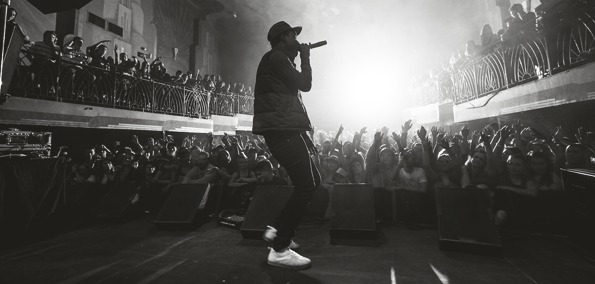 Skizzy Mars is a Manhattan native who has been able to embrace an upbringing surrounded by wealthy white people yet still remain comfortable and true to himself. This unlikely mixture has made him unlike other up-and-coming artists building up the new age New York scene. With a focus strictly on releasing music and shying away from videos or elaborate photo shoots, he has built an organic fanbase that first and foremost appreciates him for his music. Earmilk had the chance to catch up with Skizzy Mars before he embarks on his nationwide tour with Logic, as well as dates on G-Eazy's tour.
EARMILK: Where are you from and how did you get the name Skizzy Mars?
Skizzy Mars: I'm from Manhattan, New York City. I'm not completely sure where Skizzy came from — I know it came from high school. My favorite teacher use to call me Skills Mills; my name is Miles Mills. So it just stemmed from that. I thought it sounded cool. 
 EM: I've noticed there is a lack of information and photos of you online. Is this on purpose or have you not gotten around to these things ?
SM: Yeah, I mean in the beginning, when I started this whole thing a year or two ago, it was just music. Like on the song "Cheer Up", I said, "I wanted people to hear me way before they saw me." I just pushed the music. I sent the songs to the blogs and it was received well. That's why the fanbase is so organic.
EM: In your song "Pay For Me" featuring G-Eazy, you speak about a wealthy girl footing the bill in exchange for you showing her appreciation. Is this based on true events?
SM: G sent me the record and he came up with the concept. I grew up with a lot of really rich girls so the track made a lot of sense. I was super comfortable being around girls who had way more money than me. I thought it was even better being a rapper because usually people expect you to pay since you have a lot of money. So the idea of spinning things around was really appealing.
EM: Your sound is very different from that of other up-and-comers in the New York scene. How do you fit in this new school of hip-hop and would you associate yourself with the Joey Bada$$es and ASAP Rockies, or would you rather be seen as more of a pop artist?
SM: I definitely think I can rap with the best of them. The way I craft verses is strong and it is only getting better. I think that a lot of guys paved the way, whereas five to ten years ago a guy like me wouldn't really get this shot. Guys like Drake and Cudi really paved the way. I fit in as a good songwriter, I can write good hooks also. First and foremost, I'm a rapper.
EM: I read that your managers work for Atlantic Records. How did you initially get in contact with them and when was the first time you noticed your career was starting to pick up momentum? 
SM: I was a junior in high school. May of 2011, I was about to graduate and go to college that fall. I met with a couple labels after I released "Douchebag". I sent it to 25 blogs. I didn't even know they were going to like it, but they all were really into it. I released "Profound" after and got a lot of emails after that. I met with a lot of A&Rs, then I went to Atlantic and met with my managers and they said they wanted to manage me. It was all very organic. I first knew I was picking up steam that summer when I released the "Colors" remix, kids were really responding to it. So I decided to skip college.
EM: Lately, it seems an artist can't rely on just music; they need to transcend into fashion or showcase other interests to really build a fanbase. How do you feel about that ?
SM: It's funny because I didn't need to go about it that way. It shows how important good, consistent music can be. Like a lot of the kids come to the shows and that's the first time they've ever seen me. They'll come and be like oh, cool, that's Skizzy. Kids ask, how do I get to your level? And I don't even really know what that means, but firstly, you need to be good and just work really hard. To break into the main mainstream though, I do feel there need to be other factors that you show to the public.
EM: What artists are you currently listening to now aside from yourself? 
SM: I'm super into Step and that ASAP Ferg "Work" track. There hasn't been that much stuff lately.
EM: You seem to regularly pick beats with indie/electro samples.  What draws you to them and what influences your thought process when picking beats?
SM: My sound is a combination of what I listened to growing up. Cudi, Q-Tip, The Killers, growing up in middle school and high school that's what I listened to and I genuinely listen to myself more than any other artist. It's all pretty natuaral even when I'm rapping over EDM. I've been familiar with that scene since I was 15.
EM: Do you ever get comparisons between your sound and Kid Cudi? 
SM: I hear Cudi a lot because of the mass appeal and he's a diverse artist and is probably one of my favorite artists of all time. I hear Drake because we are both well-spoken artists. You are what you listen to. I grew up in a generation where guys like Cudi and Kanye were like my Biggie and Pac.
EM: We received a few questions from some of your fans on Twitter. Where can people pick up physical copies of Phases?
SM: You can receive hard copies on tour. I will be on the Welcome To Forever tour with Logic and The Must Be Nice tour with G-Eazy.
EM: Why have you decided to go the non-visual route in a day filled with music videos?
SM: Really, when I came out I didn't have the access to videos to be as good as I wanted them to be. During the Phases recording process, we shot some videos, but it wasn't as good as I wanted tit to be so we scrapped them. Now, though, I am doing the video thing, but it was great to start with strong music because that's how we built the following.
[soundcloud url="http://api.soundcloud.com/playlists/4326401" height="200" iframe="true" /]