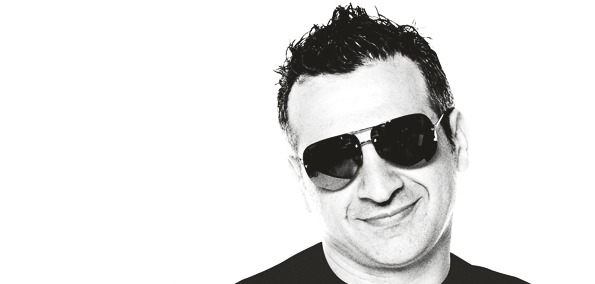 Today is the ninth instalment in our influencer series. We've teamed up with Wavo, the social network for music, to feature top 10 charts from artists and influencers from around the world.  Curators for the series are chosen based on their unique impact on modern music and culture.
For years Boris has been a pillar in New York City's tech scene. A regular at Pacha NYC since 2006, Boris has followed the footsteps of Larry Levan and Danny Tenaglia, expanding his pedigree from the Big Apple to the far reaches of the globe.  Born in Russia, the tech-house faithful is famous for bringing pure dance music to festivals and clubs alike. His always faithful service to the clubbers of New York has paid off, with two Club World Award "Best Resident DJ" nominations (one while at Crobar, and one while at Pacha), a DJ Times cover story, a top 5 finish in the national America's Best DJ fan poll, and a new residency at super club Space in Miami. His production is just as well-received, as Dubfire picked up his latest EP for his always hot SCI-TEC imprint, and  he boasts one of the world's best tech compilations ("BELIEVE"). Boris and his team are currently planning the release of his fourth mixed compilation, and a series of world tour dates to follow.
The chart is a nice medley of original Boris productions and those of his friends. It's easy to tell he's bent on making his crowd dance from both his selections and his comments. 'Control' is a pumping track on Octopus, while 'For U' is a groovier track that one may not expect from a Boris production. It was nice to see the inclusion of Mr. Iberica, DJ Chus, as well as the always-on Mr. Bizz. Pay attention to the various drum programmings throughout this chart, a testament to the housy, latin flair that Boris will bring to the table.  From dark techno to groovy, old-school house music, this chart is a fantastic collection of one thing and one thing only - dance music. Enjoy! (Setlist with comments from Boris below)

Powered by Wavo.
1- Boris -  Control
"My favorite track of mine right now on Octopus recordings"
 2- Redhead - Baloo
"One of my biggest tracks for me now. Always a big reaction on the dancefloor"
3- Dj Chus + Patrick  M - Estela( Cocodrills mix)
"Loving the stuff that's coming from the Cocodrills now a days. Top notch stuff"
4- Boris - 2Me
"Another one my new tracks that's getting huge support from the biggest Techno guys in game"  
 5- Sasha Carassi - Dark Pride
 "Dark Techno at it's finest from Sasha Carassi"
6-  Boris - For U
"Something different from what your use to from me, as I go more housie and groovy
7- DJ Fronter - Big Bang
"DJ Fronter the man from Colombia is killing it with his productions right now, and this one is no different"
8- Mr Bizz - Suspence
"Amazing track from Mr Bizz on Sci+Tec" Instant floor killer!
9 - D- Unity - The Ritual
" Can you say Deep, Dark, Drummie floor mover"
10 - Bailey & Harary - The Voice
" Solid Techno right here"