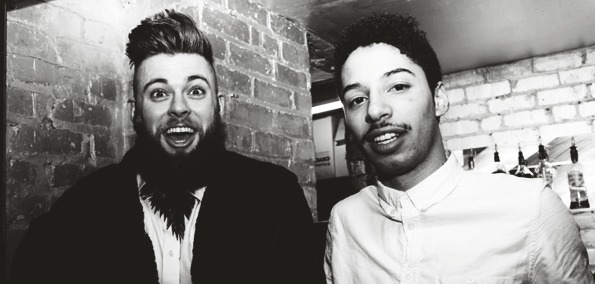 The UK has a knack for making bass-driven music, having carved the way with the likes of MJ Cole and Skream to name a couple of UK producers who have lent their hand to making bass-driven tracks. Stepping up to the plate in 2013, we have a couple of relative rookies, in the form of production/DJ duo Acropolis Sound. Based in the North of England, Acropolis Sound is made up of two producers: Bad Osiris (Tony) and KEE (Mark). They began producing together in the summer of 2012, when their remix of Star One's "Respect" featured on the full EP release of the same name. Both Tony and Mark are part of the Murkage Cartel, a 25-strong collective of MCs, producers and DJs from within the British Isles.
U Down is the duo's first EP release and is made up of 2 original tracks and a re-remix (a remix of a remix). The first of the two original works is the title track from the EP, "U Down". This song has a very house-y feel to it, akin to the likes of current UK scene-smashers Disclosure. The shuffling hi-hats over a funky bass line are topped off by the sampled vocals of the legendary Nate Dogg. This track will definitely have you moving your feet.
The second of the two originals is "We Don't Even", a bass-fueled slow jam that has plenty of soul to it. This track is straddled by a bass melody that complements the beat perfectly, all underlined by a soulful vocal sample courtesy of Atlanta R&B group 112. The final track on the EP is their re-remix of "Hyper Paradise" (originally by Hermitude). Acropolis Sound's take on the Flume remix is to give it a much more house-like vibe. The way the bass line funks its way through the track, accompanied by shuffling hi-hats and a clap/snare combo, they've turned the track on its head and given it more punch, guaranteed to get you dancing.
You can stream all 3 of the tracks taken from the U Down EP below, and if you like what you hear, head over to the Acropolis Sound Facebook page, where you can find a free download of the entire EP.
[soundcloud url="http://api.soundcloud.com/tracks/82337585" params="" width=" 100%" height="166" iframe="true" /]
[soundcloud url="http://api.soundcloud.com/tracks/82337586" params="" width=" 100%" height="166" iframe="true" /]
[soundcloud url="http://api.soundcloud.com/tracks/82337587" params="" width=" 100%" height="166" iframe="true" /]