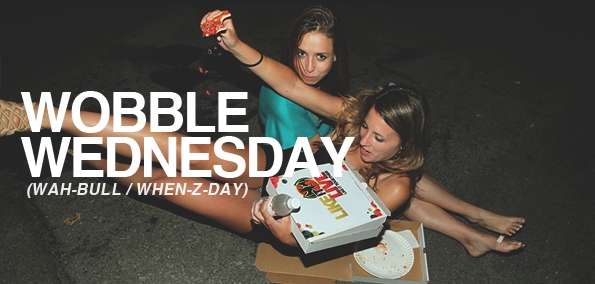 I hope everybody has fully recovered from their St. Paddy's Day festivities and is already looking forward to the weekend. Per usual, Wobble Wednesday is back with another week to soothe your weary head.
I search for tunes each week by perusing through my SoundCloud stream, going through page after page of subreddits looking for newcomers, and checking my inbox for any tunes you guys have sent me. A big chunk of Week 10 is future tunes, and only a small portion is filth and drum and bass. You may be excited, you may be disappointed, but when you're listening to good music everything is right in the world. Open your ears and the mind will follow.
This week's mix comes from Cloy Pi, the founder of the GreenVillain in Jersey City. The mix is filled with classic house vibes, both dark and upbeat. Have a listen and learn something new. After all, that is what these weekly posts are for.
FUTURE
This tune off Physik's new EP is a wicked combination of deep garage beat and crisp breakbeat. Catch the album, available on April 3.
Punchy-yet-calming tune with a beautiful breakdown full of subtle nature sounds.
It definitely sounds like she's saying "Erection Election", but just ignore that because this slow house beat is groovy as hell.
If SBTRKT made a house track, it would sound similar to this. I say that primarily because of the vocals.
Fresh track from Virgin Minds. Nice progression throughout the entirety of the song.
This one comes from Hisystem, a kid fresh off the block (only 119 SC followers). It's soft and airy, yet very sub-heavy. I'm excited to hear more from him.
One of those gentle vocal beats that doesn't try too hard with looped beats at first. As the song progresses towards the drop, it transforms into the sort of future beat I like to give you guys.
Keeping it going with another crazy beat. This one has a solid set of lyrics to it.
Silky smooth.
Electric vibes in a future garage shell. What's not to love?
UK BASS
Harmonic sub bass to accompany JT's new single, courtesy of the wonderful TOKiMONSTA.
Very heady dubwise 140 tune.
As dark as dark can get. It even has that infamous silence immediately before the drop.
Download:
Frenk Dublin - Stepper
If you can't tell by now, I love FJH. It's some of the darkest 140 in the game today. This one is no exception.
Dark tribal beat from two of dubstep's legends, Pinch and Roska (not to be confused with Rusko).
FILTH
Very different from your typical modern filth production. This one hits really hard.
Protohype has blown up in the past year, and now he's working closely with the likes of Datsik and other big US dubsteppers.
DRUM 'N' BASS
This one starts off like any classic drum and bass track, horns and all. But halfway through it transforms into a whole different breakbeat monster. Stick around for the whole thing, you won't be disappointed.
TRAP
CRNKN has taken this already solid tune from Lazerdisk Party Sex and turned it up to 11, sub and all.
I haven't really been a big fan of A-Trak's trap productions, but this one may change my mind.
Yet another sick Gold Top remix, this time of Missy Elliot's "Get Ur Freak On". Free download as well!
These next two tracks are from Donkong's forthcoming EP. Real bouncy trap.
MIX OF THE WEEK
Deep House/Tech House/Dark Four-to-the-Flour
Guest mix for Ashes57's monthly "INTERLUDE" feature. You may have caught the first one on Week 1 of Wobble Wednesday. This month we have an all vinyl set from the GreenVillain's founder, Cloy Pi. It has a soothing four-to-the-floor vibe, and features tracks by Shackleton, Devone, Francis Harris, Moritz Von Oswald Trio, Joy Orbison & Boddika and more.