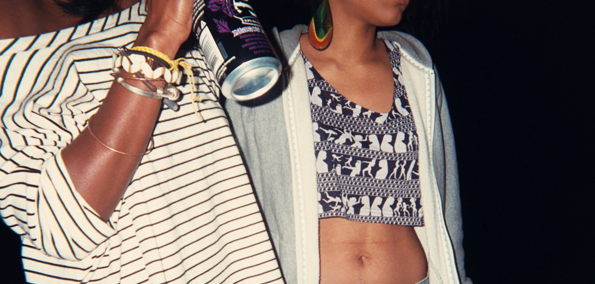 SXSW is officially and unofficially over. Right now, I am sitting in a corner of Starbucks trying to have a mental recap of everything that has happened in the past few days--yes, still in Austin. I figured why not write about this during my last hours here, but also because as a homeless roamer in Texas, my friends left for the airport and I don''t have another place to go until my flight at 5pm. Looking outside the glass window, 6th street and Congress seems pretty clean the day after St. Patrick's and the locals walking to work look very happy to have their town back. SXSW felt like an amazing mini vacation. I feel rejuvenated to go back to New York, back to productivity and back to sobriety. Personal goal: no more drinking for at least a week. 
Thank you for reading my previous day by day reviews. It was rough waking up an hour early and finding internet to update you as everyone else is already day drinking. Also, trying the remember specific details of the night before is always a little complicated when you're kind of very hungover. Anyway. here is what happened at SXSW on day 5.
March 16th, 2013 started off at the Impose and WNYU noon showcase. I caught Portland's indie pop band, Parenthetical Girls. Before going into their set, Zac warned the crowd that he lost his voice and has been using throat spray to restore the bit of sound left. No one would have noticed if he didn't say anything. From his charming stage presence to his mesmerizing voice, the band gave hope and life to the deserted outdoor venue.
That same afternoon, Indie Shuffle teamed up with All Things Go for a party with free sandwiches; a motivation to run straight from Parenthetical Girls to there but really, I did that for my best friend works for Indie Shuffle.  Timing worked in my favor here.  I made it to their showcase while the most blog-buzzed Denmark pop star, MØ, was performing. She had so much energy and soul as she stomped around the stage rocking her top braided ponytail.  I finally understand why MØ is receiving so much attention now.
In the evening, Boiler Room hosted a warehouse session with Shlohmo, Flatbush Zombies, Lunice, Mount Kimbie, Death Grips, Baauer and RL Grime. It was my first time physically witnessing Boiler Room and it was everything I thought it'd be-- unbelievable. Perhaps the wild lineup helped make it even more unreal. Shohmo did his thing, twerking tracks and at one point, he dropped a chopped and screwed version of "Window Shopper" by 50 Cent. He's also pretty adorable in real life under his bucket hat. Flatbush Zombies brought underground rap to the table. Mount Kimbie broke it down with their experimental bass and Death Grips made everyone want to hit and climb things with their aggressive hip hop influence. I'm kind of sad to have missed Lunice, Baauer and RL grime but overall, Boiler Room was a dream come true.
From there, we headed for the Illmore. Complex held a series of private parties at a Illmore mansion out in the suburbs throughout SXSW. Not sure what exactly happened on all the other nights but Saturday night was what Lori described as 'hip hop fan fiction". After walking past the gates of the Illmore, fashionably dressed urban girls and guys with colorful wristbands that gave away what privileges they had stood on the lawn for an entrance into the mansion.  Inside, there was an open bar and another line to go upstairs. Once you're upstairs, you're in a room packed with people again but this time, with a stage of all the secret performers.That night, Solange, G-Eazy, Waka Flacka, and Macklemore played. My SXSW ended there. The entire experience was bittersweet because as much as I can't wait for this to happen again, it feels good to sort of normal again.
Look out for an interview I did with Ratking later this week about their SXSW experience!