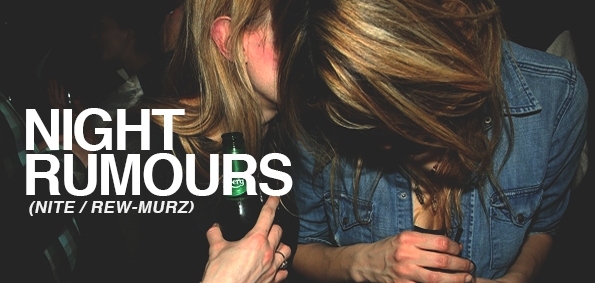 Find them at basement nights and warehouse one-offs reaching from New York to Montreal and overseas Berlin, a collect of conneisseuring clubbers. Void of tasteless vagabonds and cheap standards, looking to give credit where credit is due. The recent flood of clichéd counterfeits has made most music today better left unsaid, but it's the rumours stuck in our head that tug at our ego and give us the need to shine light. A compulsive urge to spread from one ear to the next, to draw a line between bottle service cogs and what is honestly the cutting edge of electronic dance music. There's no room for Vegas roller coasters or casual chit chat, just Night Rumours worth spreading.
---
ON THE STREET
---
Borderline
Robots Over Madrid
Turbo Recordings; 2013-03-11
TT016
---
"The Spaniards Gerardo Niva and Alex Guerra, known as Borderline, return after releasing 2011's 'Stay' on Tiga's Turbo Recordings with Robots Over Madrid. Their new release is a 3 song EP from the established Twin Turbo sister label that featuring the duo's familiar textures and ominous tones. Robots Over Madrid alters the current set by the typical Twin Turbo release, maintaining flow while never fully plunging off the deep end. The front end of the release 'Make Me Crazy' slowly develops off of an entrancing funk groove, introducing dark elements through the duration of the song that build off of techno, house and disco. The B-side 'Halloween' builds off of an arpeggiated bassline and haunting vocal sample -- after the early drop it can accelerate a heart beat with a wondrous meshing of styles. The remix provided is a gem in itself, manipulating the dark undertones in 'Make Me Crazy' to accentuate the break, with eerie loops of vocals controlling the throttle." - Aaron Thomas
---
Isolée
Allowance
Pampa Records; 2013-02-25
PAMPA013
---
"Isolée is a unique house producer by way of blurring the lines between ambient techno and deep house with a minimalistic approach. Having released plenty of EPs on the amazing but now defunct Playhouse his current home is the always impress Pampa Records, run by label head DJ Koze. The title track is a beautiful piece. There's a heartwarming melody surrounded by a steady beat, echoes, and a bass line that all play together wonderfully. 'You could do your memories' continues the emotion ride. The tune is gentle and elegant, which isn't necessarily formulated for dance floors but will bring a sentimental feeling to the mind. And speaking of dance floors, 'Wobble' brings energy and drama by way of a harder drum, deep bass line, and teasing synths. Allowance is another prime showcase of just how diverse, inspiring, and blissful Isolée's music can be." -  Kevin Rodriguez
---
EDITOR'S CHOICE
---
Various Artists
Turbo Miami Lifestyle
Turbo Recordings; 2013-03-18
DX012
---
"As a head that's buried in books instead of sand in the middle of March I can only sulk and write-off WMC as weeks of  too many homogenized tweets and hair gel. Luckily if you dig past the corny press shots and dubstep fonts in your stereotypical EDM flyer there's some great names to be found, and if you're scared of hitchhiking the steamy Turbo Recordings has a compilation for you to mull over while you sigh at your timeline. Turbo Miami Lifestyle is the label's imprint on boats covered in bikinis and pool side sets. It bears a striking contrast to their last compilation New Jack Techno in terms of direction but its intention still remains intact. A check-in of what's to come from the firey talents at Turbo before they go basking in the sun.
Arguably one of the most underrated acts from Manchester, the brother duo Shadow Dancer sets things off with ambient pads and a thick bass lead to cut through the chilling atmosphere and ground the mix. Playing their best cards early, Danny Daze's magical dub for a forthcoming Tiga collaboration comes in at number 2 and without a doubt carries most of the weight on this release. Who can deny such an instinctual groove with a cheeky glide on the synth to bring it back in season. Making his transition to melody driven house Locked Groove's pitch goes to show that the Belgian producer can belt out a four on the floor to rival your favourite disco records. Of course no Miami soundtrack is complete with a hands in the air moment, this comes by way of Sneak putting shuffling snares to work in his remix for Duke Dumont's famous 'Street Walker'. Shouts to Sei A for his soothing contribution laden with silky R&B vocals, and Phil Kieran's floor stomper that will surely get people off their seat when Turbo hosts their show alongside Cómeme March 15th at the Electric Pickle. " - Lukas Switlicki
---
 PLAY YOUR PART?
---
We are currently taking applications for new contributors to be a part of Night Rumours. So if your feet are on the ground and like to move around, answer a few questions and we'll consider bringing on a fresh writer from anywhere across the globe.