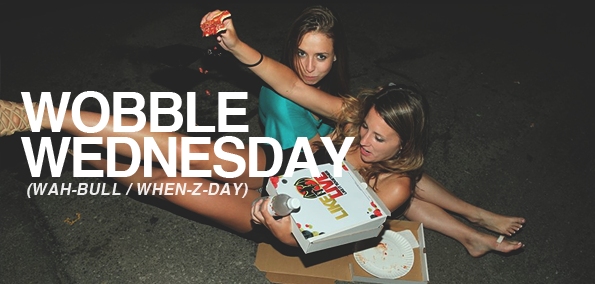 This week we're doing things a little bit differently. I've decided to experiment with less writing and more tunes. Don't worry, it's not permanent–I just want to minimize any descriptors that prevent you guys from forming your own unbiased opinion about each song.
You'll notice a couple golden oldies and classics, but this week, for the most part, is filled with all new tunes fresh out the box for your perfectly sculpted ears to soak up. I also changed "Future" to "Future Garage" for the sake of focusing on a particular genre instead of just using an all-encompassing word to describe a multitude of sounds. Let me know if you like those tunes so I can add more for the coming weeks!
FUTURE GARAGE
Deep, smooth, jazzy
House beat with a future kick; pairs nicely with a PBR
Solid rework of a classic
Rolling bass line with a fast body
Dark beat with distant vocals. If you've listened to Four Tet's FabricLive 59 mix, you'll know what to expect with this one.
This one is straight out of the archives. By "archives", I mean 2011; but this song is going in the dubstep time capsule if we ever make one.
Shot-Yourself-In-The-Foot-Again-(Radio-Edit)--EM0313
Stream: Skream & Example - Shot Yourself In The Foot Again (Radio Edit)
FILTH
Not the same kind of "filth" pirates used to live in, but I can assure you this is much better.
Excision-style heavy.
Bass-heavy filth with an almost Calyx/Teebee feel to it.
Freddy Todd is doing big things. This track is borderline glitch while maintaining the fundamentals of good filth. One of the more complex and interesting tracks I've heard recently.
Wave-Therapy-by-Freddy-Todd--EM0313
Download: Freddy Todd - Wave Therapy by Freddy Todd
Gunshot screeches with consistently scratchy synths. Very reminiscent of Skrillex's heavier stuff.
Ready-by-Granity-ft.-Nneka--EM0313
Download: Granity - Ready by Granity ft. Nneka
The vocal distortion is taken straight out of Cazzette's book, but the whole track is much heavier than what you'd expect from their style.
Keeping the vibe going this week with Arschtritt Lindgren's take on some video game/chiptune filth.
Reload-by-Arschtritt-Lindgren--EM0313
Download: Arschtritt Lindgren - Reload by Arschtritt Lindgren
Protohype's production value has only gone up since he started a few years ago. This one is no exception.
DRUM 'N' BASS
This week's dnb is on the softer side of the spectrum. Starting off with this soothing rendition fresh off the Surus label.
Short samples and a sweet beat with beautiful vocals.
Fast n stabby, like a good clean mugging.
Takes me back to my Jetson-watching days. Boy do I miss the good ol' Cartoon Network Hanna Barbera era. At least we still have Adult Swim.
TRAP
New HxV remix of Major Lazer's "Jah No Partial". Good example of the more EDM side of trap.
Good followup to maintain the trapstyle flow.
More booty bass. It's actually pretty funny how many songs use/sample the word "Booty". Alarming even.
Make-it-Bounce-by-Taste-Tester--EM0313
Download: Taste Tester - Make it Bounce by Taste Tester
Dabbling in the harder/darker side of EDM-trap.
This new Rell The Soundbender remix of Bro Safari's "Scumbag" came out 7 hours ago. So fresh.
Great followup to "Lana's Theme". Starts off slow and unsuspecting, but kicks your ass like an angry kangaroo on a talk show (source).
If Bollywood found itself rolling through the trap.
MOOMBAHTON
Pretty solid moombahton track to ease you into this week's mix.
MIX OF THE WEEK
This week's mix is filled with Trap and Moombahton dubplates, forthcomings, and bootlegs. It's got enough bass to kill 100 duck-sized horses. Be on the lookout for Kill The Noise and Brillz on their upcoming tour, "The Black Magic Mystical Wonder Tour", featuring Kill The Noise, Brillz, Style Of Eye, Codes, and Special Guest 12th Planet.
TRACKLIST
BRILLZ MIX
1 Diplo and DJ Fresh - UP (Earthquake)
2 Buku - All Deez
3 Diplo ft. Nicky Da B - Express Yourself (Gent and Jawns Remix)
4 Coolio - Gangsters Paradise (Candyland's OG Remix)
5 Crime Mob - Knuck If You Buck
6 Baauer - Dum Dum
7 Brillz - Fuzzy Peach ft. Minxx
8 Swizzymack - Hood
9 Swizzymack - Bass
10 Gent and Jawns - Turn Up
11 Steve Angelo - Knas (rudebrat no shame trap remix)
12 GTA - Booty Bounce (Filthy Disco Remix)
13 Brillz and Willy Joy - WTF
14 Brillz - Smashi Tup
15 Ree$e - Molly (Loudpack Remix)
16 Major Lazer - Jah No Partial (HxV remix)
17 Rell The Soundbender - Angels and Demons (ft. Clint Mansell)
18 Bro Safari and UFO - Drama
19 Brillz and Teddy Tuxedo - BuckWild
20 TJR - Ode To Oi (Victor Niglios Ethinc Trap Remix)
21 Salva and Brenmar - Let Me Bang (Bootleg)
22 Kill The Noise - Roots (Brillz Remix)
23 Mayhem and Antiserum - Bangladesh
24 Zedd - Clarity (Brillz Remix)
25 Diplo, ETC!ETC! & Brillz - Bueller
26 Brillz and Teddy Tuxedo - Rvtchet Bitch
27 DJ Snake ft.Alesia - Bird Machine
28 Dr. Octagon - Pear Witness (Astronomar remix)
29 Brillz and Cory Enemy - Pump The Beat
30 Brillz and ETC!ETC! - New Jack Swoop
KILL THE NOISE MIX
1. Kill The Noise - talk to me (Brillz remix)
2. Diplo feat. Nicky Da B - express yourself
3. Kill The Noise and Dillon Francis - dill the noise
4. Flux Pavilion - tear the roof off
5. TC - the new style (Computer Club rmx)
6. Kill The Noise - rockers
7. Knife Party - internet friends VIP
8. Kill The Noise - saturn (Kill The Noise rmx)
9. GTA - booty bounce
10. Major Lazer & Flux Pavilion - jah no partial (Jackbeats remix)
11. Skrillex, Kill The Noise & 12th Planet - right on time (bel-air vip)
12. Kill The Noise - mosh it up
13. M Machine - ghosts in the machine (Kill The Noise remix)
14. Benni Benassi - satisfaction (RL Grime remix)
15. Michael Woods - VMS (KTN edit)
16. Kill The Noise - jokes on you (Kill The Noise remix)
17. Kill The Noise - jump ya body (Collie Buddz edit)
18. Nari and Milani - atom (Spenca & AFK rmx)
19. Pyramid Juke - drvnk ass
20. Knife Party - sleaze (Kill The Noise logmix )
21. Flosstradamous - roll up (Baauer rmx)
22. Noisia - diplodocus (Kill The Noise remix)
23. Kill The Noise - black magic (Kill The Noise pt 2)
24. Kill The Noise & UVS feat. Emily Hudson - Dying (Brown and Gammon rmx) (KTN re-write)