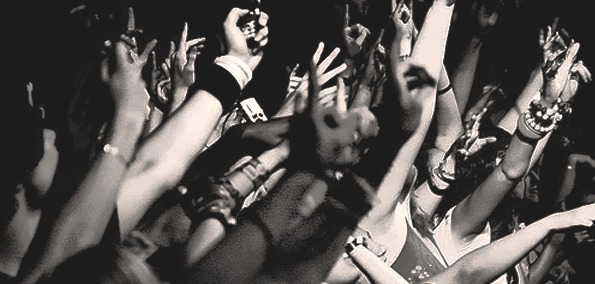 It's dance music fans' favorite time of the year: March. The month includes the biggest music releases and events that all take place in preparation for Miami Music Week during the Winter Music Conference. And at the end of these two weeks of worldwide top producers getting together to exchange ideas and collaborate for the most exciting music is of the year lies Ultra Music Festival. 
This year at Bayfront Park, the festival is outdoing itself to celebrate its 15th year running as one of the best music events out there. If you think you've seen the best production or the most live performances by leading and up and coming DJs: think again. Ultra is the only place to be to hear the newest music for the first time live, and is known for surprise MC's like Lil Jon, and unannounced live vocal performances by all of your favorite vocalists from many dance tracks. Running over two weekends with more stages, acts and surprise performances than ever before, this year will without a doubt be the best Ultra yet, and EARMILK has tickets to give to one lucky fan.
With the release of the official anthem this week entitled "United," artists Tiesto, Quintino and Alvaro really capture the overarching club energy that's behind the event. But beyond the mainstream and production that you can't find anywhere else, the most impressive feature of Ultra Music Festival is the breadth of artists and types of music it offers to fans. Check out our overview of what you can look forward to below.
United-(Ultra-Music-Festival-Anthem)--EM0313
Stream:
Tiesto, Quintino & Alvaro
- United (Ultra Music Festival Anthem)
Most Wanted
There are a few acts that we should mention first as the most anticipated of the festival. Some you may have seen before, and others are those that shocked us by announcing they'd appear at the festival.
Above & Beyond
Usually this trance trio has their own slew of events throughout Miami Music Week that doesn't include Ultra. But this year, celebrating the festival's 15th year and their 10th compilation release with their label Anjunabeats, the English trance pioneers join back up with the festival. Known for their euphoric, calming music, A&B have a highly anticipated stop at the main stage during Weekend 1 that will be a must see.
Stream:
-
Swedish House Mafia
The Swedish trio that brought dance music to back to the mainstream returns to Ultra for two major stops on their critically awaited One Last Tour. Like Above & Beyond, Axwell, Sebastian Ingrosso and Steve Angello made a name for their MMW offshoot Masquerade Motel over the past few years, but under much less amicable circumstances. Getting over whatever contractual beef existed between the two parties, SHM makes an impressive return in their black v-neck t-shirts to close out their career as a group right. Already known for unbelievably energetic sets, their already famous production might blow your head off when made exponential by Ultra's capacity.
deadmau5
Moving in and out of obscurity for some time now, tech and electro producer Joel Thomas Zimmerman graces the mainstage with his iconic headpiece that has helped define the current era of dance music. After being firmly outspoken about some remarks made with regards to last year's festival, deadmau5 makes an unexpected return to close down the Main Stage on Saturday of both weekends.
Fn-Pig-(Original-Mix)--EM0313
Stream:
Deadmau5
- Fn Pig (Original Mix)
Eric Prydz
Swedish producer Eric Prydz has been an artist who has gained a worldwide fan following by remaining elusive from the spotlight. After moving to Los Angeles a few months ago and seemingly getting over his fear of flying, Prydz has slowly risen out of the shadows to approach the spotlight that has been awaiting him. Dawning his show EPIC Radio and keeping his strict itinerary of IDs, Prydz's following is made up of dedicated fans who study his music. Because of just that, his performances during both weekends are sure to be unforgettable.
Flashback-(Eric-Prydz-Remix)--EM0313
Stream:
Calvin Harris
- Flashback (Eric Prydz Remix)
Carl Cox & Friends
This veteran techno producer has been with the festival almost since its inception, and has gathered enough diehard fans to be able to appear with his own themed stage at the Mega Structure for two whole days during both Weekend 1 and Weekend 2. Featuring producers who started out mixing vinyl and know the industry like he does, he'll be joined by Fatboy Slim, John Digweed, Richie Hawtin, Luciano and Loco Dice just to mention a few. For deep sounds and the love of music, Carl Cox is sure to bring it as hard as he always does.
Get-Naked-(Carl-Cox-Jon-Rundell-Remix)--EM0313
Stream:
Fatboy Slim, Riva Starr, Beardyman
- Get Naked (Carl Cox & Jon Rundell Remix)
Ultra Worldwide
Mixing things up this year, the Ultra Worldwide stages will be rotating in both location and types of music being housed there. Representing the newly added outposts of the festival in Europe, Asia and South America, the sounds will range as well: featuring the trance, electro and progressive house acts that have taken dance music to a place where a festival like Ultra can celebrate 15 years. Over both weekends, Ultra Worldwide will feature everyone from Paul van Dyk, Avicii, NERVO, Dirty South, Dog Blood (that's Boys Noize and Skrillex), Afrojack and Steve Aoki. 
Super-Sounds-(Original-Mix)--EM0213
Stream:
Dirty South
- Super Sounds (Original Mix)
Next-Order-(Original-Mix)--EM0313
Stream:
Dog Blood
- Next Order (Original Mix)
OWSLA
Celebrating artists and friends of Skrillex's label OWSLA, this stage will take over the UMF Radio area of Bayfront Park during Saturday of Weekend 1. Featuring the harder dance ranging from the dubstep of Alvin Risk and Kill Paris, to the electro tech of Alex Metric, this stage guarantees you'll get a good workout while dancing. Don't worry though, there will be time to rest a little during the more downtempo electro club sounds that those like Seven Lions have made us fall in love with.
Anything-Could-Happen-(Alex-Metric-Remix)--EM0313
Stream:
Ellie Goulding
- Anything Could Happen (Alex Metric Remix)
Live Stage (Amphitheater)
The live performances at Ultra are always a must see. Beyond providing yet another layer of diversity in the lineup, the amphitheater experience (like every experience at Ultra) is one that can transport fans to a completely different world. This year the stage brings alternative acts like Matt & Kim and Crystal Castles along with hip hop legends like Snoop Dogg and Azealia Banks. But the overall theme to the stage still falls in the general electronic area, bringing Pretty Lights and Major Lazer back tot he festival for another year. The Live Stage really has something for everyone.
Toolroom
British producer Mark Knight always brings a mix of artistry to his label Toolroom Records. This year we not only get to see the house veteran perform, but on Sunday of both weekends we get to experience the full Toolroom experience. Including a range of deeper house producers from disco house extraordinaire Federico Scavo to deep house expert Sander Kleinenberg, the UMF Radio stage will not be a spot to miss.
Ten-(Original-Club-Mix)--EM0313
Stream:Mark Knight, Underworld, Sander Van Doorn
- Ten (Original Club Mix)
A State of Trance
Celebrating 600 episodes of his A State of Trance radio show, trance god Armin van Buuren is making his yearly appearance at Ultra and bringing a whole lot of friends along with him. This year the trance party falls on Sunday of Weekend 2, and brings the top artists in every subset of trance you can think of. From crossover electro hit makers W&W whose Mainstage podcast should be enough to get you to want to see them live, to seasoned tastemaker Paul van Dyk who is making his first appearance in the lineup. And if you're a trance fan, don't worry: Weekend 1 hosts many of the artists featured on the ASOT stage as well. Whichever weekend you're attending, this stage is always one that you won't need to leave until the day is done.
D-Fat-(Original-Mix)--EM0213
Stream:Armin van Buuren & W&W
- D# Fat (Original Mix)