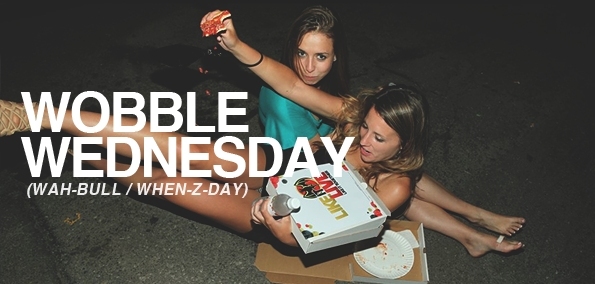 For week 7 of Wobble Wednesday we've got some of my favorite minimal future beats courtesy of the production legend Four Tet, a few filth tracks from some up-and-comers in the dubstep game, and a little surprise track at the end.
Have a listen to this week's mix—those fifty-seven minutes and forty-two seconds are the reason I've spent upwards of a year honing my junglist skills. These guys make it look as easy as your mom pie.
Also, the UK Bass section comes in the form of a documentary, circa 2006. It has interviews from some serious legends in the dubstep world, including a young, fresh-faced Skream.
FUTURE 
This is probably the greatest track name I've ever seen. Leave it to Four Tet to come up with something so ridiculous yet so fitting. It's better than tracks named "ID". I mean, what does that even stand for? Anyways, the following two tracks are pure Four Tet gold. Listen closely to the level of detail he puts in each. The man is a production genius.
Placed at the end of his FabricLive 59 set, "Locked" holds the spot as my favorite Four Tet track. Great song for meditation along with "Circling", if you're into that sort of thing.
As if the Dumont original wasn't good enough, Locked Groove took it and made it bouncy as hell. Even though it's an old tune, I classify it as "future."
UK BASS
Dubstep Documentary, 2006, Collective BBC
FILTH
Probably the funkiest mix of "To A New Earth" on Kill Paris' new EP. Gramatik knows exactly what to do behind the computer, and I love him for it.
This is a really good example of the more guitar-heavy side of dubstep. Gotta love it, especially when made correctly.
The Purity Ring original of "Belispeak" lacked a much-needed heaviness. Not saying it's bad, just that PatrickReza's remix absolutely blows it out of the water.
We're back with some wonky glitchstep (is that even a thing? It is now) that will blow your face off. Too bad it's so short.
DRUM 'N' BASS
Ever since the Bassnectar remix of "Tap Ho", I've been a fan of TC. This track further supports my position.
Some classic sub-focused drum 'n' bass. It's a new record, but it holds fast to the roots of the sound
This is a pretty grimy remix of a crazy jungle track.
TRAP
Twitchy trap with a foundation of sweet beat-skipping rhythms.
Sweet sample, sweeter beat. Really go hard to this one.
This LVX track is a very big indication that trap has officially merged with EDM. It started out as just remixes of electro and house tracks, and now we have original songs featuring that crossover sound. This one in particular reminds me of the trap remix of "Spaceman".
Starts off with an almost moombahton-style beat, but goes into a synthy juke/footwork beat. Might be good transition from heavy trapstyle to straight juke.
Similar vibes as Ookay's "NYG" above.
MOOMBAHTON
The first moombahton track of Wobble Wednesday. It's not new, but it's damn good. Get low.
MIX OF THE WEEK
Ragga/Jungle/DnB – FreekOut (of the KrucaFux Team)
This is the mix that single-handedly got me into the Jungle sound. BOH! BOH!
Tracklist
1. Run Tingz Cru - Sweet Sunshine (feat Top Cat) 
2. Serial Killaz - Good Enough 
3. Deekline & Ed Solo - Sensi
4. Paella - Blaze It Up (ft. Million Dan) 
5. Run Tingz Cru & Blackout J A 8 - I Got Love 4U (ft. Lady MC) 
6. Deekline & Ed Solo - Champion Lover 
7. The Wildlife Collective - I Need A Dollar 
8. Deekline & Ed Solo - Ragga Tip (Walk & Skank) 
9. Amadeus - Positive Vibes (ft. Jahdan Blakkamore) 
10. Deekline & Ed Solo - Stickybuds Guaranteed 
11. Shameboy - Strobot (Netsky remix) 
12. Camo & Krooked - Vampires VIP 
13. Neonlight - The Frozen Tape 
14. Audio - Collision 
15. Ble3k - Jugulin 
16. Audio - Scanners 
17. Black Sun Empire - Extraction 
18. Phace - Cold Champagne