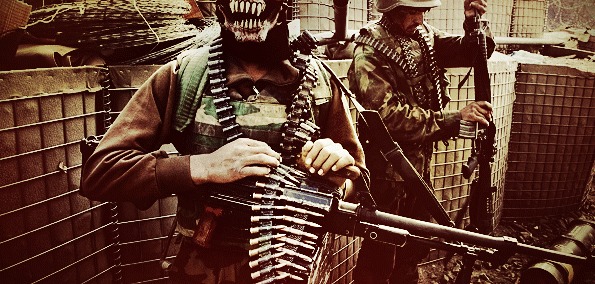 Drumstep is the hardcore kid's answer to dubstep. On the one hand we have the fast, heavy beats of drum 'n' bass. On the other is the 2/4 rhythms and full-bodied low-end waveforms. But what happens...when we COMBINE THEM?! Gold. Pure, heavy, half-step gold. That's what the fuck happens.
When I think of drumstep, I think Figure, Bassnectar, Noisia, Datsik, Excision, and Sub Focus. The list goes on for ages, but these names are often viewed as the forefathers of the subgenre. As always, it's great to see new artists emerging with a thirst for the 175 half-step sound. There's nothing like a new well-mastered track popping up on your SoundCloud to put some pep in your step at work. That goes double when it's from an artist you've never heard before. Enter Synchronice from stage left.
Two years ago, Will and James Saulsky decided to start producing heavy house and eletrohouse tunes. Only recently did they start working with faster tempos, though. Their newest remix of Helicopter Showdown and MSD's track, "Heaven Sent", is a perfect example.
The intro to "Heaven Sent" immediately evokes a sense of euphoria; the calming breeze rushing through your britches after a four hour hike up Mt. Whatever. The build, obviously in tune and jiving with the intro, symbolizes your gaze as you peer over the cliffs into the horizon. The drop is the realization you were actually climbing that mountain with the hopes of hang gliding right off of it into the beautiful abyss below. We arrive at this most heinous point and it kicks your ass faster and more intently than the worst middle school bully ever could. The breakdown takes us back to 80s synth tunes and drum samples, leading up to the second drop, which is somehow much heavier than the first. Simply insanity. The song finishes off with a fade out, leaving us flabbergasted and speechless from the events that just unfolded.
Overall, great song for those long night shifts and difficult work days. Keep your eye on these guys and grab their Helicopter Showdown and MSD remix of "Heaven Sent", OUT NOW!
Synchronice Remix
[soundcloud url="http://api.soundcloud.com/tracks/78852523" params="" width=" 100%" height="166" iframe="true" /]
Original
[soundcloud url="http://api.soundcloud.com/tracks/69373464" params="" width=" 100%" height="166" iframe="true" /]