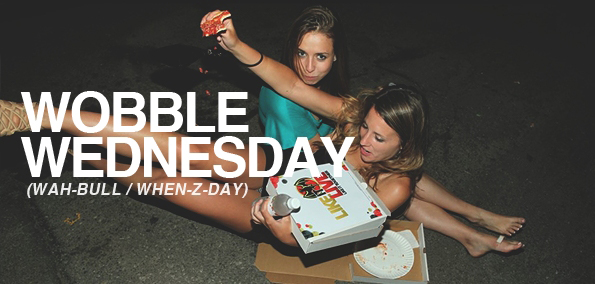 I hope everybody's week is going swimmingly. This week's beats are geared towards keeping your mind focused and your energy up. I tried to gather tracks that evolve naturally together. If you haven't noticed yet, I like to organize the weekly wobbles as if I'm building a set of my own. In fact, the first and last track pair up very nicely. You could listen to Week 6 repeatedly and forget where it begins and where it ends.
Unfortunately for the downloaders amongst you, most of the tracks are stream-only. I've gone ahead and made a SoundCloud set using this week's tracks for easy listening and reference. Also, most of the tracks have a DL link somewhere on their SoundCloud page. Don't be afraid to investigate.
That's all from me. Go ahead and indulge yourselves! Let me know your thoughts in the comments below or on Twitter (@BeerCanDid).
FUTURE BEATS
To start off the week, here is Chateau Marmont's remix of Chrome Canyon's "Generations". It has a very Middle Eastern/African sound, using drums that sound like pots and pans. I really dig this one.
Echoing, funky, refreshing. I love the groove on this one.
Straight from the "Booty Tech House" folder.
UK BASS
Submotion Orchestra is a 7-person live dubstep band from Leeds (far stretch from last week's one-man band). They produce bass-heavy beats with quality vocals and synths. "Back Chat" is an older track, but they have a new single coming out called "Thinking". Check it out on SoundCloud.
This forthcoming Tempa track from AMIT spends most of its time in the low-end with a super-wonky bass line. Play this one out if you've got the subs and don't care about the neighbors.
FILTH
This one by The McMash Clan is more of a slow-tempered easygoing filth track. Use it to transition from Dubstep to Brostep.
This single off esteemed producer Gramatik's new album, The Age Of Reason!, gives us a taste of the 50s and 60s Blues era with a bouncy twist. It's not necessarily Filth but it does have a gritty side.
"Right Now" has the personality of Big Room electrohouse paired with an ass-kicking drop and plenty of vocal sampling.
Honestly, I stopped actively searching for and listening to tracks with filth of this magnitude. While I don't enjoy them anymore, it's not hard to tell when a well-made track emerges. For you brosteppers needing a little boost past the typical Filth I provide, have a listen to this FuntCase track.
Stream:
FuntCase - Ghosts
"I rode into town on an ass…Yow Momma's ass!"
DRUM 'N' BASS
This is one of ten tracks being released on Seba's new album, Identity. Check out the complete review (including other tracks) here.
This Enei remix has a very heavy body, yet isn't overwhelming. The vocals are a nice touch as well.
Dark and mysterious liquid DnB.
TRAP
Progressive and funky. Great for any trap set, even better for throwin' bows.
I'm not really sure where this one goes, but I had to include it. If it's one thing Dillon Francis does well, it's sequels and edits of his own music. I love his work, but I love the second versions and revisits even better. Enjoy the rebirth of Bootleg Fireworks below.
DireWolfe took this electro/Dutch house banger, ramped it up to 75bpm, and slapped those familiar trap samples on it. Great version for those who enjoy both trap and Will Sparks.
One of those grimy Trap grooves disguised as a chillout track in the beginning. The drop proves otherwise.
Just machinedrum being the beast he is (juke/footwork)
MIX OF THE WEEK
Trap [From Seven Months Ago and Well Known By Now but Still Going Hard]
This week's mix provided by JWSMO (read: Jaw-Sa-Mo) and Vjjay (read: Va-Jay-Jay). Also, they called it "Clay Davis", so you know this sheeeeeeeeeeeeeeeiiiiiiiiiiit is good.
Tracklist
01. Branko - Going in Hard feat. Dominique Young Unique (French Fries Remix)
02. 5kinAndBone5 & Robert Jeffrey - Penis Power (UZ x LOLGURLZ Remix)
03. UZ x CRNKN - Booty 2 the Ground
04. CZ - Doin what I do
05. High Powered Boys - The Machine (Nah Like Remix)
06. Tyga - Lap Dance (JWLS Bootleg)
07. Flosstradamus - Hood Fantasy
08. Gregor Salto, DJ Chuckie & Green Velvet - Toys are Nuts vs. Shake & Pop (Munchi's 'Damn Son' Unnecessary Trolling on Hundred Thousand Million VIP)
09. Childish Gambino - You See Me
10. Baauer - Yaow!
11. Obey City - Fuck Dat Wobble
12. Lunice feat. Young L. - Hip Pop
13. Earlwolf - Orange Juice
14. UZ - Trap Shit v8
15. Yasiin Bey - Niggas In Poorest
16. Kanye West - Mercy (RL Grime & Salva Remix)
17. Triple Six Sound Club & Neuport - Hennessy
18. Sinjin Hawke - Crystal Dust
19. Sinjin Hawke - Like That
20. Salva - Weird Science
21. Drake - Over (Mikix the Cat Remix)
22. Surkin - Gold Island (Bok Bok and L-Vis 1990 Remix)
23. Girl Unit - Club Rez
24. Ital Tek - Cobalt
25. Om Unit - Swimming Dragon (Ital Tek Remix)
26. Ital Tek - Gonga
27. Om Unit - Vibrations (machinedrum Remix)
28. Slick Shoota - Rasta
29. Wheez-ie - House Ball
30. Piri Piri - Mami (Manare Remix)
31. Schlachthofbronx feat. Puppetmastaz and Doubla J - One Hand
32. Spank Rock - Nasty (SCNTST Remix - Boys Noize Re-Did)
33. Bambounou - Alpha (Slick Shoota Juke Edit)
34. Wheez-ie - Big Gulp*
35. Kaptain Cadillac feat. Six Foe - Booty Up Booty Down (Leatherface Remix)
36. Secret Squirrel - Jungle Squirrel (machinedrum Juke Edit)