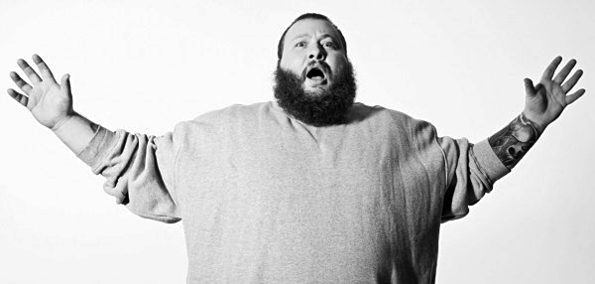 Put this knowledge in your mouth, err, brain: Akinyele's "Put It In Your Mouth" is one of the best songs you never want to play at the following moments: a first date, a wedding, or, while cozying up with your Valentine.  Whether the idea is on your mind or not, it would take the boldness of a larger-than-life rapper to pull off introducing the tune as a mood enhancer. It's only fitting that a rapper known to serve steak dinners at his shows, and take his act into a porta potty, linked up with Hologram, a.k.a. Jay Steele, to remake this most oral tune for modern lovers. 
That rapper, of course, is Action Bronson, who strangely doesn't sound fully like himself on the track.  Is his reign of sounding like Ghost over? Has he been too prodigious, and it's finally catching up to him? Has he prepped for V-Day too heartily? Who knows. His rhymes are still in form, however, and pair well with Hologram's slacker delivery (not that he's slacking).
This 2013 V-Day remix isn't as swaggeric as the original, and seems more appropriate for a couch cuddle than for the backseat groove of a limo, but that doesn't mean it shouldn't be given a listen. Who knows what might happen if you do.
Action-Bronson-Hologram---Put-It-In-Your-Mouth-(Valentines-Day-Remix)--EM0213
Download:
Action Bronson & Hologram - Put It In Your Mouth (Valentines Day Remix)