Focus. It's not always the easiest task for a multi-talented, eclectic, and what some may call ingenious, artist. With two critically acclaimed albums under his belt, Columbia, South Carolina's Chaz Bundick, more colloquially known as Toro Y Moi, now based in Berkeley, California, is that artist. Leading up to the release of his new album, it didn't seem that Bundick had too much to prove. A critical scion, especially after the release of 2011's Underneath the Pine, Bundick was already playing big festival slots, topping best-of lists, and being remixed like every DJ's decks depended on it.
But after listening to Toro Y Moi's newest full-length LP, Anything in Return, out now on D.C.'s Carpark Records, it becomes obvious that Bundick did have something to prove. Had listeners known what was in store in this new record, the expectations would have been surmounting. This proves to be the third installment in a series of ever-improving work. "Harm in Change," the opening track, is the epitome of what makes this album Bundick's best thus far. As soon as the song hits, it's suddenly a more refined Toro Y Moi. From the vocals right down to the snare, it's streamlined. His previous release was praised as chilled out, smooth, gazy pop music. But this album – this is pop music. It's pop music in an aquatic Sonic the Hedgehog level – harnessed in lush, swimming synthesizers and electronic snares that hit and then flutter away like a robotic fish. But the songs are still clear as day. It's remarkable. The airy layer from Underneath the Pine is minimized, and the sonic elusiveness and wandering trip-hop of Causers of This has been roped in and tamed. The melodies are direct, yet the aesthetic is freeflowing. It's a balance that's hard to achieve in what some call the "chillwave" genre. (Hence Bundick's dismissal of the descriptor.) It's clear throughout the album that young Chaz is really coming into his own as a pop songwriter.
The production is succinct and focused. There's that word; that challenge. Bundick confronts it head on; that lost feeling toward the middle of the record is nonexistent. Each song has purpose; each song has proper placement. Each song has that kick that keeps the listener engaged, even in a land of floating clouds emitting washed out melodies. The album has reason.
Perhaps the most impressive aspect of Anything in Return is its consistency while incorporating a vast array of influences and allusions from a variety of genres. The vocal samples in "Say That" and "Never Matter" are pulled from mid-'90s house, while the direct bassline and 2-4 backbeats on lead single "So Many Details" are reminiscent of Motown's glory days, complete with an R&B vocal attack atop. Bundick's crisp, clean vocal timbre is starting to sound like Todd Edwards. In "Studies," which is really a dive into '70s New York City disco pop, one would think Creedence Clearwater Revival guitar licks are sampled alongside harpsichords played by the '68 Beatles. The standout track, "Day One," could be a bona fide radio hit if general listeners could hang with the lo-fi electronic flavor. Keys straight from fusion jazz records are sprinkled throughout the album, intertwined with even elements of classical music, as found in "Cola."
By the end of Anything in Return, it's almost like one has just listened to a Frank Ocean record steeped in pscyhedelia and jazz. Chaz Bundick has embraced his R&B tendencies and pop leanings and settled on a true meeting ground between open-minded, exploratory freedom and concise, purposeful pop music. Focus.
[soundcloud url="http://api.soundcloud.com/tracks/73622007" params="" width=" 100%" height="166" iframe="true" /]
[soundcloud url="http://api.soundcloud.com/tracks/63051189" params="" width=" 100%" height="166" iframe="true" /]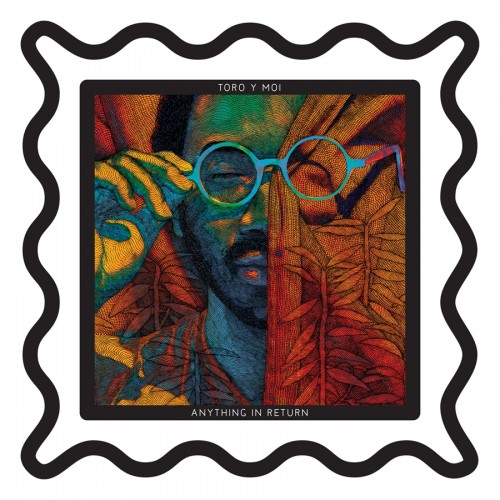 Toro Y Moi
Anything In Return
Carpark Records
January 22, 2013