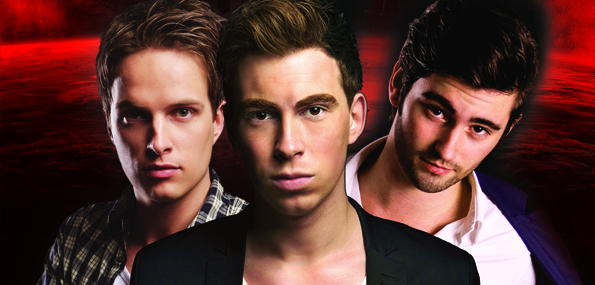 This week Hardwell embarks on his Canadian tour alongside Revealed Recordings artists Dannic and Dyro for 12 shows in 13 nights across the country and EARMILK is bringing you there. We've got tickets to give away for every single show of the tour, and on top of that, two talented upcoming DJs will be given the chance to open for this trio in Ottawa or Winnipeg as well as have their music featured on the site. Today we've got for you two special mixes from the tour's supporting cast, Dannic and Dyro, showcasing their talent in anticipation of this week's festivities.
Hardwell's Canadian tour will be showcasing a perfect blend of the three DJs' distinct styles. Hardwell has an inherent ability to hold the crowd by a string, taking fans on a rollercoaster ride of dance music perfection. With Dannic's majestic big room sound and crowd reading capabilities, he's able to take you places you've never been before and keep you engaged in his set from beginning to the end. Rounding off the already stellar bill, Dyro, who was dubbed the Breakthrough DJ of the Year by Laidback Luke, Dada Life, and Hardwell, brings a supercharged electro-influenced sound that he has come to be revered for.
Revealed Recordings label head Hardwell has steadily been climbing the ranks as one of the biggest names in dance music since he was a teenager, and this past year put his mark on the industry not only with his own original releases, but with the talent he exposed in Dannic and Dyro, two of his talented prodiges in the Revealed Recs family. While he continued to dominate mainstages at festivals across the globe, Hardwell has been busy curating one of the most exciting labels of the year.
With regards to his personal success, the 24 year old Hardwell released a handful of tracks this year, none more memorable than "Spaceman", but the song that really stood out for us was "Three Triangles", showcasing his versatility as a producer with a heavy tech house banger. While we likely won't hear anything that bouncy being released on Revealed, it does get us excited to see what the future holds for Hardwell's sound. On top of that, he collaborated with hardstyle heavyweights Showtek and finished off the year in typical fashion with the massive release "Apollo". 
Stream Only: Hardwell
 - Spaceman (Original Mix)
A---128---Hardwell-feat.-Amba-Shepherd---Apollo-(Original-Mix)--EM1212
Stream:Hardwell feat. Amba Shepherd
 - Apollo (Original Mix)
A---128---Three-Triangles-(Original-Club-Mix)--EM1212
Stream:Hardwell
 - Three Triangles (Original Club Mix)
Dannic has been a mainstay on Earmilk over the past year, releasing countless originals and remixes and making a name for himself in the big room while securing his spot in the Revealed Recordings fam. Obviously Hardwell saw something in the Dutch prodigy, who recently took his success to Toolroom for the release of "Clobber" and seems poised to continue the rise to fame in similar fashion as his Revealed counterparts. Enjoy this mix as we get ready for Dannic to show off his talent across Canada.
Clobber-(Original-Club-Mix)--EM0113
Stream:Dannic
 - Clobber (Original Club Mix)
Dannic---Doster-(Original-Mix)--EM1212
Stream:Dannic
 - Dannic - Doster (Original Mix)
Must-Be-The-Love-(Dannic-Remix)--EM1112
Stream:Arty, BT & Nadia Ali 
- Must Be The Love (Dannic Remix)
Finding early success in his career from collaborations with big name artists such as R3hab, Dyro has since made quite the name for himself, recently remixing Nicky Romero and Calvin Harris among others. His energetic style brings out the best in crowds, and we're excited to see him play alongside fellow Dutchman on his first Canadian tour. Dyro was also generous enough to provide us with an exclusive mix for the tour, so sit back and let the excitement build.. The fun begins January 29th in Ottawa, Ontario, Canada.
Iron-(Dyro-Remix)--EM1012
Stream:Nicky Romero & Calvin Harris
 - Iron (Dyro Remix)
Kontiki-(Dyro-Remix)--EM1212
Stream:Hardwell & Dannic
 - Kontiki (Dyro Remix)
Close-Enemies-(Dyro-Remix)--EM1112
Stream:Example
 - Close Enemies (Dyro Remix)
HARDWELL, DANNIC & DYRO TOUR DATES
January 29th @ Liquor Store - Ottawa, ON
January 30th @ Stages Nightclub - Kingston, ON
January 31st @ Revolution - Waterloo, ON
February 1st @ New City Gas - Montreal, QC
February 2nd @ The Guvernment - Toronto, ON
February 3rd @ Mustang Lounge - London, ON
February 4th @ Rok Bar - Hamilton, ON
February 6th @ Sound Republic - Winnipeg, MB
February 7th @ Tequila Nightclub - Saskatoon, SK
February 8th @ Empire Ballroom - Edmonton, AB
February 9th @ Flames Central - Calgary, AB
February 10th @ PNE Coliseum - Vancouver, BC 
Get a little taste of what's in store at any of these Canadian tour dates for the Dutch trio of Hardwell, Dannic and Dyro:

Powered by Wavo.