As I look at the above image of Dan Smith, frontman for Bastille, while re-listening to Other People's Heartache Pt. 2 for what seems like the umpteenth time, I can't help but feel connected to this mad-man appearing person. Having already released the first part back in February of 2012, this group hailing from Britain has managed to replicate the splendor and originality all over again. Having been able to chat with Dan himself, he was able to give insight to the project as well as delve into what Bastille has coming up. Catch it all below with a stream of the mixtape and an exclusive stream for a remix of Bastille's new "Pompeii" track done by Tyde.
Beginning with a quick and fractured recap that reminds us of what Other People's Heartache (Pt. 1), Bastille wastes no time in delivering an emphatic cover of Adamski & Seal's "Killers" that is vintage, and refreshing all at the same time. Like a ice-cold glass of lemonade on a sweltering day. You forget how much you loved it until it graces your body once again. And truthfully, this is a theme found throughout the mixtape along with incorporating movie quotes in every track. Ranging from bona-fide hits such as "No Angels" (samples TLC's "No Scrubs" with The xx's "Angels"…been playing this one for weeks on end now) to "Sweet Pompeii" (samples Calvin Harris' and Florence Welch's "Sweet Nothing" and the aforementioned Bastille track "Pompeii") to "Thinkin' Ahead" (samples Frank Ocean's "Thinking About You" and Hans Zimmer's "You're So Cool"), every track has a flair that pays homage to the sampled track yet portrays Bastille's own originality. It shouldn't surprise you if you find yourself frequently humming along or, even better, belting out the lyrics to a track. So while you're listening, take a gander at the short Q&A as well as the track list for Other People's Heartache Pt. 2 below.
[soundcloud url="http://api.soundcloud.com/playlists/2881942" params="color=ff6600&auto_play=false&show_artwork=true" width=" 100%" height="450" iframe="true" /]
For people who don't know of Bastille, can you give us a brief description of who Bastille is? And what can we expect from you guys in 2013?
We're a band from London. I write and record songs, then produce them with my mate Mark Crew (who's a really great producer). When we play live and tour it's much more of a band, made up of myself, Woody, Will and Kyle. In 2013 we're releasing an album called "Bad Blood" and we're touring loads and loads. We've got a sold out UK tour in March, and we're heading to SXSW in the middle of it to play our first stateside shows.
What's the inspiration behind Other People's Heartache Pt. 2?
I guess the inspiration came from wanting to bring together a whole swathe of films and music that either I love, or are things from the past that I remember seeing and hearing as a kid which are in some way ingrained on my mind. But it was also a really fun way to try out different things production-wise. To try and push ourselves to do things we hadn't done before and just to experiment a bit. We started the first one because I got Mono at the beginning of making our actual album last year. I'd had to take some time off and then wanted to make something to give away and this was a great excuse to kickstart the recording process again. I wanted to bring together loads of disparate things and make one flowing collage that's held together by our sound.
Some people would consider these tracks mashups, while others would consider them covers. Regardless, what's the thought process in using the particular "samples" for each track?
I guess we take each song individually … We tried not to listen to the originals at all when recording, and treated them as though entirely new songs. Some came together really easily and others took a while to make work. We wanted to make it as interesting and dense as possible, and so used film quote that felt appropriate, but also didn't stay too faithful to things like structure of the original songs. A lot of it was happy accidents. Clint Mansel's score from "Requiem for a Dream" is one that I love and wanted to get in there, and it happened to work really well with Lana Del Rey's "Blue Jeans" over the top. The same happened with "No Scrubs" and "Angels". Then we though it'd be funny to position Norman Bates from Psycho as a "Scrub" because he lives at home with his momma. 
Now that you've done two installments of Other People's Heartache, which of the tracks were the most fun to create/which ones are you most proud of?
"What Would You Do" [EM note: found on Other People's Heartache Pt. 1] was the first song we did and people seemed to respond really well to it. It started off as something we'd play live as a joke because we didn't have enough songs to do an encore but when I recorded it we actually listened to the lyrics, which are very full-on, and decided to make something that felt more appropriate for them. But it's really hard to pick a favourite to be honest. I just looked through the track list, and they were all a lot of fun to make in their own right. 
Other than having the freedom to experiment as much as possible, the best thing about making these albums has been the ability to bring in loads of other people. On our proper album, "Bad Blood", I haven't been massively collaborative because I quite like writing by myself and am a bit of a control freak. But the Other People's Heartaches have been such an awesome opportunity to really collaborate with other people who make very different music to me. It was a great working with F.Stokes on both mixtapes, as well as with loads of the other singers and bands that we brought in. It's been a really good opportunity to work with friends of mine who I might not have been able to do songs with otherwise.
Can we expect a Pt. 3 edition to be released? And if so, when?
We'd love to do a third part. Maybe at the end of this year if we have time? We have a lot of fun making them, and people seem to like them, so it'd be nice to keep doing it for as long as we can.
And as a final gift to you EARMILK readers, Tyde has given us an exclusive stream of their remix of Bastille's "Pompeii". Consisting of two producers, Ambius and Lookbak, hailing from West London, Tyde give us a remix that is bouncy and infectious which easily sticks in your mind. So many thanks to the Bastille team for taking the time to chat with us, and give us insight on this exceptional 2nd mixtape. 
UPDATE: The previous stream was in fact the instrumental, so the player has been updated to play the actual remix.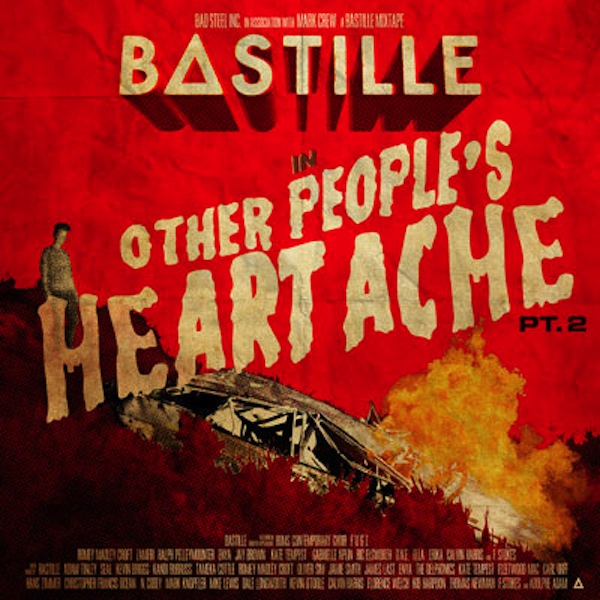 OTHER PEOPLE'S HEARTACHE PART 2 Tracklist
1.  PREVIOUSLY ON… ("Icarus" by Bastille) [ft. HUMS Contemporary Choir] 
2. KILLER (originally from "Killer" by Adamski & Seal)  [ft. F*U*G*Z ] (Film quote from "Taken" & "Back to the Future")
3. NO ANGELS (originally from "No Scrubs" by TLC) [ft. Ella, w/ a sample of "Angels" by The xx] (Film quotes from "Pyscho")
4.  WALK TO OBLIVION ("Oblivion" by Bastille, with a cover of "Jesus Walks" by Kanye West) [ft. Ralph Pelleymounter, w/ a sample of "The Lonely Shepherd" by Zamfir] (Film quotes from "Full Metal Jacket")
5. FOREVER-EVER ("Bad Blood" by Bastille, with "Ready or Not" by The Fugees) [ft. Jay Brown & Kate Tempest, w/ a sample of "Boadicea" by Enya]
6. DREAMS (originally by Fleetwood Mac) [ft. Gabrielle Aplin] (Film quote from "Willy Wonka & The Chocolate Factory")
7. THINKIN' AHEAD  (originally by Frank Ocean) [Featuring Ric Elsworth & O.N.E., w/ a sample of "Your So Cool" by Hans Zimmer] (Film quotes from "Donnie Darko" & "The Graduate")
8. FREE (originally "Private Dancer" by Tina Turner & "Set You Free" by N-Trance) [Featuring Ella &Erika]
9.SWEET POMPEII (originally by Calvin Harris & Florence Welch, and "Pompeii" by Bastille) [Featuring Erika, w a sample of "Dead Already" by Thomas Newman and "Sweet Nothing" by Calvin Harris] (Film quotes from "American Beauty")
10. BASEMENT (features the song "Get Home" by Bastille") [Featuring F.Stokes & F*U*G*Z]
11. O HOLY NIGHT (Film quotes from "Home Alone")