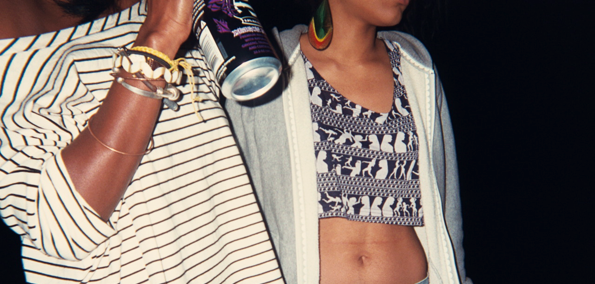 A pseudo-countdown of top picks and underrated favourites, this year's crate of tracks have never been so contradictory. With dance music shedding its latest claim to fame, the base has gone to the drawing board to define, create, and take the road less traveled by. Things got a little weird, but regardless of the differences in tempo and groove, it all sort of made sense as it represented a common approach of making it for the work and not the pay check. There's no set formula, no sample pack, no plugin with a preset to land you a spot and that makes the milk all the more satisfying. Loose experimentation at the bottom with careful considerations for the top, this list is about the sound not the hype. Making sure that you go into the new year without missing a well curated beat.
---
Locussolus
#90. Berghain (Darkroom Mix): International Feel

It would be easy to say that Berghain isn't what we would have expected out of a DJ Harvey project, but when do we ever know what to expect out of Harvey? The grandfather of the disco edit rides out that sweet spot where house melodies merge with techno's organic sound design on this 10 minute 43 second brooder.
---
Arttu
#89. Get Up Off It (Dexter Remix): Clone Royal Oak


Few people could get away with the call and response crowd pandering that Dexter does with that vocal loop, even fewer would have the stones to submit it to such a respected label as Clone. Dexter pulls it off as the Dutch artist continues his sonic tour of the UK, from last years funked up Croydon inspired "Space Booty" to the Acid House synth line of "Get Up Off It".
---
Pol_On
#88. Dreamin' About You (Original Mix): Freerange

Pol_On's Open your Arms EP was the Polish duo's sophomore effort for Jimpster's Freerange imprint. A vintage Phil Specter-esque snare sets the stage for a stab progression running through filter sweeps and culminating in a horny breakdown. Did I mention that one half of Pol_On is a trained Jazz Musician? It all comes together full circle.
---
Aquarian
#87. Motherisk (Original Mix): Uno

To say that layering arps you might find on an Egyptrixx EP overtop of a Sigha inspired bassline and backing it all up with 135 BPM breaks is the work of someone with A.D.D. would be an understatement. It's this scattered disregard for rules that makes Aquarian's debut release a favourite. If "Motherisk" is 1, the Randomer mix of "Obsidian" is 1a. Grab both.
Play: Aquarian
- Motherisk
---
Emerson Todd
#86. You Got To (Kris Wadsworth Remix): Upon You

2012 was a big year for Kris Wadsworth. He released his debut LP on Get Physical alongside a slew of remixes. Picking our favorite was a challange but this remix of Saved/My Favorite Robot's Emerson Todd was too good to put down. It takes 3 minutes to hit full steam but once it does... that reverb!
You-Got-To-(Kris-Wadsworth-Dozin-At-the-Knick-Remix)--EM1212
Play:
Emerson Todd
- You Got To (Kris Wadsworth Dozin At the Knick Remix)
---
Midland
#85. What We Know (Motor City Drum Ensemble Remix): Aus

It's not often that a joint venture between two such critically acclaimed artists can live up to expectations. Motor City stays true to his Detroit homage by stripping out Midland's chord progressions and raising up the jack factor, building a groove off Midland's filtered stabs and adding syncopated 909 claps.
What-We-Know-(Motor-City-Drum-Ensemble-Remix)--EM1212
Play:
Midland
- What We Know (Motor City Drum Ensemble Remix)
---
Kevin Mcphee
#84. In Circles (Original Mix): WNCL

In two short years on the scene, Toronto's Kevin Mcphee has carved out EPs for Naked Lunch, Hypercolour and a forthcoming 3024 release. "In Circles" is Kevin's crossing point into dance territory where his Untold inspired LFO bassline intersects with the 90's house drums his HDIMYF vinyl parties are becoming infamous for.
---
Chaos In The CBD
#83. Slab (Original Mix): ClekClekBoom

Kicked off in the last few weeks of 2011, 2012 was the first full year for the Parisienne imprint. ClekClekBoom's take on bootytech has spawned some dancefloor beasts. On "slab", Chaos resists the temptation to go all out on the 808 kicks, keeping it bouncy with a modified 808 cowbell while the vocals retain the focus. "Its that trunk music shit."
---
Urulu
#82. Another Time (Original Mix): Exploited

"Another Time" is all about the Korg M1. Has it been done? Yeah, but its just so satisfying. After a couple years of trying to juggle school with music, yet still managing to launch Amadeus Records along side Zach from Prince Club aka Forrest, look for Urulu to break out in 2013 with his full attention turned to his craft.
Another-Time-(Original-Mix)--EM1212
Play: Urulu
- Another Time
---
Maetrik
#81. To The Top (Original Mix): Ellum Audio


You could say that Maetrik took a hiatus last year to focus on his Maceo Plex side project, but that would imply that Maetrik releases took a break. Whatever the case, the most prolific producer in music is back in full techno beast mode. A master at setting the tone with just the right musical key to define the mood, "To The Top" is a prime example of it.
---
That wraps up part 2 in our ongoing 100 track series. Keep an eye out as we unravel the rest of our crate into the new year and grab what you missed off Beatport, Boomkat, and Juno.
Part 1. EARMILK Crates 100 Dance Tracks from 2012 [100-91]
Part 2. EARMILK Crates 100 Dance Tracks from 2012 [90-81]
Part 3. EARMILK Crates 100 Dance Tracks from 2012 [80-71]
Part 4. EARMILK Crates 100 Dance Tracks from 2012 [70-61]
Part 5. EARMILK Crates 100 Dance Tracks from 2012 [60-51]
Part 6. EARMILK Crates 100 Dance Tracks from 2012 [50-41]
Part 7. EARMILK Crates 100 Dance Tracks from 2012 [40-31]
Part 8. EARMILK Crates 100 Dance Tracks from 2012 [30-21]